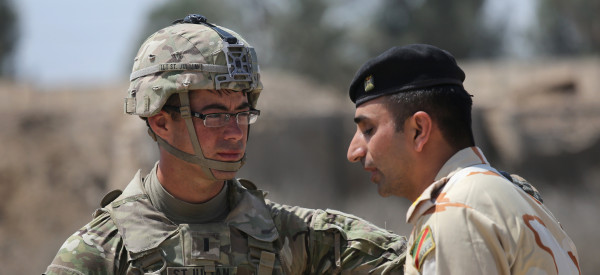 TOP STORIES
To get The Morning Email, HuffPost's daily roundup of the news, in your inbox, sign up here.
U.S. ADOPTS NEW ISIS STRATEGY IN IRAQ "In a major shift of focus in the battle against the Islamic State, the Obama administration is planning to establish a new military base in Anbar Province and send 400 American military trainers to help Iraqi forces retake the city of Ramadi." [NYT]

MCKINNEY POLICE OFFICER RESIGNS AFTER POOL PARTY INCIDENT Greg Conley, the police chief of the McKinney police force, announced Eric Casebolt's resignation following the officer's drawing of a gun on teenagers at a pool party. "Conley strongly condemned Casebolt's actions during the incident and said that the officer, who had been with the department since 2005, was 'out of control.'" [Sam Levine, HuffPost]
OBAMA ADMINISTRATION PREPS MAJOR CLIMATE CHANGE PUSH "The Obama administration is planning a series of actions this summer to rein in greenhouse-gas emissions from wide swaths of the economy, including trucks, airplanes and power plants, kicking into high gear an ambitious climate agenda that the president sees as key to his legacy." [WSJ]
PREPARE TO BUY A NEW AIRPLANE CARRY-ON BAG The International Air Transport Association released new measurements for the ideal carry-on bags, calling for bags that are 21.5 inches tall by 13.5 inches wide and 7.5 inches deep. That's 21% smaller than what's currently allowed. [WaPo]
MEET THE NEXT POET LAUREATE Juan Felipe Herrera will be named the U.S. Poet Laureate by the Library of Congress. Take a look at some of his work, which typically features "wide-ranging experimentalism with reflections on Mexican-American identity." [NYT]
THE CONSEQUENCES OF HIGH BAIL FOR THE POOR "Defense lawyers, scholars and even some judges say the high bail amounts set for some Baltimore protesters highlight a much broader problem with the nation's money-based bail system. They say that system routinely punishes poor defendants before they get their day in court, often keeping them incarcerated for longer than if they had been convicted right away." [NYT]
FOLLOWING THE ROUTE OF THE ESCAPED INMATES Convicted killers David Sweat and Richard Matt are still on the lam after escaping from Clinton Correctional Facility in upstate New York. Here's how they managed to saw themselves out. [Kim Bellware, HuffPost]
U.S. JOB OPENINGS HIT RECORD HIGH "Job openings, a measure of labor demand, rose 5.2 percent to a seasonally adjusted 5.4 million in April, the highest level since the series began in December 2000, the Labor Department said in its monthly Job Openings and Labor Turnover Survey (JOLTS)." [Reuters]
WHAT'S BREWING
MEET THE HIGHEST RATED CEO IN AMERICA Google's Larry Page rose to the top spot in employee-based CEO rankings for his accessibility and focus on family benefits. [HuffPost]
KATNISS IS READY TO BRING THE FIRE IN THE FIRST TRAILER FOR THE LAST HUNGER GAMES In the first trailer for "Hunger Games - Mockingjay Part 2," our favorite bumbling bread boy also seems to make a comeback. [HuffPost]
TV'S FAVORITE COUPLE IN JEOPARDY Come September, Marge and Homer Simpson will "legally separate." [HuffPost]
START SAVING FOR DISNEY WORLD As the first look at the "Frozen" ride makes it clear you'll be going shortly. [HuffPost]
ONE MAN HAS SAVED TWO MILLION BABIES "Known as 'The Man with the Golden Arm,' nearly every week for the past 60 years [James Harrison] has donated blood plasma from his right arm. The reasons can be traced back to a serious medical procedure he underwent as a child … He and Anti-D are credited with saving the lives of more than 2 million babies, according to the Australian Red Cross blood service." [Fox]
J.K. ROWLING PRETTY MUCH CONFIRMED AN AMERICAN HOGWARTS That whole not receiving an owl at 11 just became all the more crushing. [Vulture]
ELON MUSK TRYING TO GET INTO THE INTERNET GAME "Elon Musk's space company has asked the federal government for permission to begin testing on an ambitious project to beam Internet service from space, a significant step forward for an initiative that could create another major competitor to Comcast, AT&T and other telecom companies." [WaPo]
WHAT'S WORKING
FDA APPROVES EDIBLE HIV MEDICATION "The U.S. Food and Drug Administration approved an edible antiretroviral formulation for children who have HIV, UNICEF reported last Friday. The move will result in increased access to the vital medicine in developing regions and will save more young lives, according to the humanitarian group." [HuffPost]
ON THE BLOG
WHAT I WANT TO WRITE IN MY STUDENTS' YEARBOOKS "You have no idea how much you mean to me. You have no idea how much I will miss you. You have become like one of my own children. I want you to be able to read what I write in 20 years and know that I truly meant it when I said that it was you who taught me so much, and it was you that made the difference in my life." [HuffPost]
BEFORE YOU GO
~ Bostonians aren't loving this whole 2024 Olympics idea.
~ Check out the first picture of John Kerry released after the bike accident that left him with a broken femur.
~ LeBron stepped up for the Cavaliers last night, leading the team to a 96-91 game three victory over the Golden State Warriors.
~ What glass found on Mars could mean for alien life.
~ When someone leaves 100 gnomes on your front lawn.
~ Vanity Fair's oral history of "Clueless."
~ Defining summer tv.
~ San Francisco rookie Chis Heston joined the no-hitter ranks last night.
~ There are two kinds of people in this world.
~ Behind the massive orthodontia craze.
~ This teen designed her own prom dress, won prom queen, and went viral, all in a week.
Send tips/quips/quotes/stories/photos/events/scoops to Lauren Weber at lauren.weber@huffingtonpost.com. Follow us on Twitter @LaurenWeberHP. And like what you're reading? Sign up here to get The Morning Email delivered to you.