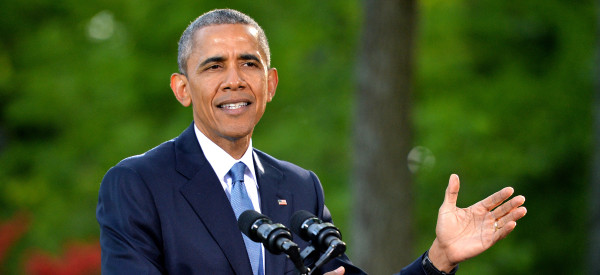 TOP STORIES
To get The Morning Email, HuffPost's daily roundup of the news, in your inbox, sign up here.
TRADE DEAL TO COME TO A VOTE FRIDAY While President Obama and his GOP allies "appear poised to earn a significant victory" on the fast-track trade deal, new details about the deal's language surrounding Medicare and climate change bring a fresh round of scrutiny to the controversial legislation. [Laura Barron-Lopez, HuffPost]

JAMIE DIMON DOESN'T THINK ELIZABETH WARREN 'UNDERSTANDS' BANKING Sen. Warren, a former Harvard bankruptcy professor and chair of the government panel that oversaw the Troubled Asset Relief Program, hasn't gotten along with the JPMorgan executive for a while now. And yesterday, Dimon said, "I don't know if she fully understands the global banking system." Help support HuffPost journalism by signing up to get Washington Bureau Chief Ryan Grim's newsletter and Politics Managing Editor Amanda Terkel's newsletter. [Ryan Grim and Amanda Terkel, HuffPost]
WHEN UKRAINIAN INSURGENTS START CROWDFUNDING THEIR BATTLES Call it the Kickstarter for separatists that have "tacit" support from Vladimir Putin. [NYT]
2016 FAILURE TO LAUNCH The Washington Post examines how Jeb Bush has faltered in a GOP field he was supposed to lock down. [WaPo]
FBI FINDS COMPUTERS FROM CELEBRITY PHOTO HACK "The trail of a celebrity photo-hacking scandal led the FBI to an unassuming brick home in Chicago, according to recently unsealed court documents that reveal agents zeroed in on a computer they linked to nearly 600 hacked personal data-storage accounts. Some accounts belonged to female stars whose nude photos were leaked online." [AP]
PREPPY UNREST: J. CREW LAYS OFF 10% OF STAFF, REPLACES TOP DESIGNER A total of 175 positions were eliminated at the company's headquarters after a year of disappointing sales. The company tapped Madewell designer Somsack Sikhounmuong to take over women's design. [Alexander Kaufman, HuffPost]
'THE TIPPING POINT IN TRANSIT' What the next twenty years of driverless cars will bring for the transportation world. [NYT]
WHAT'S BREWING
HEARTBURN MEDICATION LINKED TO GREATER HEART ATTACK RISK Those who took the medication had a 16 to 21% higher chance of suffering a heart attack. [WaPo]
FORGET THOSE ANNOYING POP-UP ADS You will be able to block ads on iPhones and iPads with iOS 9. [Niemen Lab]
BEHIND THAT MYSTERIOUS OCULUS LAUNCH TODAY "Gamers and tech enthusiasts have always been keen for virtual reality -- something that seems to be perpetually on the horizon but never fully realized ... Oculus is taking another step toward making VR real for the masses with a pre-E-3 press extravaganza outlining the details of its new Rift VR headset." [The Next Web]
'PITCH PERFECT 3' DEFINITELY HAPPENING It helps that the sequel made a cool $160 million and counting. [Hollywood Reporter]
YOUR NEW FAVORITE SUMMER DELICACY The bacon ice cream sandwich. [Buzzfeed]
MEET THE 'BACHELOR IN PARADISE' CAST All your favorite crazy folks are back to find love on an island. What could go wrong? [HuffPost]
WHAT'S WORKING
THE INVENTION THAT HAS SAVED THOUSANDS OF BABIES' LIVES This incubator "costs less than 1 percent of what a state-of-the-art hospital incubator does … [and is] affordable enough to be used in the developing world." [HuffPost]
ON THE BLOG
LOSING WEIGHT 'FOR ME, NOT THE WEDDING' "While the wedding was the inspiration for losing weight, I didn't do it for anyone but me. I didn't feel pressured to lose weight. I don't look at my wedding pictures and see someone I don't recognize (a very popular notion in the world of anti-wedding-weight-loss stories), but rather just a smaller version of me. The me that I am today, and hopefully tomorrow, and a few days longer than that." [HuffPost]
BEFORE YOU GO
~ In case you wanted to give yourself a heart attack, Pizza Hut's latest creation has a crust made of 28 pigs in a blanket.
~ Play 2016 candidate "Guess Who?"
~ The books you should put on your to-read list before you turn 30.
~ Why this "Sports Illustrated" cover "symbolizes everything wrong with society."
~ Peel your orange with a spoon and save yourself the mess.
~ Kids in the Victorian era had their own type of selfie.
~ First world problems: lobster prices are on the rise.
~ This Australian couple plans to get divorced if same-sex marriage is legalized.
~ The Duggars are allegedly under investigation by the Arkansas Department of Human Services.
~ Michael Scott would be proud: this alarm clock wakes you up with the smell of bacon each morning.
~ Behind Dean Potter and Graham Hunt's last BASE jump.
Send tips/quips/quotes/stories/photos/events/scoops to Lauren Weber at lauren.weber@huffingtonpost.com. Follow us on Twitter @LaurenWeberHP. And like what you're reading? Sign up here to get The Morning Email delivered to you.