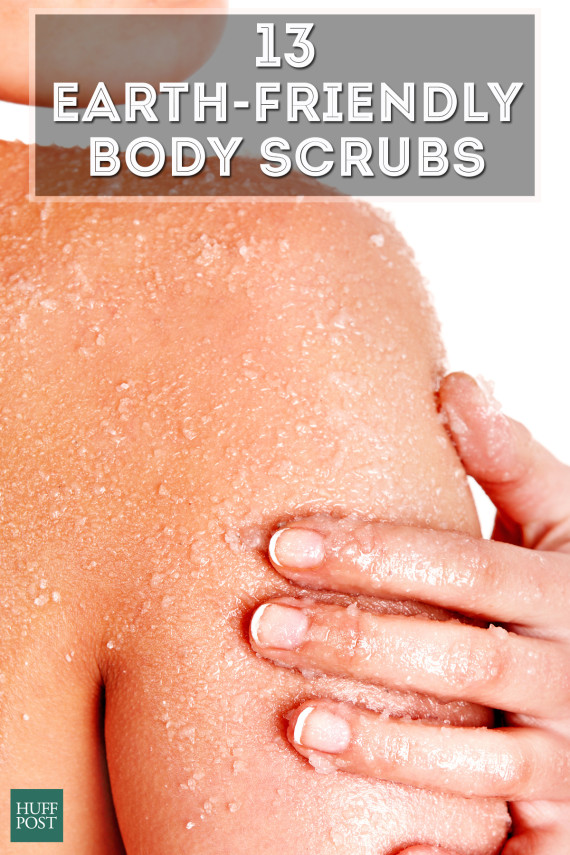 If you haven't already stopped using beauty products containing microbeads, we suggest you do so immediately. Why? Those tiny pearls made of plastic might be good for exfoliating the skin, but they are really bad for the environment.
The synthetic granules, which can be found in face and body cleansers, hand washes and most toothpastes, are so small they bypass waste-water filtration systems and end up polluting our natural waterways. The problem has gotten so serious that several states -- including New Jersey, Maine, Illinois, Indiana, Colorado and Maryland -- have passed legislation banning companies from using microbeads.
Thankfully, we can help rectify the problem without sacrificing smooth skin. It's simple: just put down those destructive products and pick up natural alternatives. Ingredients like salt, sugar, rice, walnut shells, bamboo, and coconut husks can all be used to exfoliate the skin and are actually better at doing it than those lousy old microbeads.
Coffee grounds are another natural exfoliant having a huge moment. "Roasted ground coffee beans serve as a natural exfoliator, which helps smooth away lumps and bumps," Erika Geraerts, co-founder of Frank Body, told The Huffington Post. "When combined with other nourishing ingredients it helps stimulate blood flow, target cellulite, stretch marks, acne, eczema and other pesky skin conditions."
So, now that you've ditched the microbeads, we've rounded up a selection of amazing body scrubs made with natural alternatives. When you hit the shore this summer, your skin will be smooth and glowing, all while keeping the ocean healthy and clean.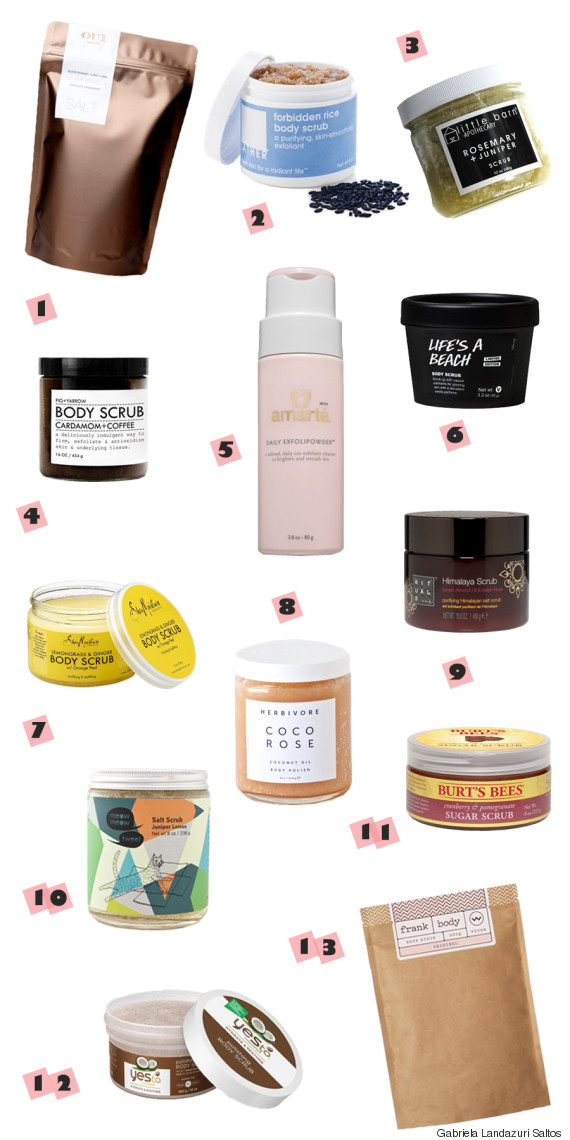 1. Oui Blood Orange Himalayan Salt Body Scrub, $22: This company suggests using the luxe salt scrub before shaving your legs (or any other body part), since exfoliating helps lifts the hair so it's more exposed to the razor.
2. Lather Forbidden Rice Body Scrub, $21: This might be the most unusual scrub on the list. It's made from a combination of black rice, lotus leaf and adzuki bean powders that will leave your skin smooth and supple.
3. Little Barn Apothecary Rosemary and Juniper Body Scrub, $24: This scrub will not only soften your skin but claims it "rectifies mental and physical malaise." Amen.
4. Fig + Yarrow Body Scrub in Cardamom and Coffee, $48: Prepare to indulge in a blend of Peruvian and Indonesian coffee beans that are spiked with cardamom, which smells divine.
5. Amarte Daily ExfoliPowder, $37: Just add a bit of water to this plant seed-based powder and it turns into a lovely cleanser, which will bring a glow to your skin that will last for days.
6. LUSH Life's A Beach Body Scrub, $7: Sand might seem too rough for your skin, but trust us when we say the fine grains in this scrub will smooth rather than scathe.
7. SheaMoisture Lemongrass & Ginger Hand & Body Scrub, $10: Rub this sugar-based scrub on sore muscles -- the lemongrass is an anti-inflammatory and the ginger warms the ache away.
8. Herbivore Botanicals Coco Rose Body Polish, $36: This sugar scrub is 100 percent organic, non-toxic and great for gals with sensitive skin. The virgin coconut oil and Bulgarian Rose are both gentle and hydrating.
9. Rituals Himalaya Scrub, $29: It's all about the experience when using this Himalayan salt scrub. We also love the subtle, yet rich, scent.
10. Meow Meow Tweet Juniper Lemon Salt Scrub, $36: You can thank the plant oils in this Pacific sea salt scrub for helping to unclog your pores for a healthy glow.
11. Burt's Bees Cranberry & Pomegranate Sugar Scrub, $13: Slather on these sugar crystals enriched with pomegranate oil, cranberry seeds, and shea butter for a super sweet experience.
12. Yes to Coconut Polishing Body Scrub, $8: You're probably already hip to the awesomeness of the coconut -- but have you scrubbed with it? The husk of the fruit does wonders removing dry, rough skin and moisturizes it at the same time.
13. Frank Body Original Scrub, $15: The invigorating properties of coffee are just what your skin needs to fight impurities with a rejuvenating jolt.
Follow Us On Pinterest
|
Like Us On Facebook |

Follow Us On Twitter
BEFORE YOU GO
PHOTO GALLERY
50 Awesome Beauty Tips