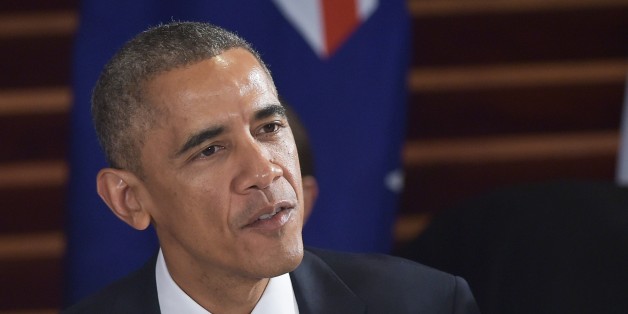 Americans' sometimes conflicting views on foreign trade show remarkably little partisan polarization. Millennials say they have it hard but are optimistic for the future. And we remember legendary California pollster Mervin Field. This is HuffPollster for Friday, June 12, 2015.
VIEWS ON TRADE CONFLICT, LACK PARTISAN DIVIDE - With Congress poised to vote on whether to grant the Obama administration "fast track" authority to complete the Trans-Pacific Partnership accord, Americans remain conflicted about the costs and benefits of foreign trade and trade deals.
On the one hand, Americans have warmed up to the notion of "foreign trade" as the economy has rebounded from recession. These positive assessments are now roughly comparable to where they stood in the 1990s: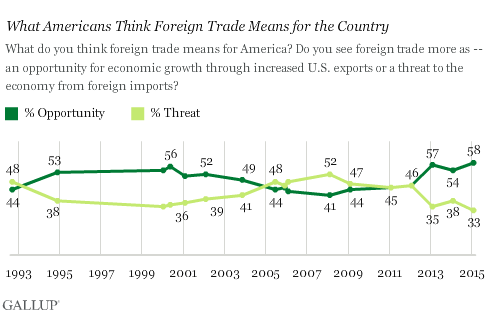 At the same time, Americans appreciate the threat that free trade agreements pose to jobs and wages, and support restrictions to help protect domestic industry:
Nearly half (46 percent) of respondents in the Pew survey say free trade agreements make wages lower, just 11 percent say they make wages higher and 33 percent say they make no difference. In the same survey, nearly half (46 percent) say these trade agreements lead to job losses, just 17 percent say they lead to job gains.
Sixty-three percent polled by CBS News/New York Times say "trade restrictions are necessary to protect domestic industries," while 30 percent say "free trade must be allowed, even if domestic industries are hurt by foreign competition."
The most striking aspect of these attitudes -- both the generally positive views of "free trade" and support for restrictions to protect domestic jobs -- is the lack of partisan polarization. Democrats and Republicans have remarkably similar views about the costs and benefits of free trade, and majorities within both parties express support for trade measures to protect U.S. jobs. The single digit differences in poll tabulations by party are rarely big enough to reach statistical significance.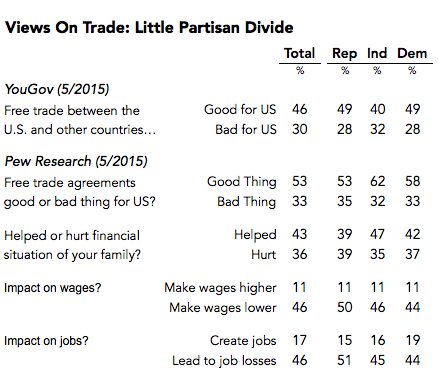 Familiar partisan differences do emerge when pollsters introduce President Obama and Congress into their questions. For example, when the CBS/Times poll asked if "the president" should be given "authority to negotiate international trade deals that Congress can only approve or disapprove, but not change," Democrats are nearly two-to-one in support (63 percent to 32 percent), while Republicans are opposed by a slightly larger margin (27 to 72 percent). With independents largely siding with the Democrats, a 55 percent majority opposes giving Obama fast track authority, while 42 percent are in favor.
Nevertheless, that level of partisan polarization is weak compared to what pollsters find on other issues, and very few Americans are following the ongoing "fast track" trade debate in Congress. The CBS/Times poll found just 6 percent of Americans who say they have heard "a lot" about the Trans-Pacific Partnership agreement that the Obama administration is negotiating; another 16 percent have heard only "some."
The combination can make for a less predictable than usual legislative outcome, as politicians see both swing voters and their bases of support divided, conflicted and inattentive.
POLL REVEALS PERSPECTIVES OF MILLENNIALS - A Heartland Monitor survey released Thursday reveals that a majority of young Americans think it is more difficult for them to "get started in life" today, which includes finding affordable housing, managing finances, starting a family and finding good employment, relative to older generations. A majority of older Americans agree that they've had it easier. Younger people additionally say they face greater student loan debt than previous generations did when they were getting started. Millennials also have different quality of life preferences, for instance preferring to have a job that is enjoyable and makes a difference, while older Americans say they preferred their first job to help build new skills and earn a lot of money.. Despite recognizing challenges, millennials display signs of entrepreneurship and greater optimism about their future. [Heartland Monitor]
REMEMBERING MERVIN FIELD - Mark Z. Barabak and Elaine Woo: "In the late 1930s, Mervin D. Field was a high school student in Princeton, N.J., struggling to survive the Depression by parking cars, bagging groceries and working other odd jobs. One of those jobs changed his life, and ultimately, his adopted home state of California. While still a teen, Field found part-time work with George Gallup, a pollster who had just made a national name for himself by predicting Franklin D. Roosevelt's victory in the 1936 presidential race. Field was fascinated by the mechanics of divining public opinion and decided then that it was his calling. Field, whose Field Poll became the standard for public opinion research in California, died Monday at an assisted-living facility in Mill Valley, Calif. He was 94....Launched in 1947 as the California Poll, Field's survey maintained considerable influence. He tracked issues such as the death penalty, same-sex marriage and decriminalizing marijuana for decades, identifying trends that helped shape candidates' sound bites, change legislators' votes and explain Californians' passions and attitudes for the rest of the country." [LA Times]
-Andrew Kohut: "Merv was the last of the pioneer generation of pollsters." [@AndrewKohut1]
California's Gallup - Adam Nagourney: " Mr. Field's longevity may have been his best asset. Where else could one go to find out, say, what voters thought of Jerry Brown when he was governor in the 1970s and compare that information with how they think of him today in his second go-round in the job? 'It's an amazing institutional memory for California public opinion,' said Bill Carrick, a Democratic consultant here. 'He was a huge pioneer. Gallup was doing it nationally, and he was doing it in California.'...Mark DiCamillo, the director of the Field Poll, who confirmed the death, said that even on his last poll [in May 2015] — on California's economy — Mr. Field read the news release closely before it went out. But with his health deteriorating, he said, Mr. Field seemed to know that for him there would be no Poll No. 2,509. 'He told me this is going to be it for him,' Mr. DiCamillo said. 'He said, 'I just can't do it anymore.' That was a sign to me. He so loved the Field Poll.'" [NYT]
MORE OF THIS WEEK'S NATIONAL POLLS
-In 1970 only 1 percent of babies born were multiracial; in 2010, 10 percent of babies were multiracial. [Pew Research]
-Americans continue to say their civil liberties should trump anti-terrorism efforts. [Gallup]
-Americans lack trust in the Supreme Court on same-sex marriage and health care, but generally approve of their overall job performance. [CNN]
-Catholics are more likely to take environmentally friendly actions as a result of the Pope's statements on climate change. [HuffPost]
-Thirteen percent of black Americans cite race relations as the most important problem facing the U.S., a 10 percentage point jump in one year; only 4 percent of white Americans classify it as most important. [Gallup]
-Republican support for automatic voter registration is lower than it used to be. [HuffPost]
-A majority of Americans expects the Supreme Court to vote in favor of same-sex marriage. [HuffPost]
-Most female veterans say they don't feel respected. [HuffPost]
-Hispanic and white Catholics have sharply divided views on climate change. [PRRI]
HUFFPOLLSTER VIA EMAIL! - You can receive this weekly update every Friday morning via email! Just click here, enter your email address, and click "sign up." That's all there is to it (and you can unsubscribe anytime).
THIS WEEK'S 'OUTLIERS' - Links to the best of news at the intersection of polling, politics and political data:
-The Marketing Research Association gets clarification on the FCC's coming changes to its Telephone Communication Act (TCPA) regulations. [MRA]
-Ann Selzer coins the 'Selzer score' for Republican candidates in Iowa. [Des Moines Register]
-Fox News won't explain its criteria for using polls to pick GOP debaters. [538]
-Liberals make a comeback in the NBC/Wall Street Journal poll. [WSJ]
-Dina Smeltz checks whether Republicans or Democrats are closer to U.S. public opinion on the Middle East. [WashPost]
-Kathleen Weldon reviews historical polling data on the clash between technology, automation and jobs. [HuffPost]
-Kyle Kondik's maps shows the best presidential bellwethers are Ohio and New Mexico. [Sabato]
-Informed voters are often the most misled, says Ezra Klein. [Vox]
-Bill McInturff (R) explains how the economy is like The Godfather. [POS]
-Stan Greenberg (D) explains how Democrats can win over working-class voters. [Washington Monthly]
-Pew Researcher Kyley McGeeney offers tips on creating web surveys for mobile devices. [Pew]
-Three Democratic pollsters review AAPOR presentations on how to improve online surveys. [GSG]
-Alex Lundry will be Director of Analytics for the Jeb Bush campaign. [Politico via @kwcollins]
-Pew Research explains how it overcame safety concerns to sample public opinion in Ukraine. [Pew]
-Jon Mellon uses the British Election Study to explain the UK polling miss. [BES via UK Polling Report]
-Michael LaCour, of the gay marriage Science fraud story, deletes his Twitter account. [@Neuro_Skeptic]
BEFORE YOU GO
PHOTO GALLERY
Monuments in Washington D.C.