A billboard in Utah is reminding drivers that God loves gays.
The "God Loves Gays" National Billboard Campaign, which was launched by the group behind the God Facebook page last year to combat the hatefulness of the Westboro Baptist Church and spread support for lesbian, gay, bisexual and transgender equality, erected a billboard last week in Salt Lake City. The billboard, which faces north along Interstate 15, reads "God Loves Gays" and has a cartoon image of a white-bearded man and a rainbow.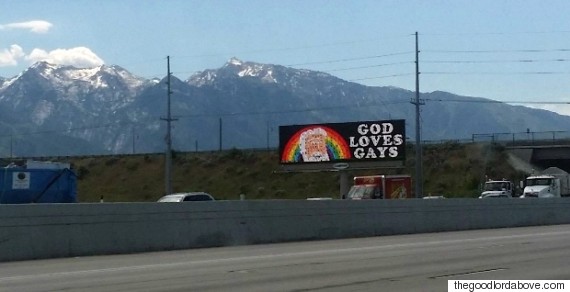 The group released a statement about the placement of its latest sign, saying it hopes the billboard will change the hearts and minds of those who see it:
The God Loves Gays billboard is intended to send a positive message of love into the world. Love is more powerful than hate. Perhaps the 'God Loves Gays' message will make a few people think about their beliefs. Or perhaps a few Utah LGBTQ teens struggling with their identity will see the message 'God Loves Gays' and feel a little better. Who knows? Maybe it swings the Supreme Court's vote this summer in favor of gay marriage. Maybe later it changes the Mormon Church's mind on gay marriage too. You never know! God is an idealist and it certainly doesn't hurt to try.
The billboard was funded by a YouCaring.com campaign that raised almost $15,000 in donations for billboards in Michigan and Utah. Other billboards are planned for states across the U.S., including Alabama, Indiana, Oklahoma and Texas.
Last year, the group made headlines when it erected a similar sign in Topeka, Kansas, the hometown of the Westboro Baptist Church.
BEFORE YOU GO
PHOTO GALLERY
Gay Marriage Signs