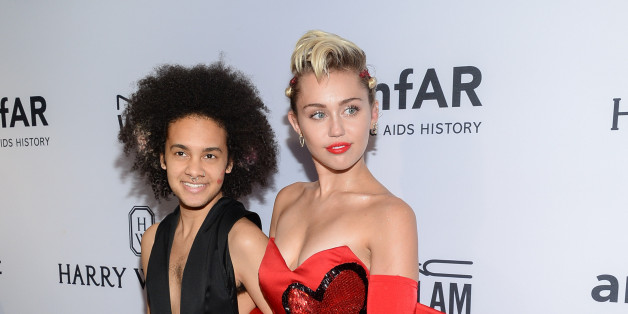 It's hard to pinpoint exactly when Miley Cyrus shifted from attention-loving pop star to someone who was using their platform for the betterment of others, but it's pretty clear that any attention Cyrus is drawing to herself these days is doing the world a lot of good.
The 22-year-old recently launched the Happy Hippie Foundation to help homeless and LGBT youth, and this past week, she teamed up with Instagram to launch a revolutionary campaign called #InstaPride, which spotlights people whose identities span across the gender spectrum.
On Tuesday night, Cyrus brought that pride with her to the amfAR Inspiration Gala in New York. Her date for the evening was Tyler, who she described on Instagram as a "queer, biracial, agender person, whose pronouns are they/them/theirs." And together, they killed it on the red carpet. Cyrus went for the over-the-top glam route in a bright red gown covered in sequin hearts with a massive bow on the back, while Tyler wore a plunging black dress paired with red Doc Martens.
Both the singer and "Watch What Happens Live" host Andy Cohen were honored at the event for their fight against AIDS.
BEFORE YOU GO
PHOTO GALLERY
Miley Cyrus Performs At G-A-Y