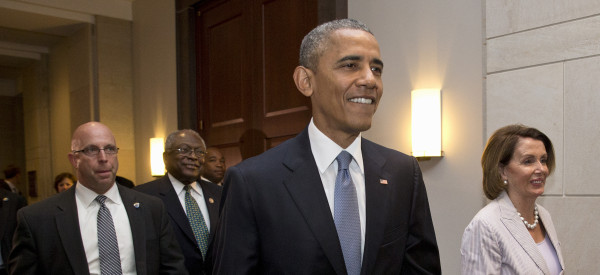 TOP STORIES
To get The Morning Email, HuffPost's daily roundup of the news, in your inbox, sign up here.
TRADE DEAL LIVES AGAIN "Days after the House dealt a setback to President Barack Obama's trade agenda, GOP leadership is considering plowing ahead with stand-alone legislation that would give the president so-called fast-track authority to shepherd trade deals through Congress." Here's what will need to happen for Obama's embattled trade agenda to succeed. [Laura Barron-Lopez and Jennifer Bendery, HuffPost]

NASA SAYS THE WORLD IS RUNNING OUT OF WATER Yes, you should be as alarmed as that headline is making you feel: 21 of the 37 largest fresh water sources known as aquifers are being depleted at alarming speeds. [WaPo]
INSIDE THE 'SLOW-MOTION ARMS RACE' WITH RUSSIA "Analysts see the increasing emphasis on military matters as a sign that the changes wrought by the Ukraine crisis are cementing a more confrontational relationship between Russia and the West, something of a new arms race." [NYT]
GOLDEN STATE WARRIORS TRIUMPH IN GAME SIX OF NBA FINALS LeBron James and the Cleveland Cavaliers went home empty handed after the Golden State Warriors, led by Steph Curry and MVP Andre Iguodala, won game six, 105-97. [HuffPost]
AT LEAST 53 MONEY-LAUNDERING INCIDENTS SUSPECTED IN FIFA PROBE According to the Switzerland's attorney general, Swiss banks have found at least "53 possible acts of money-laundering" in the ongoing FIFA investigation. [AP]
HILLARY CLINTON CALLS FOR APPRENTICESHIP CREDIT Clinton suggested a $1,500 tax credit for companies that hire apprentices. For more campaign news from Senior Politics Editor Sam Stein, get his newsletter here. [Sam Stein, HuffPost]
U.S. BIRTH RATE UP FOR FIRST TIME IN SEVEN YEARS Experts believe the 1% rise in birth rate from 2013 to 2014 can be attributed to the improvement in the economy. [USA Today]
RACHEL DOLEZAL: MORE QUESTIONS THAN ANSWERS The embattled former NAACP activist stated there is "no biological proof" she is her parents' daughter to NBC News last night. Here are 16 takeaways from her MSNBC interview. [Lilly Workneh, HuffPost]
WHAT'S BREWING
ST. LOUIS CARDINALS SAID TO HAVE HACKED ASTROS If true, this would be the "first case of corporate espionage in which a professional sports team hacked the network of another team." Cardinal nation is in shock, both because of the news and because the team was allegedly hacking the Astros. [NYT]
'PRINCESS DIARIES' IS GETTING THE THREE-QUEL TREATMENT No word yet on whether Anne Hathaway and Julie Andrews will return. Remember, this is when Anne Hathway "was invisible." [HuffPost]
TWITTER IS GOING TO START TALKING Autoplay video has arrived. Prepare to have your computer perpetually muted. [WSJ]
THE MAGAZINE COVER IS HERE TO STAY "In the ethereal world of digital media, printed magazines continue to offer something concrete, a tangible representation of a collaboration between editors, artists, designers and writers. And nothing embodies this collaboration like the magazine cover, which remains one of the modern age's most widely consumed pieces of public art." [HuffPost]
FORGET A BORING TOMBSTONE People want to get buried in space or in coral reefs these days. [The Verge]
SCENTED CANDLES' SECRET DANGERS That warm vanilla aroma may not be worth it. [HuffPost]
WHAT'S WORKING
HIGH SCHOOL FOR THE HOMELESS "For seniors at San Diego's Monarch School -- where 93 percent of students have no form of permanent housing -- earning a diploma means leaving behind their only reliable source of food, clothing, healthcare, and more." [The Atlantic]
ON THE BLOG
WHEN YOU'RE MARRIED TO A POLICE OFFICER "Being married to a police officer is totally different than being married to a regular Joe. It is a responsibility, a burden and an honor/blessing for those of you who are religious. It is often thankless. It throws up challenges and has its rewards and I wouldn't have it any other way." [HuffPost]
BEFORE YOU GO
~ Kim Kardashian's letter to her future self addresses the important things in life, like having 100 billion Instagram followers and making sure you're still "on fleek."
~ How to tweet your way into a job.
~ The ads expected to clean up at Cannes (can't stop, won't stop listening to that Beats by Dre World Cup ad).
~ Since you've already finished "Orange is the New Black," here are a few more Netflix suggestions.
~ Former Penn State Coach Joe Paterno will be inducted into the Pennsylvania Sports Hall of Fame.
~ U.S. Women's soccer advanced to the next World Cup round after a 1-0 win over Nigeria.
~ Pro tip: don't purposefully run over a bunch of bald eagles, because 'Merica.
~ Big data's impact on the fight against hunger.
~ The most accurate Milky Way map yet.
~ The rise of seltzer.
~ Say goodbye to all of Starbucks' La Boulange locations.
~ "High School Musical Four" could be a thing if Twitter has anything to say about it.
~ Have at the taco emoji.
~ You don't want to miss Jeb Bush and Jimmy Fallon slow jammin' the news.
~ Fifteen years later, looking back at the incredible "Love and Basketball."
Send tips/quips/quotes/stories/photos/events/scoops to Lauren Weber at lauren.weber@huffingtonpost.com. Follow us on Twitter @LaurenWeberHP. And like what you're reading? Sign up here to get The Morning Email delivered to you.