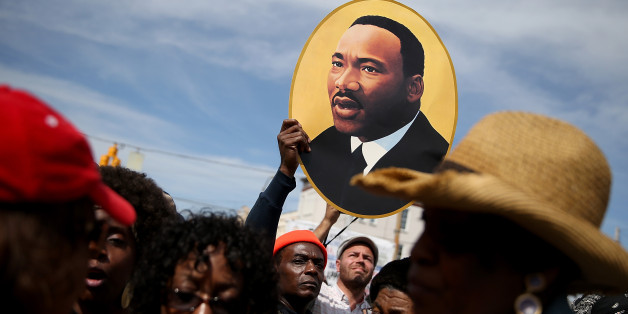 As the nation grapples with the horrific shooting at the Emanuel African Methodist Episcopal Church in Charleston, South Carolina, The King Center -- a community institution inspired by and honoring Dr. Martin Luther King's legacy -- published a series of meaningful tweets we should all read and remember.
A white gunman in his early 20s opened fire at the historic black church on Wednesday night, killing nine people. He has not yet been captured.
But as the manhunt continues, the King Center's tweets remind us that even in moments of terrorism and horrific violence against black lives, we must "defy hate with truth and love."
And, despite the number of times we must declare it, #BlackLivesMatter.
Read the truthful tweets below:
1) In this tragic, disheartening hour, we embrace #Charleston and the #EmanuelAME family and community.

— The King Center (@TheKingCenter) June 18, 2015
2) We believe that nonviolence is not just about our physical response, but includes our social media communication. #Charleston

— The King Center (@TheKingCenter) June 18, 2015
3) We HAVE to be conscious of how our social media response can cause unrest or be detrimental.

— The King Center (@TheKingCenter) June 18, 2015
4) In the spirit and philosophy of Dr. King & Mrs. King, we are diametrically opposed to racism, hate, war and violence. #Charleston

— The King Center (@TheKingCenter) June 18, 2015
5) As the #Charleston police deem this horrific act a hate crime, we pray vigorously that this person's hate does not cultivate more hate.

— The King Center (@TheKingCenter) June 18, 2015
6) We implore the #Charleston police to be continuously vigilant in apprehending the person (or persons) responsible.

— The King Center (@TheKingCenter) June 18, 2015
7) It is critical that we bring "solid thinking," wisdom, a global, comprehensive perspective and transparency to the table. #Charleston

— The King Center (@TheKingCenter) June 18, 2015
8) We must defy hate w/ truth & love. Truth: A hateful, terroristic act. Love: A response that transcends hate. #Charleston #Nonviolence365

— The King Center (@TheKingCenter) June 18, 2015
9) At this point, it should certainly be beyond clear why #BlackLivesMatter is an earnest cry and an affirmation. #UnderSiege #Charleston

— The King Center (@TheKingCenter) June 18, 2015
10) To the black children across this nation who are inundated with news and experiences of racism and injustice: Your life MATTERS.

— The King Center (@TheKingCenter) June 18, 2015
11) Terrorism: Violent acts intended to create fear, perpetrated for an economic, religious, political, or ideological goal. #Charleston

— The King Center (@TheKingCenter) June 18, 2015
12) "...sweltering summer of the Negro's legitimate discontent..." #MLK #Nonviolence365 pic.twitter.com/hr2lq6BCc6

— The King Center (@TheKingCenter) June 18, 2015
BEFORE YOU GO
PHOTO GALLERY
Shootings In America