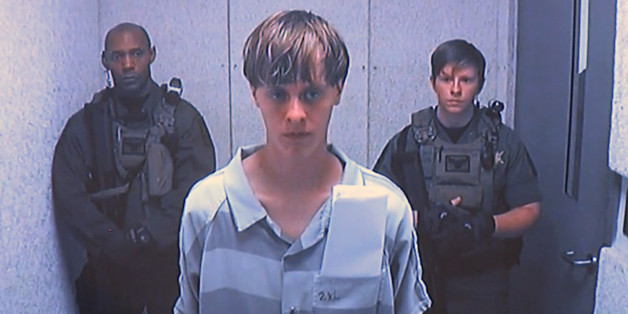 As details surface about Dylann Roof, the 21-year-old man who has been charged with the murder of nine people after a brutal church shooting spree Wednesday night in Charleston, South Carolina, a faint portrait of his religious background is emerging.
Roof, who reportedly sat in a Bible study at the Emanuel African Methodist Episcopal Church for almost an hour and argued with congregants about Scripture before pulling out his gun, was himself a member of a Lutheran church in Columbia, the church's pastor confirmed Friday.
"He was on the roll of our congregation," Rev. Tony Metze of St. Paul's Lutheran Church, told The Huffington Post. Metze is also the pastor to Roof's family, and said he has been providing them with "Christian care" since the shooting. The pastor did not respond to questions on how often Roof had attended the church or if had been there recently. He referred HuffPost to the South Carolina Lutheran synod bishop, who did not immediately respond to request for comment.
In a previous interview with CNN, Metze said Roof's sister, who was supposed to get married this weekend, had postponed the wedding, and that Roof's family was praying for victims' families. In that interview, he also said Roof was being ministered to while in jail.
Rev. Elizabeth Eaton, presiding bishop of the Evangelical Lutheran Church in America, released a statement on Thursday reporting that two of the victims, Rev. Clementa Pinckney and Rev. Daniel Simmons, had graduated from one of the denomination's seminaries.
"All of a sudden and for all of us, this is an intensely personal tragedy," Eaton said. "One of our own is alleged to have shot and killed two who adopted us as their own."
"We might say that this was an isolated act by a deeply disturbed man," she added. "But we know that is not the whole truth. It is not an isolated event. And even if the shooter was unstable, the framework upon which he built his vision of race is not. Racism is a fact in American culture. Denial and avoidance of this fact are deadly."
The 3.8 million-member Chicago-based denomination's Young Adults Ministry on Friday hosted a Twitter chat on "faith, race and justice," using the hashtag #ColoringFaith. Pastors and lay members joined in, sharing opinions, Scripture and experiences about racism being a sin.
May You, the God of sacred justice, stir our own hearts to seek it. Amen. #coloringfaith

-- ELCA Young Adults (@ELCAYoungAdults) June 19, 2015
Racism undercuts the value of fellow Children of God and the earliest vision of Christian community- Gal 3:28 #coloringfaith

-- Josh Graber (@ALTJGrab) June 19, 2015
T1: Honestly, I've been angry so long I have a difficult time understanding how people of faith cannot be angry at injustice #coloringfaith

-- Benjamin Jancewicz (@benjancewicz) June 19, 2015
T1: We should be angry because it diminishes other human beings as unworthy. We are all God's creation. #coloringfaith

-- Tamika Jancewicz (@tj_sings) June 19, 2015
My majority-white church should get out of the building. participate & share. Meet and support and partner. #coloringfaith

-- Liz Almlie (@LizAlmlie) June 19, 2015
Please take the time to educate yourself on a history other than your own. #coloringfaith

-- Rozella Haydée White (@rozellahw) June 19, 2015
T2: Stop making excuses.

Stop turning a blind eye.

Stop pretending like racism doesn't exist.

-- Jason Chesnut (@crazypastor) June 19, 2015

Carol Kuruvilla, Antonia Blumberg and Paul Brandeis Raushenbush contributed reporting.