A small group of activists burned two Confederate flags Friday on the Independence Mall in Philadelphia in response to this week's shooting in Charleston, South Carolina, and the continued presence of the flag in that state.
"That flag, to us, says terrorism. It's a slap in the face to those folks that were murdered," Mannwell Glenn, one of the activists, told Philadelphia's NBC10.
"In America, it's the Confederacy and the Confederate flag. We have a problem with that, as much as maybe a Jewish person would have a problem with a Nazi flag," he added.
Glenn also called for a boycott of goods from South Carolina, reported the Philadelphia Inquirer.
Following the Wednesday shooting that killed nine, South Carolina lowered the U.S. and state flags to half-staff at the Capitol in Columbia, but the Confederate flag was not lowered. This created a striking juxtaposition, considering the alleged shooter, Dylann Roof, associated himself with Confederate imagery and racist ideology.
The current flag display lacks a pulley system on the pole, making it physically impossible to move it to half-staff.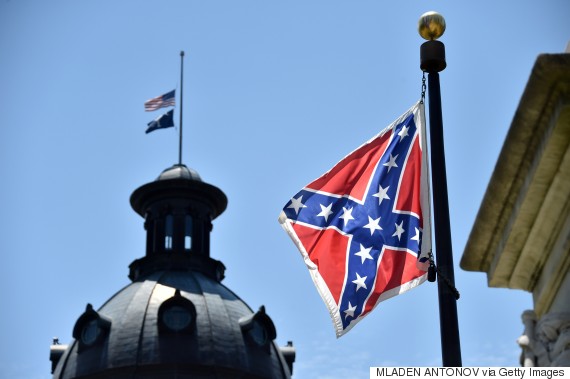 "In that South Carolina will never willingly take down the flag, the time has come for opponents to exercise their First Amendment right to free speech and burn the Confederate flag," former New York Times reporter Joe Lapointe wrote in an op-ed for the Detroit Free Press on Friday.
The placement of the Confederate flag at the statehouse can only be altered by the legislature, The Washington Post reported. In fact, changing the display requires approval from supermajorities of both the state's House and Senate.
One state legislator, Rep. Doug Brannon (R-Spartanburg County), told The Associated Press he believes it's time to remove the flag. It's "not just a symbol of hate, it's actually a symbol of pride in one's hatred," he said.
The Confederate battle flag flew atop the South Carolina state Capitol building between 1962 and 2000, according to The New York Times. It has flown at a nearby Confederate memorial since then.
BEFORE YOU GO
PHOTO GALLERY
Charleston Church Shooting Victims