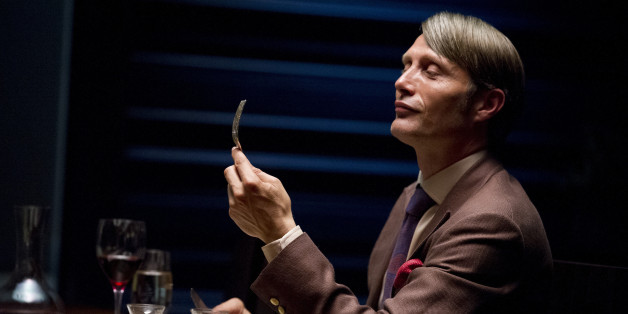 Dinner's over, "Hannibal" fans.
The NBC series is only three episodes into its third season so far, but don't expect a fourth cannibal course. On Monday, NBC canceled the show in a death so grisly that even Mads Mikkelsen's Hannibal Lecter wouldn't approve. In a statement, showrunner Bryan Fuller wrote, "NBC has allowed us to craft a television series that no other broadcast network would have dared, and kept us on the air for three seasons despite Cancellation Bear Chow ratings and images that would have shredded the eyeballs of lesser Standards & Practices enforcers."
It's no news that "Hannibal" is one of the most graphic shows on network television with some of the most gruesome death scenes shown on the small screen. While it has been critically praised, the show has also suffered from consistent low ratings, even into its current third season.
Fuller did give some hope though that the series could possibly return one day, or at least that we may be invited to another cannibal dinner in the future. "'Hannibal' is finishing his last course at NBC's table this summer," Fuller said, "but a hungry cannibal can always dine again. And personally, I look forward to my next meal with NBC." Executive producer Martha De Laurentiis also confirmed to BuzzFeed that the producers are hoping to continue the series on another network or platform.
Second, we are exploring other options for future seasons. #Hannibal

— DeLaurentiis Co (@DeLaurentiisCo) June 22, 2015
In a statement, NBC said, "We have been tremendously proud of 'Hannibal' over its three seasons. [Fuller] and his team of writers and producers, as well as our incredible actors, have brought a visual palette of storytelling that has been second to none in all of television -- broadcast or cable."
But people are incredibly upset over the loss of the show:
Hannibal cancelled?? The day I finally reviewed it? THERE ARE NOT ENOUGH EMOTICONS TO CONTAIN MY RAGE.

— emily nussbaum (@emilynussbaum) June 22, 2015
dealing with Hannibal cancelation like https://t.co/9X8ygJTbjs

— Britt Hayes, Esq. (@MissBrittHayes) June 22, 2015
I'm so depressed about Hannibal right now, I feel like a character from True Detective.

— Eric Goldman (@TheEricGoldman) June 22, 2015
genuinely sorry about HANNIBAL, which was always hard for me to watch but was still a fascinating and powerful vision.

— sonia furiosa (@soniasaraiya) June 22, 2015
There are still 10 new episodes of "Hannibal" Season 3 that will continue to air on NBC, according to BuzzFeed. In the meantime, maybe you can brush up on your cooking skills during the mourning period.
BEFORE YOU GO
PHOTO GALLERY
"American Horror Story"