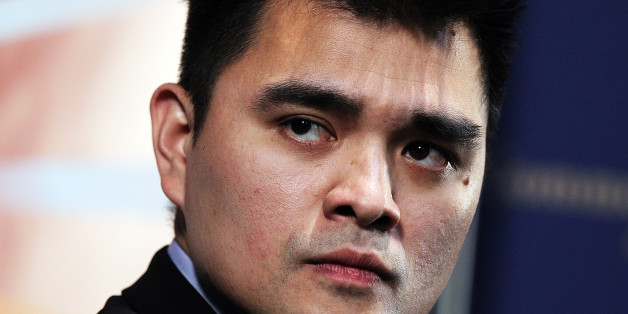 In the aftermath of last week's Charleston shooting, journalist Jose Antonio Vargas is hoping his new documentary on white privilege will help start a serious conversation on race for young people in the United States.
Scheduled to premier on MTV in July, Vargas says his new film "White People" will look at how young white people view their race.
"We saw last week the dire effects racism, gone unchecked, has on our communities," Vargas said in a statement Monday. "The need for an honest and open conversation about the roles race and white privilege play in our society is more needed than ever."
The documentary features Vargas exploring the lives of five white people with different backgrounds and discussing race with Millennials at schools and community centers around the United States.
In one clip from the documentary provided to HuffPost, Vargas moderates a discussion over the Confederate battle flag with a group of young people.
"No, I don't [see it as a racist symbol]. I know some people do, but they need to learn more about it," one person says.
"If you want to think about the history, you have to think 'Southern battle for what?' It was the battle for states' rights to keep slaves. You cannot separate it from race," another person says.
"There's more to it than that," the first person responds. "That's the one thing that we care about, but there was a heck of a lot more to it than just slaves."
In light of last week's shooting, many have called for South Carolina to remove the flag from its state grounds. On Monday, South Carolina Gov. Nikki Haley asked the South Carolina legislature to vote to remove it.
Vargas, who is from the Philippines and is an undocumented immigrant, produced the film with his nonprofit group Define American. Vargas previously worked at publications such as the Washington Post, where he contributed to their Pulitzer Prize-winning coverage of the 2007 Virginia Tech shooting, and the Huffington Post. Earlier this year, Vargas partnered with the Los Angeles Times to launch a new digital project called #EmergingUS, which will cover topics such as race, identity and immigration reform.
MTV, which is airing the documentary as part of its "Look Different" campaign, is calling the documentary "the first-of-its-kind."
"Whiteness often remains unexamined in conversations about race in this country, even as it acts as the implicit norm against which other racial identities are judged," MTV President Stephen Friedman said.
The documentary will be premier on July 22 at 8 p.m. ET on MTV. The film will also be simultaneously available online.