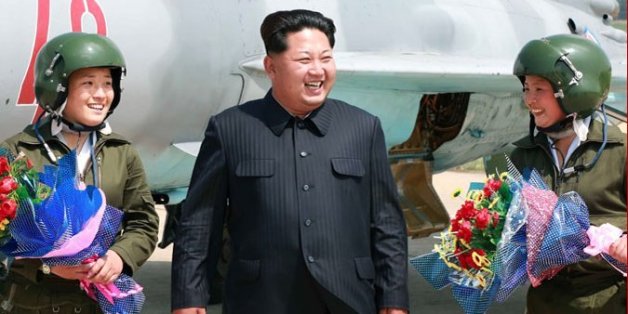 The supreme leader of the Democratic People's Republic of Korea has reportedly met two of the country's female fighter pilots. And he was impressed.
According to a press release issued Monday by the Korean Central News Agency -- the country's state news agency, which, it should be noted, takes a very singular approach to journalism sometimes -- North Korean leader Kim Jong Un watched "with satisfaction" as a pair of female fighter pilots flew supersonic jets in a series of drills. The release doesn't make it clear when this actually happened.
Kim reportedly called the pilots "very admirable" and "flowers of the sky." (All quotes are taken from the text of the KCNA release; the North Korean leader is not directly quoted in the document.) He said they should be proud of mastering supersonic jets that are, as the release puts it, "hard for men to fly." He said they were the first female fighter pilots "in the history of army building," perhaps unaware that elsewhere in the world, women have been flying combat missions since 1936.
How did these women attain such airborne prowess? By way of their "noble revolutionary spirit" and ideological loyalty to their army's supreme commander, of course.
The women reportedly wept tears of joy as they clasped Kim's hands and received bouquets.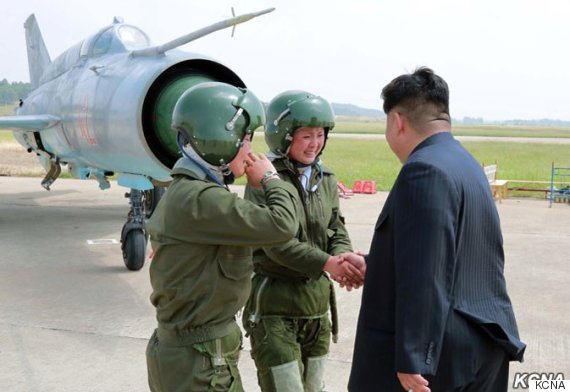 Groundbreaking female pilots aside, the North Korean air force is said to be in bad shape. The BBC has reported that most of the planes are obsolete models flown by pilots who train on simulators rigged from PC gaming setups.
A 2013 Department of Defense report on North Korea noted the "technological inferiority of most of its aircraft fleet" -- although the country reportedly has a formidable array of anti-aircraft artillery at its disposal.

BEFORE YOU GO
PHOTO GALLERY
Inside North Korea