First thing's first: THE USA WON!!! The U.S. Women's National Team beat Colombia, 2-0, in their first knockout round game on Monday night.
That said, you can't help but feel bad for Stefany Castaño, one of Colombia's goalkeepers, who came into the match cold after a surprising turn of events.
Before the match even started, Colombia was without their starting goalie, Sandra Sepulveda, who was suspended after she received her second yellow card during the team's June 17 match against England.
So between the pipes came the second-string Catalina Perez. Perez held off the U.S. for the first half. But as Alex Morgan made a bee line for the net in the second, Perez picked up a red card and was ejected in the 47th minute for this foul.
And so Castaño's name was called, and we can't believe anyone in the world wanted to be in her cleats at that moment. Especially since the first thing on her to-do list was to take on a penalty kick from the U.S.'s Abby Wambach.
Wambach missed, going wide on the left -- turf, cough cough, turf -- giving Castaño perhaps her only lucky break of the game. Because after that, Team USA scored two goals against Colombia, who were also down a player following Perez's red card.
One from Morgan in the 53rd minute -- which was deflected by Castaño:
And the other from Carli Lloyd at the 66th:
You have to give Castaño credit. She held her own for the rest of the match, getting a save against a team that not many were giving them a fighting chance against.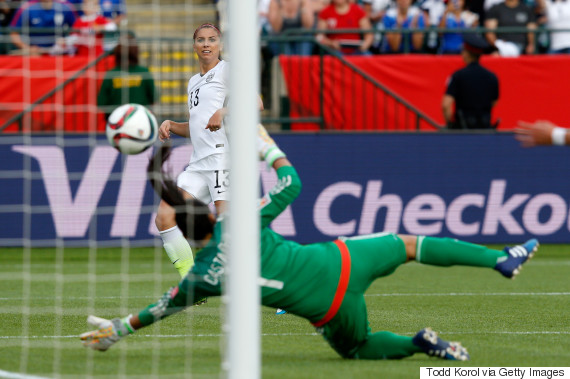 But so it goes. The U.S. will face China in the quarters on Friday, albeit without Megan Rapinoe and Lauren Holiday. Get ready.