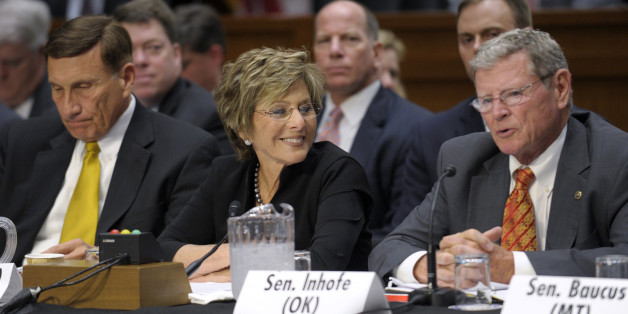 WASHINGTON -- A bipartisan group of senators unveiled a six-year transportation funding bill on Tuesday that would pump nearly $300 billion into the nation's freeways, bridges, roads and mass transit systems and replenish a transportation trust fund set to go broke next month.

The six-year bill would increase funding for transportation infrastructure 3 percent a year from the last multi-year Highway Trust Fund measure. That means the legislation, known as Developing a Reliable and Innovative Vision for the Economy Act, calls for appropriating nearly $43 billion per year to the federal transit program -- if Congress can find a way to pay for it.
Top lawmakers on the Senate Environment and Public Works Committee -- Sens. Jim Inhofe (R-Okla.), Barbara Boxer (D-Calif.), David Vitter (R-La.), and Tom Carper (D-Del.) -- announced the measure on Tuesday, touting its focus on bridges, interstate highways, and freight transit.
"We are 39 days until the trust fund that funds highways and transit goes broke," Boxer told reporters. "This is what you call an emergency."
Boxer and Inhofe said they hope the proposal forces other relevant Senate committees into action.
Third-ranking Senate Republican John Thune (S.D.), who sits on the committee responsible for finding a funding mechanism for the highway fund, said it's now or never for the six-year proposal.
"I think if you have to revisit this again at the end of the year, and going into a presidential election year, it gets very complicated," Thune told reporters."The politics of it is difficult and I think that this is the kind of thing that if we can, if we can get a longer-term solution for, we ought to do that."
There's a hitch though. If the Finance Committee can't find enough money for a six-year bill, it may need to shorten it.
"I think we can get pay-fors that will allow us to do a multi-year bill, but unlikely, probably, a six-year bill," Thune said. "We'll do our piece of it probably shortly after the [July 4th] break, and hopefully we can get something done before the end of the month."
The highway fund, itself uncontroversial, has dwindled, stirring debate among lawmakers on how to pay for the ailing program. It has traditionally been funded by the federal gasoline tax -- currently at 18.4 cents per gallon -- but the tax has not been touched for decades, allowing the fund to lose ground to inflation and vehicles that are more fuel efficient.
The gas tax contributes roughly $34 billion per year to the highway fund, and Congress kicks in about $50 billion. The Congressional Budget Office estimates it will take an additional $100 billion to pay for a six-year bill. The measure proposed by Inhofe and Boxer accounts for a $90 billion gap.
Notably, the bill would provide incentives to states that tax drivers of electric vehicles. It also would set new criteria for states trying to build more toll roads to cope with a lack of transportation funds.
"Our nation's roads and highways have suffered under too many short-term extensions," Inhofe said. "This bipartisan bill also contains the hallmark accomplishment of a new freight program to prioritize federal spending on the facilities that will most directly benefit our economy, in addition to prioritizing federal dollars towards bridge safety and the interstate system."
The bill also would boost money for roads and bridges on federal and tribal lands to $1.3 billion per year, which would help corrosion repairs on major national roadways like the Arlington Memorial Bridge connecting Washington and northern Virginia.
The bill may seem like a no-brainer, but in Congress nothing is that easy. The road to passing a long-term funding fix for transportation will be bumpy.
Inhofe hinted at the difficulty of getting Republicans and Democrats to agree on where to find the money, but said if he and Boxer could "swallow hard" on parts of the bill they didn't like and come to a compromise, the rest of Congress should be able to as well.
Boxer admitted that the bill almost didn't happen. "We, by the way, had kind of a dramatic moment. I think it was Thursday, and we thought, 'Oh my God, will this actually fall apart?'" she said.
Still, the two senators said they were optimistic Congress would act.
"I think if you have a heartbeat and pulse, you understand this needs to be done," Boxer said.
Inhofe said he spoke to many Republicans, including Senate Majority Leader Mitch McConnell (R-Ky.), about the six-year proposal, and expects it to get a vote on the Senate floor.
"Mitch McConnell is anxious to get it out. He's going to be putting it out in conjunction with other bills that are there and it could be very soon," Inhofe said.
The Environment and Public Works Committee is scheduled to consider the measure on Wednesday, leaving enough time for the full Senate to pick up the bill before the trust fund runs out on July 31.
Boxer said she expects Democrats will be "cooperative" and is "encouraged" by conversations she's had with McConnell's staff.
BEFORE YOU GO
PHOTO GALLERY
Senate Majority Leaders Through The Years