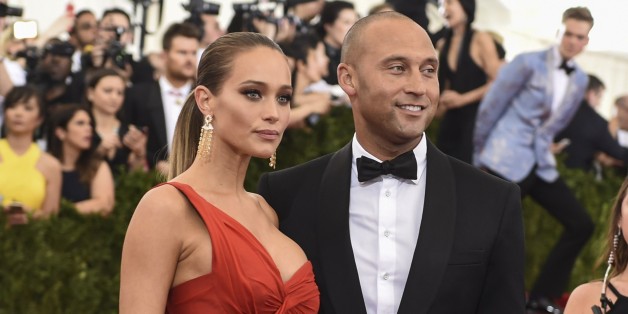 When Derek Jeter eats amongst company, he's probably used to being presented with the check. According to Forbes, Jeter's raked in approximately $400 million during his baseball career, the kind of wealth that tends to turn one into the breadwinner in any financial situation.
Whether it's over something as big as a house or as tiny as a pizza date, the one with the money is expected to pay up, and in full, no?
Not in Hannah Davis' life. The 40-year-old Jeter and the 25-year-old Davis, his girlfriend of nearly a year, were recently in Rome, Italy, enjoying a quintessential Italian getaway when they went Dutch on a lunch tab, according to The New York Daily News.
Jeter -- who made hundreds of millions playing for the Yankees -- and Davis -- who pulls in about $5 million a year modeling -- made out and ate pizza near the Spanish Steps in Rome. Then they asked to split the bill, each paying with their AmEx Black Cards (available to those who charge more than $250,000 per year!).
The news was met with male shock on Twitter, because of course it was. But was it really that messed up? On the one hand, like, bro, Jeets, my man: Be a gentleman, uphold our society's time-tested chivalrous values and put one card -- your card -- down. At the least, it saves the restaurant in receipt paper. Tree killers are bad.
But denying an independently wealthy woman the choice to pay for her own damn meal -- no matter how many zeros the guy on the other side of the table is worth -- doesn't feel right either. Urban philosopher 2 Chainz has spoken on this very topic before: "It's mine, I spend it."
What is right? What is wrong? What is up? What is down? It's all hard to tell. But here's what we know: Jeter may be the richest man in Davis' life, but when it comes to dining out, it's OK. She's got this.
BEFORE YOU GO
PHOTO GALLERY
Derek Jeter's Love Life, By The Numbers