From June 18 to June 21, roughly 90,000 people -- and at least one dude with a Sad Kanye sign -- flocked to Dover, Delaware, for Firefly, a music festival that has grown extensively since its debut in 2012. With a jam-packed lineup that boasted everyone from Morrissey to Kid Cudi to Paul McCartney, and an equally unpredictable weather forecast, the weekend in the woodlands was certainly one to remember. Here are the highlights:
Paul McCartney's Unofficial Birthday Bash ...
On Friday night, the day after Paul McCartney turned 73, the musical legend took the stage and opened with a song most fitting for the evening, "Birthday." In between hits including "Something," "Hey Jude," "I've Just Seen a Face," and "Blackbird," The Beatles member also took time to acknowledge the victims in the Charleston church shooting. When he was finally finished with a two and a half hour setlist, that amazingly seemed too short, the entire sea of people who gathered at the main stage seemed to know they were in the presence of greatness.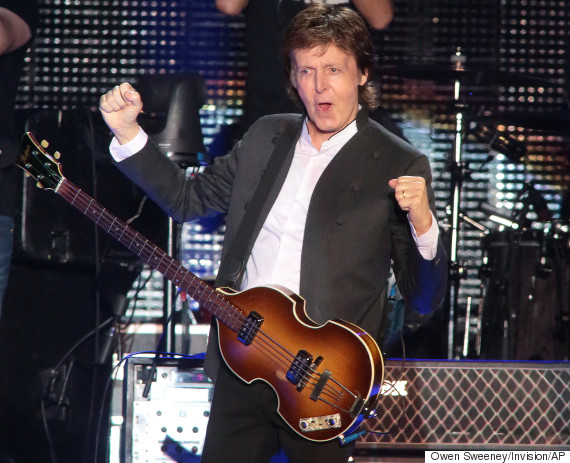 ... Followed By Zedd's After-Party
A freakin' Beatle is a tough act to follow, but somehow, Zedd managed to pull in a gigantic crowd and get the masses of tired, sunburned and muddy people up and dancing until he finished his set around 1 a.m. on Saturday. The 25-year-old DJ kept the audience interested with a mix of his signature bangers, like his radio hits featuring Selena Gomez and Ariana Grande, with the occassional random song thrown in there (and so we meet again, Kernkraft 400's "Zombie Nation.")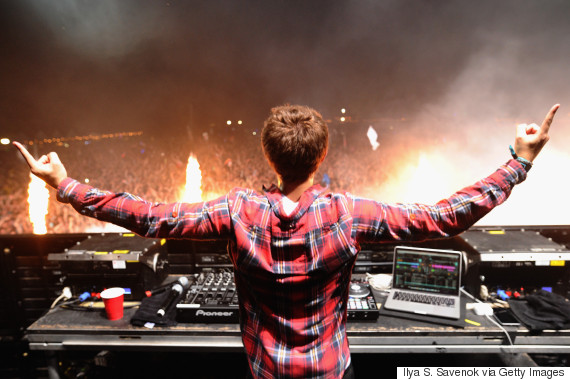 Catching Up With Clean Bandit
In the stifling humidity on Friday, it seemed there was no place we'd rather be than in the luxury of shade under the media tent, which is where Clean Bandit gathered for a brief chat with The Huffington Post. Basking in the success of their inescapable dance track, "Rather Be," the Grammy-award winning musicians reassured us we'd be hearing a lot more of them, including their freshly released track with Marina and the Diamonds.
"We're an instrumental band, so each vocalist adds their own personality to the songs," cellist Grace Chatto said.
"We've always wanted to work with Janelle Monae ... we've got a long list of singers we'd love to collaborate with. We're really open to anything," added violinist Neil Amin-Smith.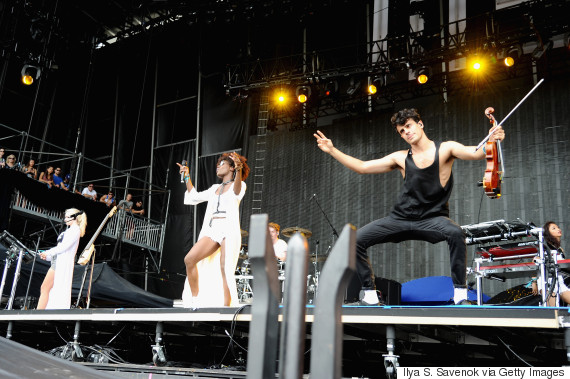 The Chainsmokers And Their #Selfie-Wareness
Yes, these are the two dudes (Alex Pall and Andrew Taggart) who do the "#SELFIE" song, and they really don't care what you think about that.
"We're not depressed and we're not writing love songs just because that's what everyone else is doing. We're writing songs about wanting to be like Kanye and seeing basic bitches in the club because that's what we're going through," Pall told HuffPost.
"There are always going to be critics, so we just focus on being ourselves," Taggart, the other half of the DJ group, added.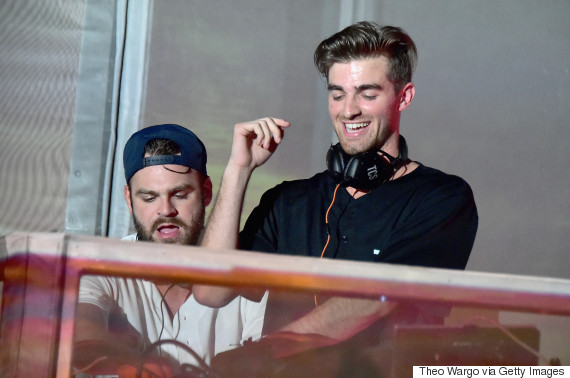 Bastille's "No Scrubs" Cover
As the four-day festival was winding down, and the storm troopers who had lasted after Saturday night's evacuation gathered for Bastille's set, it seemed there was no better time for the band's slowed-down cover of "No Scrubs." At that point, we didn't want no scrubs -- unless you were talking about the kind of scrubs we could use to rub the mud cakes off of our calves.
Listen to the cover here:
See you in the woodlands next year, #FireflyFam!
BEFORE YOU GO
PHOTO GALLERY
Ultra Music Festival 2015