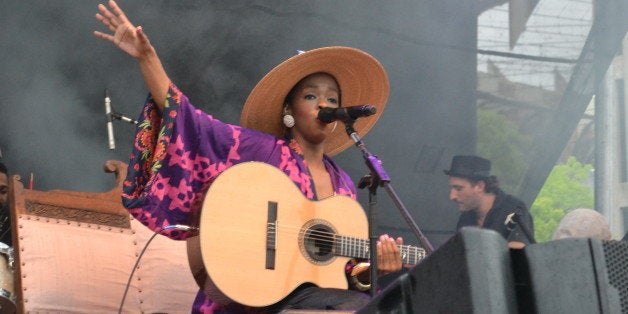 Grammy-winning artist Lauryn Hill graced the stage in Queens, New York, on Saturday as the headliner for the second annual Louis Armstrong's Wonderful World Music Festival. Hill, draped in a floral kimono and a wide-brimmed hat to match, brought some summer to a show that was otherwise blanketed by an overcast sky. The moment the singer emerged, ominous clouds released a downpour on the (surprisingly prepared) concertgoers, who managed to quickly whip out their umbrellas without losing focus on the artist onstage.
Luckily, the bad weather didn't put a damper on Hill's set. Despite the distraction from technical issues with her audio, Hill's voice stole the show. Backed by three female vocalists and a full band, Hill belted out revamped versions of songs from her "MTV Unplugged" special, like "Mystery of Iniquity" and "I Gotta Find Piece of Mind," and took it back to "Lost Ones," a fan favorite from "The Miseducation of Lauryn Hill."
While a few "Miseducation" classics, like "Doo Wop," were notably absent from the set, she rounded out her performance with hits from her days with the Fugees, playing up-tempo versions of "Fu-Gee-La" and "Ready or Not," both of which garnered loud cheers from her fans. Some die-hards even lingered after the 45-minute set hoping for an encore -- proving that even after all these years, Ms. Lauryn Hill has still got it.
BEFORE YOU GO
PHOTO GALLERY
Lauryn Hill's Style