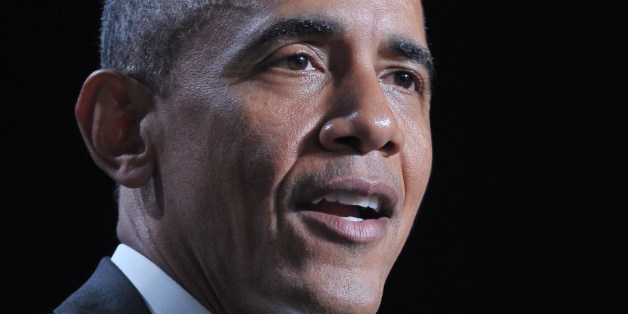 President Barack Obama's interview with comedian Marc Maron has garnered widespread attention -- and criticism. Some have publicly condemned the president for using a racial slur in a blunt and honest conversation on racism in America.
"We are not cured of it," Obama told Maron on his "WTF" podcast, which aired Monday. "And it's not just a matter of it not being polite to say 'nigger' in public. That's not the measure of whether racism still exists or not. It's not just a matter of overt discrimination. Societies don't, overnight, completely erase everything that happened 200 to 300 years prior."
Though many weighed in on the president's word choice, one tweet by HuffPost Live Host Marc Lamont Hill stood out and resonated with thousands:
Shout out to the people outraged that the president said "nigger" once but don't care about the countless times he's been called it since 08

— Marc Lamont Hill (@marclamonthill) June 22, 2015
Hill's viral comment is not a departure from his steady stream of powerful tweets. Still, Hill said he credits part of the tweet's relevancy to America's reaction to the racial epithet and how the term is perceived today.
"I think it's a sexy topic, it's controversial and it gets our blood pumping," Hill told The Huffington Post.
Hours after posting his tweet, Hill appeared on CNN to further discuss Obama's use of the word.
"To me, it's sort of puzzling, that we get distracted by this n-word and not by the thing he said, to me, which is the most interesting, which is that racism hasn't gone anywhere even if there has been generational progress," Hill told CNN.
Hill admitted he was excited about Obama's message and said he even considered it a "leftist's fantasy." In the past, Obama has received backlash for tiptoeing around the issue of race -- but Hill said he finds few faults with this.
"To identify that racism is an intractable problem in America is new," he told CNN. "And it's something that only somebody in his last two years could do."