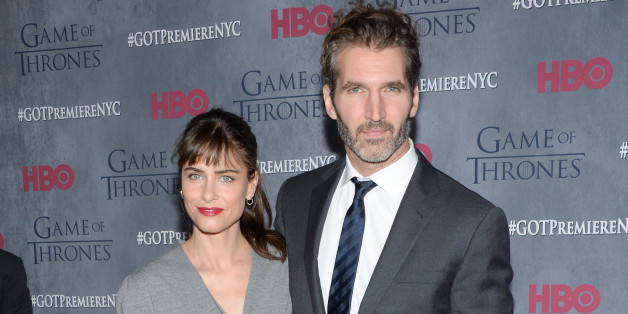 Season 5 of "Game of Thrones" may have ended, but the backlash from this year's controversial season is far from over.
Spoiler alert for "Game of Thrones" Season 5.
After Sansa's rape scene and the death of Shireen, many fans have quit watching the show. But Amanda Peet, "Togetherness" star and wife of "GoT" showrunner David Benioff, is speaking out about the misogyny represented and often criticized in the seres.
"I think it's really misplaced," Peet told The Wrap over the backlash. "They write some of the greatest female characters that are on television." The actress also knows that within the fictional world of "Thrones," the violent behavior towards women isn't condoned by all characters.
Author George R.R. Martin has also come to the series' defense, citing that his world is based on history and, in many ways, reflects the patriarchal society of the Middle Ages. Martin told Entertainment Weekly that it would have been "fundamentally dishonest" for him to exclude scenes of rape. "Rape, unfortunately, is still a part of war today," Martin told EW.
Star Gwendoline Christine has also noted the show's relation to history and its treatment of women. "What this show is doing is shining a light on women and has an exploration of female characters that has rarely been approached before -- and I applaud that," the actress told Entertainment Weekly. "Yes, those scenes are difficult, and they should be difficult. They should further illuminate human consciousness about how we interact as human beings."
For more, head to The Wrap.
BEFORE YOU GO
PHOTO GALLERY
"Game Of Thrones"