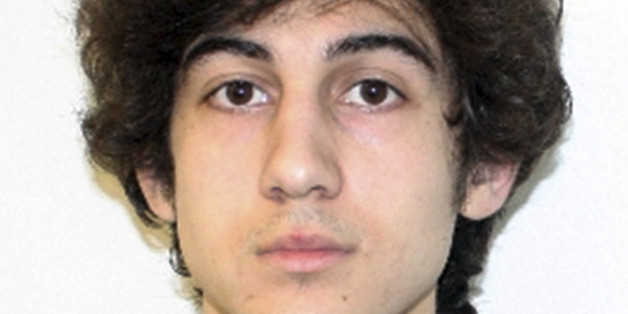 Dzhokhar Tsarnaev, the 21-year-old convicted of the deadly 2013 attack on the Boston Marathon, has spoken publicly for the first time since his arrest.
Speaking before being formally sentenced to death, according to reporters in the federal court in Boston, Tsarnaev apologized for the "lives that I have taken" and asked Allah to grant mercy on him and his late brother, who was his accomplice in the attacks.
"I pray to Allah to bestow his mercy on you. I pray for your relief, for your healing, for your well-being, for your health," Tsarnaev said, according to NPR.
Tsarnaev reportedly spoke for five minutes, pausing occasionally as if to compose himself, The Associated Press reported.
On April 15, 2013, two bombs fashioned from pressure cookers exploded, killing three spectators and injuring 264 people near the finish line of the elite race. Days later in Cambridge, Massachusetts, Tsarnaev and his older brother Tamerlan, 26, killed a Massachusetts Institute of Technology police officer.
Tamerlan died that night in a shootout with police. Dzhokhar was captured hours later while hiding in a boat, on which he'd written that the attacks were reprisals for Muslims around the world who had been killed by the United States government.
Here are portions of Tsarnaev's statement, as recorded by members of the press in court.
"I am sorry for the lives that I have taken, the suffering that i have caused you, the damage that I've done." #Tsarnaev

— Garrett Quinn (@GarrettQuinn) June 24, 2015
I ask allah to have mercy on me my brother and my family. I ask Allah to have mercy on the Umah. Thank you. #Tsarnaev

— Kevin Cullen (@GlobeCullen) June 24, 2015
A jury sentenced Tsarnaev to death in May on six counts after convicting him of 30 federal charges, including bombing a public place and conspiracy to use a weapon of mass destruction.
Earlier on Wednesday, bombing victims and their families spoke for three hours in what are known as victim impact statements.
"The choices that you made are despicable," said Patricia Campbell, the mother of 29-year-old Krystle Campbell, one of the people killed at the marathon.
Judge George O'Toole, who presided over the trial, said that the jury's sentence was "rational based on the evidence."
"You had to forget your own humanity," O'Toole said to Tsarnaev.
Tsarnaev will be imprisoned in Terre Haute, Indiana. It's expected that he will appeal the verdict, possibly on the grounds that the trial should not have been held in Boston.