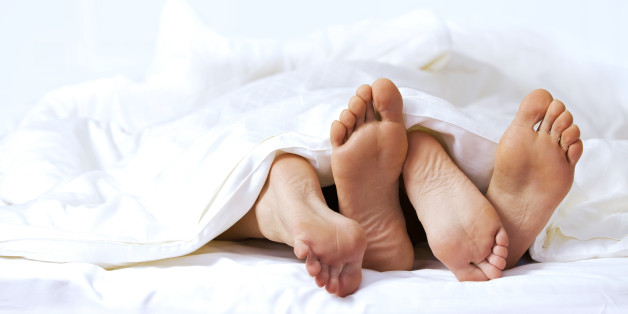 We're inching closer to getting a condom that's actually enjoyable to wear.
The Guardian reported earlier this month on some of the lucky couples that are being paid by research-and-design teams to take new condom prototypes out for a test drive.
"It slips in and out," one tester told the Guardian of an unfortunate romp using a female condom. "It leaves an unsightly baggy ring outside you. There is nothing erotic about it."
The testing is connected to the Bill and Melinda Gates Foundation's challenge, announced about a year and a half ago, for scientists and designers to come together to create a "next generation condom." The hope is that more people would want to wear a new, better condom, which could lead to a reduction in the spread of HIV and other sexually transmitted diseases.
Among the contenders are the yellow latex "Origami Internal Condom" which is currently being tried out by 28 South African couples. Its mastermind, Danny Resnic, told the Guardian the condom industry was long overdue for disruption. On HuffPost Live in April, he made the case for why his design is unique.
"We've changed the mechanical aspect of it, and it is an active condom," Resnic told HuffPost Live. "It moves with the body's motion and creates sensation on the inside of the condom instead of trying to transfer sensation from the outside."
Another recipient of a $100,000 Gates Foundation grant is a team at the University of Wollongong in Australia, which is using hydrogel as an extra-durable alternative to latex that is "made to act and feel more like real skin," Dr. Robert Gorkin, a biomedical engineer, explained in a YouTube video released last year. In addition, the material could self-lubricate and deliver Viagra.
According to a Science Alert story published in April, the University of Wollongong scientists are hoping their design will actually be pleasurable to wear, so that individuals want to put them on, rather than just realizing that they need to.
(More next-generation condom candidates pictured below.)
The condom design teams are now able to apply for phase-two funding for their projects, and the winners — of which there are only expected to be a handful — will be announced later this year.
As the New York Times previously reported, only 5 percent of men around the world wear condoms during sex. Health experts say that number needs to double in order to make a dent in the 2.5 million new HIV infections that happen annually and argue that a new condom design that contributes, rather than detracts, from pleasure would go a long way toward that goal.
The condom challenge is just one piece of the Gates Foundation's efforts to address the global HIV/AIDS epidemic. Their other pushes include investments in HIV vaccine research and development, new anti-retroviral prevention methods and improved diagnostic methods.
According to U.N. AIDS, there are an estimated 35 million people living with HIV worldwide.
To take action on pressing health issues, check out the Global Citizen's widget below.
BEFORE YOU GO
PHOTO GALLERY
Next Generation Condoms