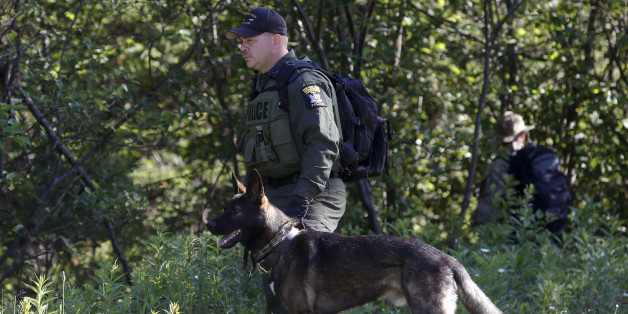 Investigators have spent 19 days searching for two men who escaped from a New York prison, but still don't have any confirmed sightings of Richard Matt or David Sweat.
"We've received reported sightings each day, and we've investigated every one. So far, none of the sightings have been substantiated," New York State Police Maj. Charles Guess said Wednesday during a press briefing.
The search for the convicted murders has extended to a village in northern New York a few miles from the last search. Previously, investigators were searching near the hamlet of Owls Head, roughly 20 miles west of the Clinton Correctional Facility in Dannemora from which Sweat and Matt escaped June 6.
"This search has not been without its challenges," Guess said.
A mix of rough, thick vegetation and "ever-changing" weather conditions were among the challenges New York State Forester Capt. John Streiff mentioned at the briefing. He noted the search area is difficult to navigate, and that conditions can be such that searchers can't see more than a few feet in front of them.
"This is the very reason the Clinton Correction Facility was built in Dannemora more than 100 years ago," Streiff said.
Joyce Mitchell, an employee with the prison tailor shop, has been accused of giving Matt and Sweat tools to help them escape.
A Clinton County district attorney said Tuesday that Mitchell hid hacksaw blades and other tools inside hamburger meat stashed inside the tailor shop's refrigerator. Being allowed to cook their own meals was one of the privileges Matt and Sweat enjoyed on the honor block where they lived before escaping.
During the Wednesday briefing, Guess wouldn't confirm reports that a shotgun was missing from one of the remote Franklin County hunting cabins investigators had searched, but told reporters that "just about every cabin in the north country" has a shotgun.
"We have operated under the belief since day one that they're armed," Guess said.
Authorities reported Monday that they had found DNA that matched that of the killers in one of the Franklin County cabins. Guess would not elaborate on the nature of the items found during the investigation and would not say whether one of the inmates might be on the lam with an injury.
"Let's face it: A bloody sock could mean somebody has a blister," he said. "I'm hoping for the best."
Guess admitted that with the search nearing its third week, "distance could be extensive if [Matt and Sweat have] moved unimpeded" and that the fugitives "could easily cover 10 miles a day."
"Time is always a concern," Guess said. "It generally works against the police in the immediate response, but works for law enforcement in the long term. ... We're going to be relentless."
BEFORE YOU GO
PHOTO GALLERY
Shawshank Redemption-style prison break