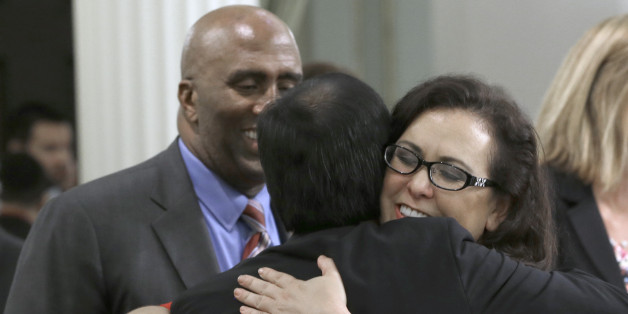 California's hotly debated mandatory vaccine bill passed the state Assembly on Thursday, leaving just one more floor vote before it heads to Gov. Jerry Brown for final approval.
Under the proposed law, parents citing religious or personal reasons would no longer be exempt from immunizing their children enrolled in California schools. The bill allows parents to opt out of immunization requirements for diseases like measles, mumps, and rubella only for medical reasons.
It passed 46 to 30 in the Assembly, The Contra Costa Times reported, and will move onto the state Senate for a final vote before seeking Brown's signature.
But many parents believe their children may have bad reactions to vaccines -- despite medical consensus to the contrary -- and view the bill as an infringement on their right to make decisions for their families. They've continually picketed outside the offices of legislators who support the bill, making it one of the most controversial initiatives passing through the state this year.
If Brown (D) signs the bill into law, California will join Mississippi and West Virginia as the only states with such strict vaccine requirements.
"Do we wait until we have a full-fledged crisis to protect the most vulnerable?" Assemblywoman Lorena Gonzalez (D) said while presenting the bill Thursday, the Associated Press reported.
There was a glimpse of a potential crisis following a significant measles outbreak that started at Anaheim's Disneyland in December and swelled to at least 131 cases. Some school districts dismissed unvaccinated students. The mandatory vaccine bill was introduced in response to the panic.
Similar bills introduced in Oregon and Washington state following the outbreak both failed in March.
Brown has not indicated a stance on mandatory vaccines, but his spokesmen told the Los Angeles Times in February that the governor "believes that vaccinations are profoundly important and a major public health benefit, and any bill that reaches his desk will be closely considered."
BEFORE YOU GO
PHOTO GALLERY
Where Politicians Stand On Vaccinations