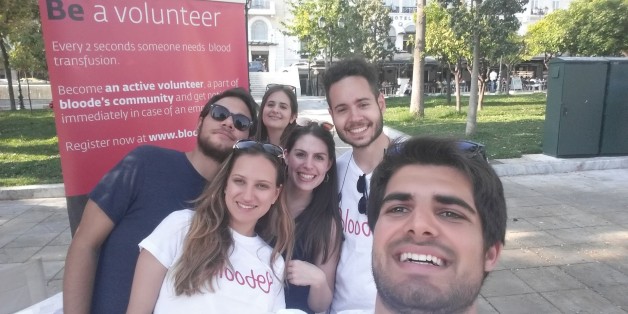 Read on
HuffPost Greece
Natalia Kritsali and Natalia Bougadellis came to realize the vast shortcomings of Greece's blood donation process when they experienced immense difficulty finding a donor for Natalia Bougadellis's grandmother. They decided to put their frustration to good use and created Blood-e, a startup that seeks to increase Greece's number of voluntary blood donors, as well as increase blood donation in general. HuffPost Greece talked to Natalia Kritsali about their digital community of volunteer donors.

How did you come up with the idea for Blood-e?
As a concept, Blood-e emerged in 2012 while we were still in high school and faced a blood donation problem. Natalia's grandmother needed a blood transfusion and, unfortunately, the need could not be met by relatives and friends. The only solution we found was to appeal to the Internet, through blogs and Facebook. We came to realize both the scale of the problem and also the need for a [website] where those in need of blood could safely publish their requests. In May 2014, once we mastered the knowledge we needed through our studies in e-business and information technology, we managed to make our idea a reality.

In what way does Blood-e help encourage more people to donate blood?
Blood-e is a digital community of volunteer blood donors, a community where those in need of blood can safely publish their requests. Also, as a group we greatly value education and the cultivation of volunteering. In this context, we plan to have a presence in schools and universities and to run educational interactive programs that will contribute to this goal. Finally, the most important part of our work is to inform and motivate citizens. All our actions aim to raise public awareness and information about the problem of lack of blood units.

Does the current blood transfusion system in Greece work well?
Unfortunately not. In Greece there is a demand for 700,000 blood units each year. Out of those, only 30-35 percent come from volunteer blood donors. Unfortunately, despite the efforts of hospitals to increase blood donations, there are neither enough resources nor the organization required to coordinate actions needed to increase the number of volunteer blood donors. Lastly, the country's blood system is not automated or digitized.

Why would someone donate blood?
The most important benefit of being a blood donor is the satisfaction derived by knowing that the blood given can save up to three lives. Simultaneously, donation has many benefits for the donor as well, as it improves blood flow and balances iron levels.

You won the 3rd prize in the National Bank's I-bank Innovation and Technology competition and the 1st prize in the contest for Digital Innovation and Entrepreneurship organized by the Athens University of Economics in collaboration with the Association of Youth Entrepreneurship and Metlife. Do you think that Greece helps young people to realize their ideas?
I believe that in recent years there are more and more efforts to support youth entrepreneurship and startups. We received a lot of help. We started in May 2014 with the support of Impact Hub Athens, and in March 2015 we received significant funding to make our first steps from the Angelopoulos CGI U Fellowship program's scholarship. I believe that the efforts made contributed to the strengthening of the business activities and if more concerted efforts were to be made along with more funding, then the ecosystem of startups in Greece could be competitive globally.


This article originally appeared on HuffPost Greece and was translated into English.