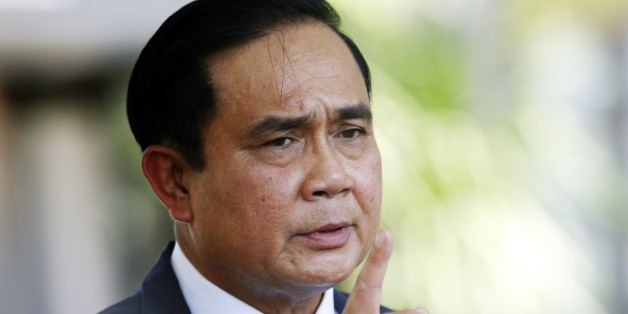 BANGKOK, June 25 (Reuters) - Thai Prime Minister Prayuth Chan-ocha said on Thursday he was not afraid of the press, days before the government is to hold a meeting to teach journalists how to ask questions that won't offend him.
Gaffe-prone Prayuth has had a love-hate relationship with the media during the year since he seized power, at one point saying he would probably "just execute" journalists that "did not report the truth."
His office later said the comment was made in jest.
Affectionately called 'Uncle Prayuth' by his admirers, he has overseen a period of relative stability but has been criticized by rights groups for using heavy-handed handed tactics against detractors.
Prayuth said he has never tried to censor the media.
"I'm not afraid of the press but I ask for fairness because I have never told the press not to speak or write anything. I am friendly with the media," Prayuth told reporters.
"I do not have control over the media, nor do they have power over me."
Winthai Suvaree, a spokesman for the junta, or National Council for Peace and Order, said the government would hold a meeting next week for 200 local and foreign journalists to "create understanding" and teach them how to ask questions that will not offend Prayuth.
The Foreign Correspondents' Club of Thailand in a message to members of the foreign press this week said it had been alerted to reports of journalists encountering difficulties when trying to start, renew or change their media accreditation.
Winthai said there was no policy to stop foreign journalists from renewing their visas or applying to work in Thailand.
"Absolutely not. There is no policy to stop foreign journalists from working in the kingdom," he told Reuters.
Prayuth toppled the government of Prime Minister Yingluck Shinawatra in a May 2014 coup, putting an end to months of street demonstrations. (Reporting by Amy Sawitta Lefevre and Pracha Hariraksapitak; Editing by Nick Macfie)