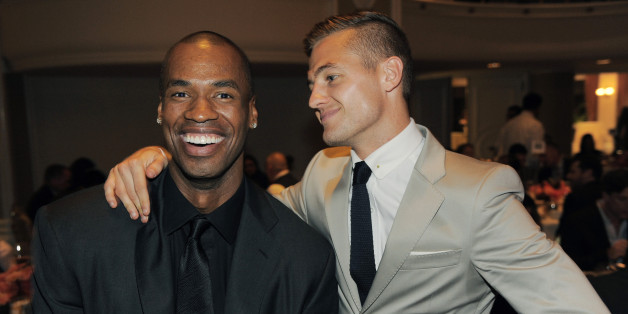 Athletes across the country celebrated the Supreme Court's ruling on Friday that all Americans should be able to marry the people they want to spend their lives with, regardless of gender or sexual orientation. Take it away, ladies and gentlemen.
What a day to celebrate! Today also happens to be my parents' 39th wedding anniversary! Congrats to all who celebrate #love. #LoveWins

— Jason Collins (@jasoncollins98) June 26, 2015
This could be the best pride month ever! Thank you to the selfless individuals that made today possible. #MarriageEquaility #history

— Robbie Rogers (@robbierogers) June 26, 2015
Equality For All!

— Billie Jean King (@BillieJeanKing) June 26, 2015
Congrats!! Please brace for the backlash! Same-Sex Marriage Is a Right, Supreme Court Rules, 5-4 http://t.co/7QhkdXPFXV

— John Amaechi OBE (@JohnAmaechi) June 26, 2015
Very big day. Couldn't be happier about what this means for so many of our friends. Love is love!

— Scott Fujita (@sfujita55) June 26, 2015
Resist the urge to engage in debate with those in opposition to equality. There is no more debate. Just rejoice and celebrate this moment.

— Scott Fujita (@sfujita55) June 26, 2015
Marriage equality in all 50 states! Congratulations America! Brimming with pride...🇺🇸

— Johnny Weir (@JohnnyGWeir) June 26, 2015
Love conquers all! #SameSexMarriage finally legal in all 50 States! I'm so happy for the #LGBTCommunity! Thank you #SCOTUS #LoveIsInTheAir

— Kenneth Faried (@KennethFaried35) June 26, 2015
Congratulations to all who can live their lives they way they choose! Proud day! @AthleteAlly

— Mardy Fish (@MardyFish) June 26, 2015
LoveWins

— Kendall Marshall (@KButter5) June 26, 2015
#LoveWins ❤️❤️❤️ pic.twitter.com/A8vq52vYpl

— Seattle Storm (@seattlestorm) June 26, 2015
What an awesome way to start my game day! @AthleteAlly @gay4soccer @HRC

— Chris Seitz (@Seitzy1) June 26, 2015
Finally. A big step in the right direction for our country! https://t.co/uDS6ltqpcR

— Alex Morgan (@alexmorgan13) June 26, 2015
Next up are the laws allowing firing based on sexuality, and trans rights. Still a ways to go, but this is a great milestone.

— Chris Kluwe (@ChrisWarcraft) June 26, 2015
#LoveWins 💛💚💙💜❤️💖 #EqualityForAll #SCOTUS pic.twitter.com/dnlYd6EYhc

— Minnesota United FC (@MNUnitedFC) June 26, 2015
#LoveWins pic.twitter.com/C18IEvBzOZ

— Billy Bean (@billybeanball) June 26, 2015
See a reaction we're missing? Email me at maxwell@huffingtonpost.com or tweet at me at @maxwellstrachan.
BEFORE YOU GO
PHOTO GALLERY
Politicians React To Gay Marriage Ruling