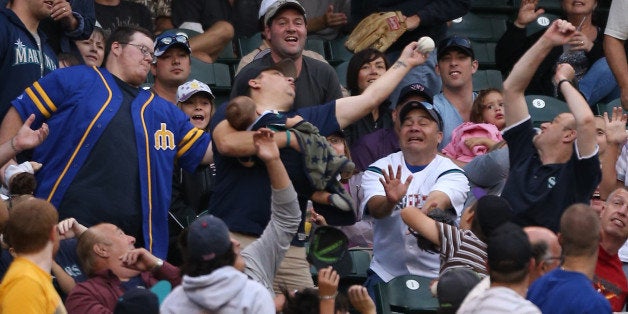 Something has gone awry in baseball. Back in the proverbial day, we caught foul balls, gently placed a celebratory hand in the air, quietly sat down and then got back to eating our peanuts or whatever, like normal, civilized people.
But at some point, something changed. No longer is it enough to simply catch a foul ball. Nowadays, you need to catch it in a way that separates you from the crowd, that temporarily elevates you from mere baseball fan to something akin to viral legend.
Was it Sportscenter that did this? The Internet? The evolution of man? Obama? No one can say for sure, but the point is that it happened. People are catching baseballs with beers, and they're catching them with popcorn buckets. They're catching them bare-handed, and they catching them backhanded. They're catching them and dancing and they're catching them and prancing.
And you know what? That's all fine and good. Catch your foul balls with whatever receptacle you want. After all, this is America. Nothing wrong with a little show-boating. But there's one new aspect of this trend that has been creeping up on us for some time that we need to talk about, if only because's it's gained some recent steam.
We're talking about grabbing foul balls while holding babies, people.


These aren't the only examples we could find, either. There are so, so, so many of them. One baby catch? Fine. Two? Sure. Three? Now we all see what's going on.
We get where you're coming from, moms and dads. You're cool parents with senses of coordination we can't match. You love your child, but you also love the spotlight, and this is one of the few instances in which those two passions can be combined into a moment of you being you. Hell, if "we" were parents, "we'd" probably be right there next to you. Looks pretty fun to be honest. But we aren't parents. We are without child. And that makes us the voice of reason in this particular situation.
So quite literally, we beg of you: Think of the children. It's only a matter of time before an attempt at virality ends with a trip to the hospital and a national conversation about parenting. And as we all know, there is nothing worse than a national conversation about parenting. Don't make it come to that.
BEFORE YOU GO
PHOTO GALLERY
A Man Fights With His Poncho