Populist parties in Spain, Ireland and other austerity-stricken European countries are flocking to support the Greek government's defiance of its creditors, and to encourage Greek citizens to vote against the creditors' bailout proposal in a July 5 referendum.
Spain's ascendant left-populist party Podemos called for a solidarity rally with Greece's Syriza-led government, drawing hundreds of attendees in Madrid on Saturday, the Wall Street Journal reported.
Francisco Ramon, an unemployed technology worker, told the Wall Street Journal the outcome of Greece's struggle with its creditors could affect Spain's ability to advance its own economic prospects.
"What's happening in Athens now is decisive not only for Greece, but also for Spain and for all of Europe," Ramon said.
Syriza's decision to call a referendum vote on the creditors' proposal also elicited the endorsements of Gerry Adams, the leader of Ireland's left-wing opposition party Sinn Fein; Italy's contrarian comedian-turned-politician Beppe Grillo; and other critics of eurozone austerity policies.
And in an indication of how populist challenges to the European status quo cross ideological lines, Marine Le Pen, leader of France's far-right National Front party, hailed the move as a reminder to "the European elite that in democracy, there are people, and they are the only sovereigns." Le Pen stopped short of embracing Syriza's position in her remarks. The National Front has many positions that put it at odds with Syriza and other left-wing parties like it, including its explicit support for France's departure from the eurozone and staunch opposition to immigration.
But nowhere do expressions of solidarity with Syriza resonate as much as in Spain, where Podemos is seen as a credible threat to the ruling conservative government. While Spain's austerity policies have won it plaudits from eurozone leaders, they have proven less popular at home. Podemos has taken advantage of dissatisfaction with the country's high unemployment rate to win mayoral races in Barcelona and Madrid, Spain's two largest cities. The two wins could portend a victory in general elections later this year.
Analysts believe Spain's ruling conservatives have taken a hardline approach in negotiations with Greece at least in part out of fears that a bailout deal that is too accommodating for Greece will be a boon to Podemos at the polls. Podemos' leader Pablo Iglesias told the Wall Street Journal in an interview earlier this month that consequently, Podemos' rise has hurt Syriza in negotiations. "Since Podemos has existed, defeating the government of Greece has been converted into another instrument for trying to pressure us," Iglesias said.
On Saturday, Greece's Prime Minister Alexis Tsipras called for a July 5 referendum on Greece's creditors' latest bailout proposal, after dismissing the offer as an "ultimatum that insults the Greek people."
The support from fellow left-wing groups in other countries comes amid mounting pressure on Greece from eurozone officials and financial institutions after the announcement of the referendum. The European Central Bank halted its emergency lending to Greek banks, prompting the Greek government to limit bank withdrawals to prevent banks from running out of cash -- a procedure known as imposing "capital controls."
Greece faces a Tuesday deadline for a 1.6 billion-euro debt repayment to the IMF that it needs bailout money to pay. The International Monetary Fund has said it will consider any late payment tantamount to default.
If the ECB declines to restore its lending to Greek banks, Greece could be forced to leave the eurozone, an outcome known as a "Grexit."
European Commission president Jean-Claude Juncker said on Monday that a Greek "no" vote on the referendum would amount to rejection of Greece's membership in the eurozone.
According to tweets from his staff members, Tspiras in a television appearance on Monday maintained that a "no" vote on the referendum would strengthen Greece's hand at the negotiating table, not begin the process of a Grexit. He implied that Greece's differences with the other eurozone nations were relatively narrow on budget savings, but that the two sides were further apart on matters like debt relief and labor union rights.
Greek Finance Minister Yanis Varoufakis said the government would seek an injunction from the European Court of Justice to force the ECB to resume its emergency lending to Greek banks.
07/15/2015 3:26 PM EDT
Peaceful Rally Interrupted By Clashes
Danae Leivada reports from Athens:
Members of the Public Sector Union (ADEDY) and Leftist groups rallied in Athens' Syntagma Square on Wednesday night to remind the government Greeks answered the July 5 referendum on a new bailout program with a resounding "Oxi" or "No."

People gathered on the central square as lawmakers were scheduled to vote in parliament on a bill outlining numerous reforms the country's creditors demanded in return for fresh bailout funds.

The reforms were met with dismay and outrage by the protesters. One of them described the proposal as "a treacherous and harsh agreement." Another demonstrator told HuffPost the new deal was "worse than the ones that came before it."

While the demonstration started out peacefully, it was abruptly interrupted by anarchists who clashed with police in front of the parliament building.
07/15/2015 2:45 PM EDT
PHOTOS: Syntagma Square
Danae Leivada was in Athens' Syntagma Square before the clashes started.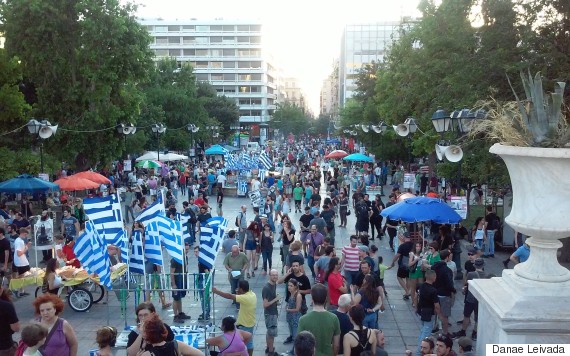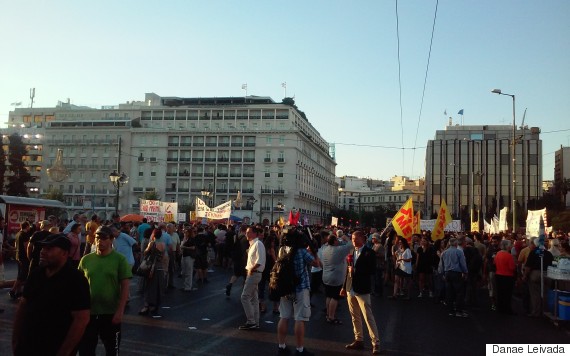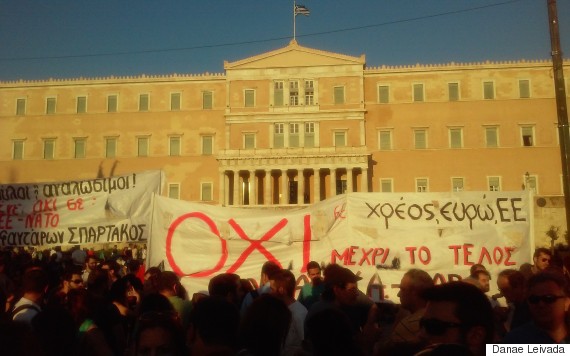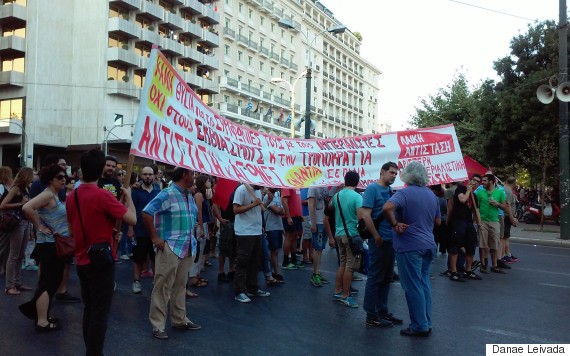 The banner reads "No sacrifices for agreements with imperialists. No to blackmail and terrorism. Resistance and struggle against old and new bailouts -- Left Anti-Imperialist Co-Operation"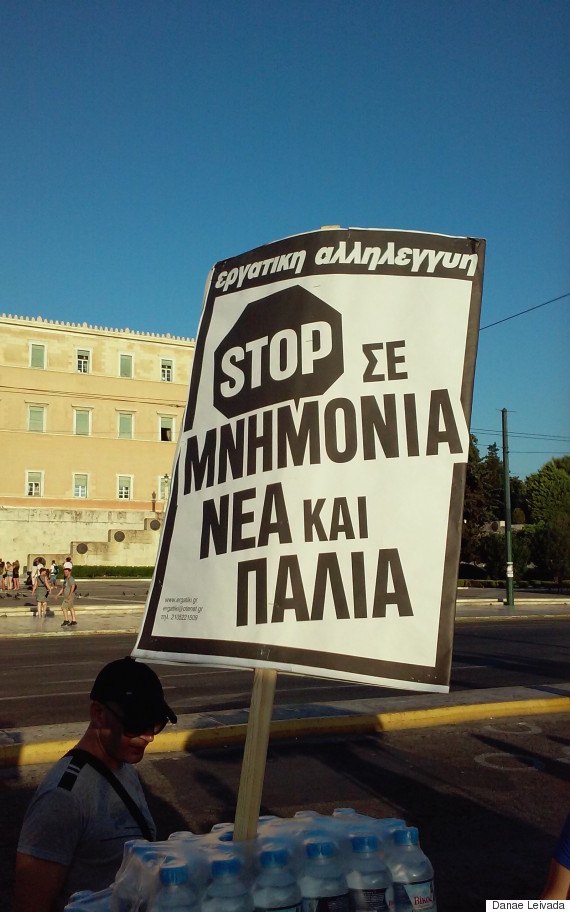 The poster reads "STOP to old and new bailout memoranda -- Workers' Solidarity"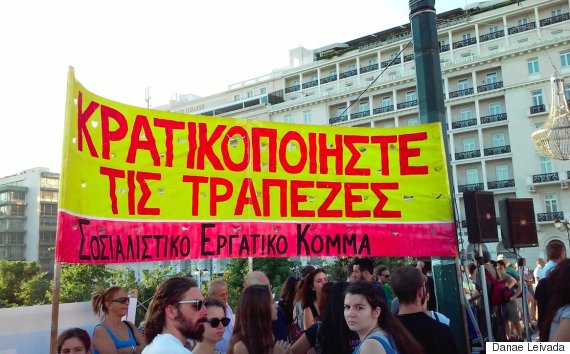 The banner reads "Nationalize Banks -- Socialist Workers' Party"
07/15/2015 2:18 PM EDT
Clashes At Anti-Austerity Protests
The Associated Press reports:
BREAKING: Clashes break out at Greek anti-austerity rally by thousands of protesters outside Parliament.

— The Associated Press (@AP) July 15, 2015
07/15/2015 10:39 AM EDT
PHOTOS: Civil Servants On Strike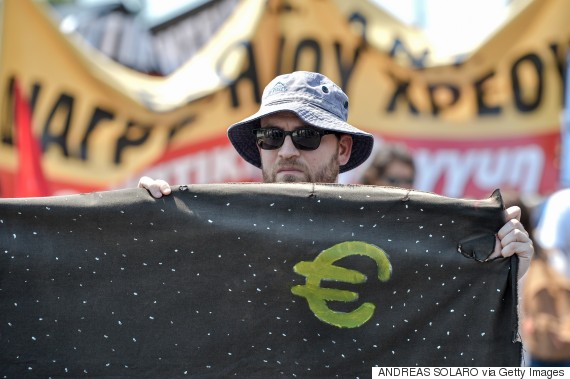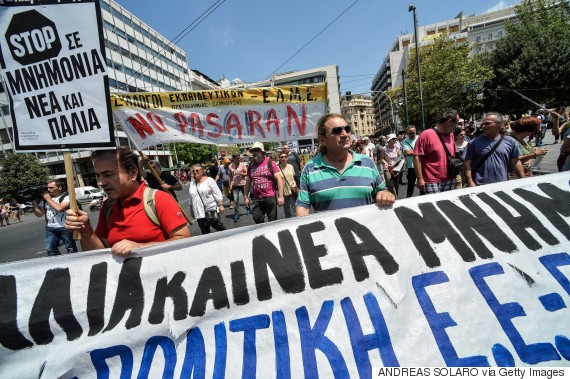 Protester holds a banner during a protest in central Athens, marking a 24-hours public sector and pharmacists strike on July 15, 2015 against the new package of austerity measures. (ANDREAS SOLARO/AFP/Getty Images)
07/15/2015 10:29 AM EDT
Secretary General Of Social Security To Hand In Resignation
George Romanias, the Secretary General of Social Security in Greece, announced he plans to resign the coming days, HuffPost Greece reports.
Romanias said he disagrees with the measures which will be introduced as part of the country's fresh bailout program. Romanias also claimed he, nor Deputy Social Security Minister Dimitris Stratoulis were consulted during the drafting of the bill of reforms Parliament is voting on today.
07/15/2015 10:26 AM EDT
'No To Blackmail'
President of the Greek Parliament Zoe Konstantopoulou urged lawmakers ahead of Wednesday's vote on a fresh bailout program for the country not to let "blackmail" succeed.
Konstantopoulou pointed at an IMF document that surfaced on Tuesday and indicated that Greece's debt is so sizable the country needs debt relief and a hirty-year grace period on servicing its debt.
"It is our duty to ask of our European partners to serve their obligations", Konstantopoulou said, according to HuffPost Greece.
07/15/2015 9:46 AM EDT
Photos: Parliament Debates Passing Key Reforms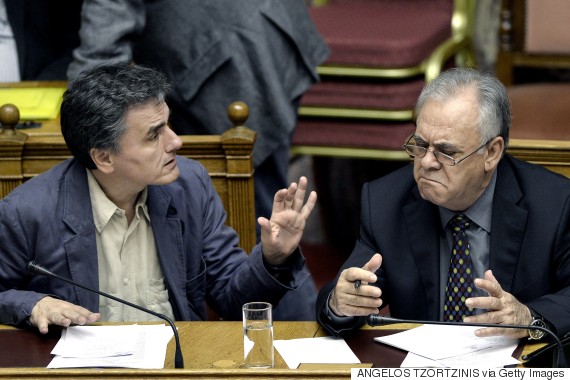 Greek Finance Minister Euclid Tsakalotos (L) speaks with Deputy Prime Minister Yannis Dragasakis (R) during a parliament session in Athens, on July 15, 2015. (ANGELOS TZORTZINIS/AFP/Getty Images)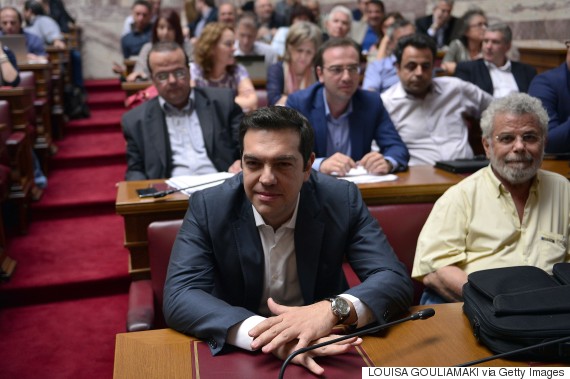 Greek Prime Minister Alexis Tsipras attends his Syriza party's parliamentary group meeting at the Greek parliament in Athens on July 15, 2015. (LOUISA GOULIAMAKI/AFP/Getty Images)
07/15/2015 9:20 AM EDT
Political Cartoons Take On Greece And Eurozone
A flurry of political cartoons from around the globe tackles Greece's debt crisis with a sharp mix of comedy and tragedy, with a nod to Greek dramatic tradition.
The cartoons pull no punches -- one likens the nation to an ISIS hostage -- and range from heartbreaking to scathing -- especially for Merkel.
From American cartoonist Jim Morin
#greekment #GreekCrisis @enfogr @enforadio @culturalsynergy pic.twitter.com/A0QCnu5niU

— kimon sapnas (@kimons) July 14, 2015
Read the full story here.
07/15/2015 8:33 AM EDT
Greece's Deputy Finance Minister Resigns
Deputy finance minister Nadia Valavani has resigned ahead of a vote in Greek parliament on whether to approve the reforms necessary for a bailout.
Greece's deputy finance minister Nadia Valavani resigns ahead of crucial vote for bailout reforms - @abcnews http://t.co/i4RIeXtZ3n

— Breaking News (@BreakingNews) July 15, 2015
07/14/2015 3:50 PM EDT
IMF May Walk
The IMF's new memo calling for dramatic debt relief for Greece indicates that unless its requests are heeded, the IMF will not continue to participate in Greece's bailouts.
The Financial Times reports:
The [IMF] memo argues that only through large-scale debt relief — something eurozone officials have fiercely resisted — could Greece see its debt fall to levels where it would be able to return to the financial markets.

"Greece's debt can now only be made sustainable through debt relief measures that go far beyond what Europe has been willing to consider so far," the memo reads.

Under its rules, the IMF is not allowed to participate in a bailout if a country's debt is deemed unsustainable and there is no prospect of it returning to private bond markets for financing. The IMF has bent its rules to participate in previous Greek bailouts, but the memo suggests it can no longer do so.
BEFORE YOU GO
PHOTO GALLERY
Athens' Badass Street Art