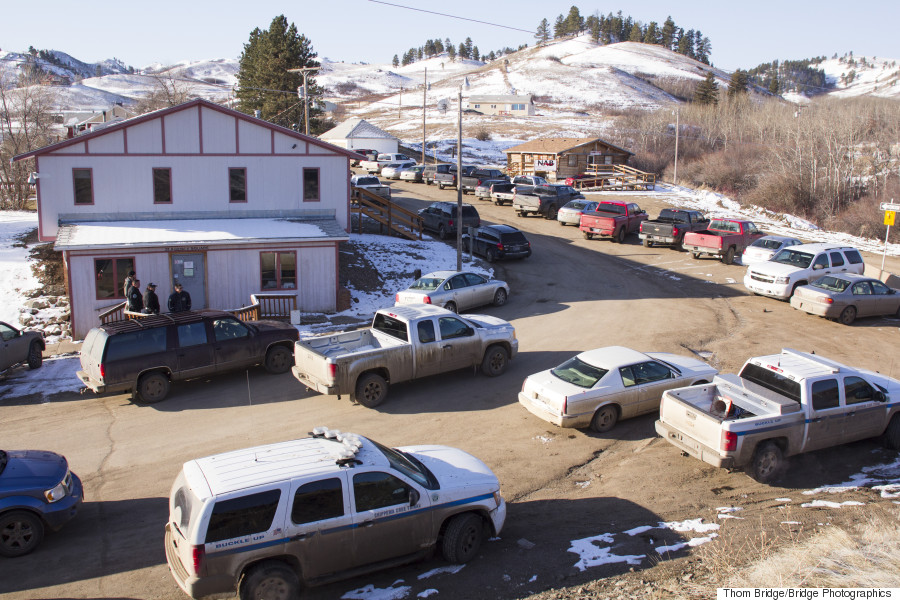 Ken Rees had a problem. For years, his company, Think Cash, had made millions of dollars by offering poor Americans quick access to money when they needed to fix their cars, replace broken appliances or pay medical bills. Unlike the brick-and-mortar payday loan companies that dot street corners and strip malls across the country, however, Think Cash was an online venture, built with the convenience of the new economy in mind. A loan was only a few clicks away.
For borrowers, there was a catch. Payday loans typically come with high interest rates that can add hundreds or thousands of dollars to the original loan amount and trap poor borrowers in a cycle of debt. For this reason, many states have cracked down on payday lenders. Fourteen states and the District of Columbia ban payday loans altogether, and all of the remaining states regulate payday lending to some degree.
With Think Cash, Rees had found a clever way around these regulations: The loans were passed through a nationally chartered bank, thereby exempting them from state banking laws. This "rent-a-bank" model had been popular among online payday lenders since at least the late 1990s. But by 2010, various federal regulators had all but shut down the arrangement. Rees needed a new way to keep his business alive.
The solution he found was relatively straightforward: He'd work with Native American tribes, which are exempt from state regulations. Think Cash renamed itself Think Finance, and in early March 2011 sent a letter to the Chippewa Cree Tribe proposing that they create a joint lending venture.
Such arrangements between online payday loan companies and Native American tribes have become increasingly popular. Indeed, as the rent-a-bank model has waned in the face of government regulations, the "rent-a-tribe" model has taken off in recent years. Today, a quarter of the $4.1 billion the online payday loan industry takes in each year goes to 30 or so lenders based on reservations, according to Al Jazeera America.
"Too many hardworking people are trapped by the manipulative tactics of payday lenders, from exorbitant interest rates to deceptive debt collection practices," New York Attorney General Eric Schneiderman told The Huffington Post. "Law enforcement agencies must stay vigilant in order to protect families from scammers and illegal lenders looking to exploit them."
The Chippewa Cree, a small tribe with about 6,000 members in a remote part of Montana near the Canadian border, made an ideal partner for Think Finance. Jobs on the reservation are scarce, and unemployment there hovers between 60 and 70 percent. The arrangement with Think Finance offered a way to generate millions of dollars for the tribe and spur wider economic development on the reservation. Think Finance agreed to build a call center to serve the payday lending business, according to the agreement between the company and the tribe, and the Chippewa Cree planned to use revenue from the venture to fund social welfare programs and help build a new tribal health center.
According to one tribal leader with direct knowledge of the deal, Think Finance also made it clear to the Chippewa Cree that if the tribe didn't accept Think Finance's terms, the company would be perfectly happy to find another tribe that would. Within two weeks of receiving Think Finance's letter, the Chippewa Cree, who had tried for a year to run their own lending business, agreed to the arrangement. The tribe partnered with Think Finance and renamed its lending company Plain Green. The tribe would own 51 percent of the company, and Think Finance would own 49 percent.
The new venture would offer "installment loans," a term the industry prefers to use instead of payday loans. Like traditional payday loans, installment loans are small loans with high interest rates that often trap borrowers in a morass of debt. Unlike traditional payday loans, they are paid back over time periods longer than a single pay cycle. Plain Green says its minimum repayment cycle is four months.
Ten months after Plain Green started making loans, Think Finance lauded the venture in a blog post as a "big win for both consumers and the Chippewa Cree."
"Dozens of tribal members are employed by Plain Green and every tribal member has already received a payment based on the success of the product. The tribe has even been able to rebuild a baseball field with revenues generated by Plain Green," the post said.
Like Think Cash before it, Plain Green makes small, short-term, high-interest loans to people all over the country who have no other source of credit. Although the company is nominally owned by the Chippewa Cree, the tribe has little actual involvement in its operations and receives a tiny fraction of the revenue generated by the business.

The tribe has received an estimated $28 million to $32 million from Plain Green since it was created, according to documents obtained by HuffPost that were filed in tribal court as part of a case between the tribe's former chairman and other tribal leaders that involves the agreement with Think Finance. A March 11, 2011,
agreement
between the tribe and Think Finance submitted as an exhibit in that case says that Plain Green had received 4.5 to 5.5 percent of the revenues collected by the operation, meaning Think Finance and other third parties received an estimated $500 million to $700 million.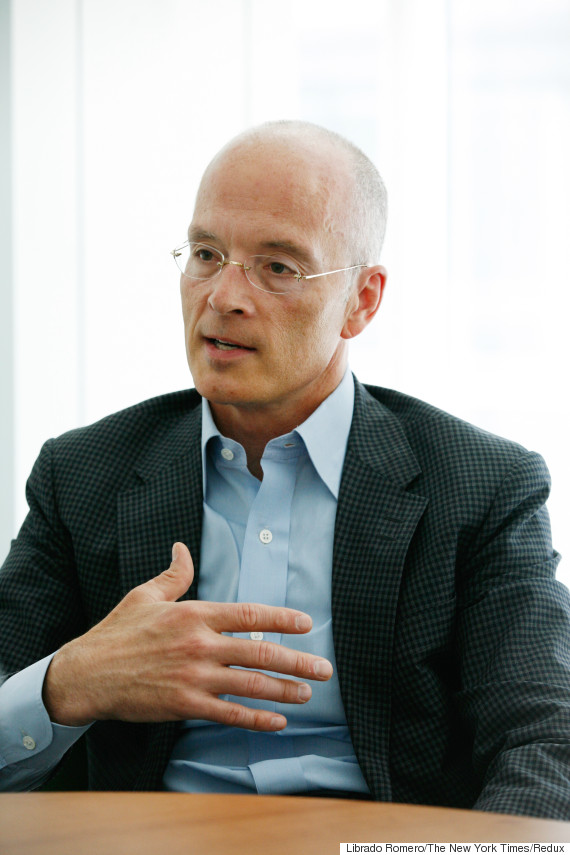 The huge possibility for profit in this industry has caught the attention of Silicon Valley investors, who look at the people on the fringes of the banking system and see a huge potential customer base. Almost 10 million American households have no bank account. A further 25 million households (almost 1 in 5) have a bank account but also use non-bank financial products like payday loans. Think Finance has benefited from this flow of Silicon Valley money. Sequoia Capital (which famously funded Oracle, Cisco, Yahoo and Google) and Technology Crossover Ventures (which has invested in Facebook, Netflix, Spotify and Vice) have each backed the company. Through a spokeswoman, Technology Crossover Ventures declined to comment. Sequoia did not respond to requests for comment.
While lending companies and their investors rake in money, however, the situation is more precarious for the more than 3 million Americans who take out online payday loans each year.
"The very purpose of an online lender affiliating with a tribe is specifically and expressly so that they can lend in violation of state laws," Ellen Harnick, a payday lending expert at the Center For Responsible Lending, told HuffPost. And it's the poorest Americans -- the ones who need quick cash to address the most pressing issues in their lives -- who are most at risk.
State regulators have taken numerous measures to protect borrowers, passing laws limiting the size and frequency of short-term loans and setting maximum interest rates that lenders can charge borrowers. Laws in 14 states and D.C. that outlaw payday lending make online, high-interest installment lending illegal as well. The Consumer Financial Protection Bureau is also in the midst of writing the first federal payday lending regulations.
But by working with Native American tribes, companies like Think Finance have largely managed to stay one step ahead of consumer protection laws.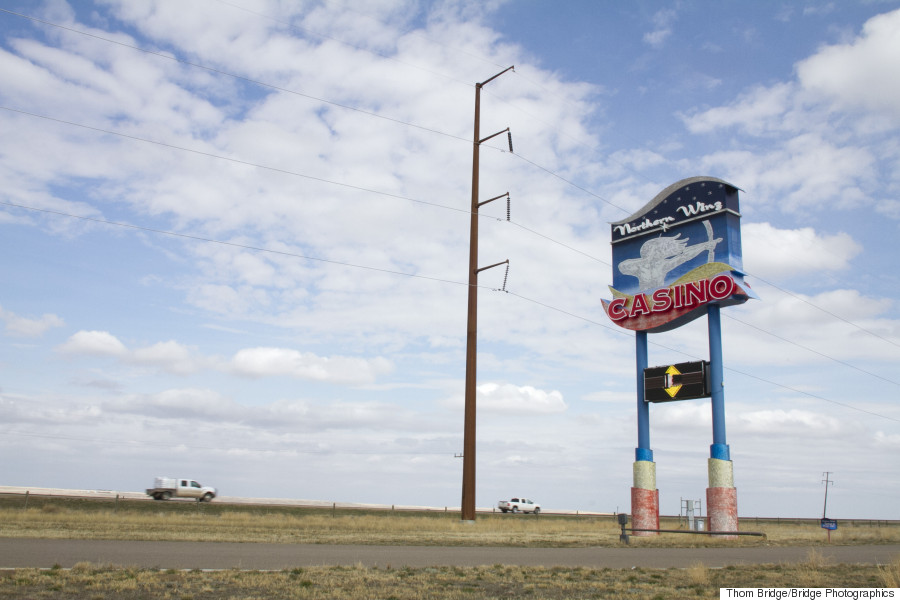 The Think Finance-Plain Green business model is representative of these growing online payday lending operations. The loans, and millions of dollars of fees paid to Think Finance, pass through Plain Green and circumvent state regulations, while the real work of running the lending business happens elsewhere. Thanks to Think Finance's online lending platform, Plain Green is able to make loans all over the country. Eventually, the loans end up owned by a Cayman Islands servicing company. And Plain Green, which cites the Chippewa Cree's sovereignty in its lending agreement with customers, says that state and federal regulators have no legal standing to complain.
Jen Burner, a Think Finance spokeswoman, told HuffPost that the company simply licenses its tools and support services to clients. "We are proud to be a service-provider to Plain Green LLC," she said.
After entering into its arrangement with the Chippewa Cree, Think Finance also made deals with two other tribes: the Otoe-Missouria in Oklahoma, which run Great Plains Lending, and the Tunica-Biloxi in Louisiana, which run MobiLoan. Think Finance also sells its technology to banks that create and issue consumer lending products. And in 2014, it spun off its own consumer lending products into a separate company, Elevate, of which Ken Rees is the CEO. Think Finance's former chief integrity officer, Martin Wong, is Think Finance's current CEO.
"There is a strategic smokescreen in place obfuscating the true relationship between Think Finance and Plain Green Loans," said Radek Jagielski, a senior analyst at PrivCo, a provider of financial data on privately held companies. Jagielski researched the companies at HuffPost's request.
According to the agreement submitted as an exhibit in tribal court and a former Plain Green executive, Think Finance provided everything the tribe needed to start the online lending business: a portfolio of Think Finance customers from its old rent-a-bank operation, underwriting software, payment processing, marketing, an offshore loan buyer and legal representation.

Plain Green offers small loans of between $250 and $1,000 for first-time borrowers. Returning customers are eligible for loans up to $3,000. The agreement between the tribe and the company explains how when a customer logs on to Plain Green's website and applies for a loan, Think Finance's software processes the customer's information, evaluates whether to make the loan and calculates fees. According to a 2011 flow chart created by Think Finance, Plain Green pays TC Decision Sciences, which Think Finance has said in federal court filings is one of its entities, $50 for each approved and funded loan.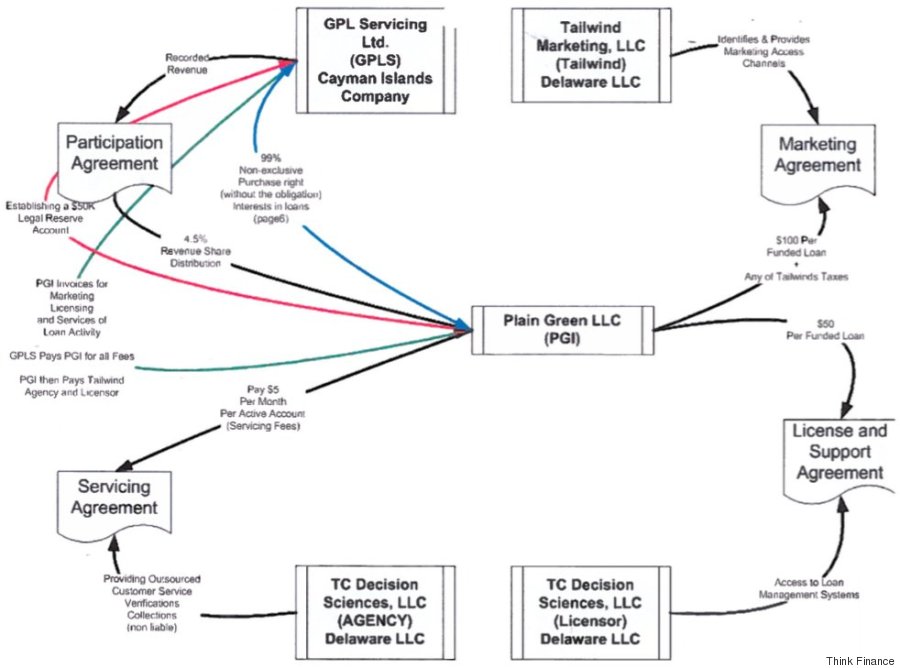 A former Plain Green executive and member of the Chippewa Cree tribe who requested anonymity due to fears of retribution told HuffPost that at the end of each day, a Plain Green officer signed off on all the loans approved by Think Finance's software. That meant that technically, the loans were made by Plain Green, despite the fact that the tribal company had no meaningful role in the lending process.
To find more people to make loans to, Plain Green pays a company called Tailwind Marketing, which Think Finance has said in federal court motions is also one of its entities. According to the flow chart detailing the business structure, Plain Green pays $100 plus tax to Tailwind for every approved borrower Tailwind refers.
The flow chart also shows that after the loan is made and a borrower has a Plain Green account and is making payments, TC Decision Sciences charges Plain Green $5 a month per active account for servicing activities like customer service, verification and collections.

Moreover, Plain Green doesn't actually own the loans that it makes. Instead, the flow chart and the agreement between the tribe and Think Finance specify that up to 99 percent of the loans are bought less than two days after they are made by a Cayman Islands loan servicing company, GPL Servicing. As is common with Cayman Islands corporations, it is almost impossible to determine who owns GPL Servicing. The firm was incorporated in February 2011, a month before Think Finance struck its deal with the Chippewa Cree.
The 4.5 percent of the revenue that Plain Green receives as part of its arrangement with Think Finance is paid by GPL Servicing, according to the terms of the agreement between Plain Green and Think Finance and the flow chart.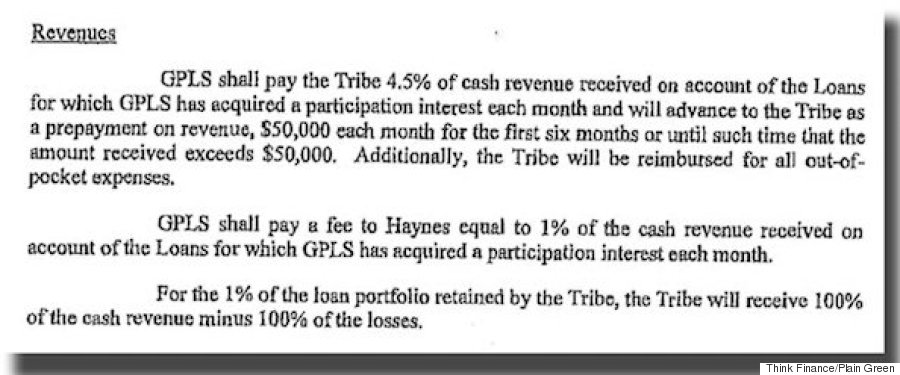 The numbers in the revenue-sharing agreement between Think Finance and Plain Green do "not accurately reflect Plain Green's business model, its agreements with outside parties, the magnitude of its financial contributions to the tribe or the dramatic improvement in welfare the tribe's membership has experienced as a direct result of Plain Green's success," said Brian Bartlett, a former aide to Mitt Romney, George W. Bush and Dick Cheney who serves as the Washington, D.C.-based spokesman for the tribe and Plain Green. Bartlett said the Chippewa Cree retain 100 percent of Plain Green's profits and that the money is dedicated entirely to the tribal budget.
Bartlett declined to specify how much money Plain Green generates for the tribe. But based on the 4.5 to 5.5 percent cut outlined in the agreement submitted in tribal court, Plain Green takes in about $7 million to $8 million a year. The rest goes to Think Finance and other third parties. That appears to be relatively generous, as far as such arrangements go. Another Native American tribe has a revenue-sharing agreement with a different lending platform that gives the tribe just 1 percent of the profits, according to Bloomberg.

Although the Chippewa Cree have made millions of dollars, the arrangement hasn't sparked broader economic development on the reservation. Think Finance has exceeded the commitment it made in its agreement with the tribe to employ at least 10 tribal members: The call center on the reservation employs approximately 15 people. But even doing more than the deal calls for hasn't done much to alter the tribe's economic picture -- the unemployment rate has remained unchanged at around 60 to 70 percent.
Plain Green's contribution to employment on the reservation is also far below its potential. Accounting records filed in tribal court show that Plain Green spent approximately $3.6 million in 2013 on off-reservation call-center services to companies based out of Georgia, Pennsylvania and Texas. One month, the records show Plain Green paid for the equivalent of 150 full-time off-reservation employees at the call centers.
"Assertions that the executives of Plain Green have 'no meaningful role' or 'actual involvement' in operating its own business are demonstrably false, degrading to the members the Chippewa Cree and its elected Tribal leadership, and a disparagement of Native American Tribal sovereignty generally. Plain Green is headquartered on our reservation and led by our tribal members – and our people are incredibly proud of the business we've built," Plain Green's CEO, Joel Rosette, said through his spokesman, Bartlett.
Some borrowers say they have fared poorly in their dealings with Think Finance and Plain Green. Clarnetta Rice, a 67-year-old retired customer service representative for the Philadelphia health department, illustrates the problems borrowers commonly face based on the terms of Plain Green loans. Payday lending is illegal under Pennsylvania law. But in April 2012, Rice went online and borrowed $800 from Plain Green in order to get her car fixed. In the three months it took her to pay that loan back, she racked up $1,383.74 in interest. Still, in August 2012, she borrowed another $1,000 from Plain Green, and in September 2013 another $1,600. Paying her last loan off cost her $2,834 in interest over just four months. All told, Rice borrowed $3,400 from Plain Green and paid $6,197.58 in interest. To cover that amount, she took out yet another loan from another online payday lender.
"As I was keying in to get the money to get that car fixed, I knew I was wrong," Rice told HuffPost, "but I had no other choice."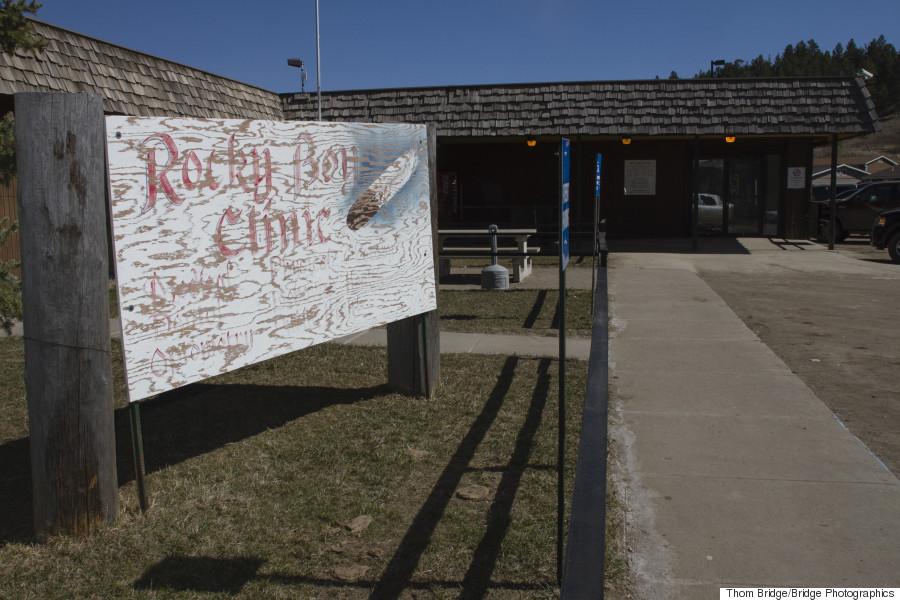 The payday loan industry as a whole is structured to take advantage of people like Rice. "Payday lending, whether it's online or storefront, is designed to get borrowers in for what they expect will be a quick fix to a financial problem, but will instead keep them in long-term, high-cost debt that will destabilize them financially and set them back substantially," said the Center For Responsible Lending's Ellen Harnick. When borrowers can't make payments, they often repay the loan they couldn't afford in the first place by taking out a new loan, a practice called churn. According to the Center for Responsible Lending, churn accounts for 76 percent of all payday loans.
In states that allow payday loans, regulators license lenders and set limits on how much money borrowers can receive, how often they can take out loans and what the interest rates can be. Online lending operations like Plain Green are subject to none of those restrictions.
"For all of its problems, storefront payday lending at least occurs within a system of state licensing," Nick Bourke, a payday lending expert at the Pew Charitable Trusts, told HuffPost.
On average, online borrowers are charged an interest rate of about 650 percent, a full 261 percentage points above the national storefront payday lending average, according to a Pew Charitable Trusts report. The average annual percentage rate on credit cards, for comparison, is 15.89 percent.
Plain Green's interest rates top out at 378.95 percent, and the company gives out loans for as much as $3,000 -- an amount that far exceeds the $500 maximum set by most states. While some states also limit how often person can borrow from a traditional payday lender in a set timeframe, some Plain Green borrowers have been able to borrow more frequently than their state regulation would allow. Plain Green notes it does not allow borrowers to take out more than one loan at a time.
What's more, whereas traditional payday loans are secured with post-dated checks, online lenders often require direct access to a borrower's bank account. As a result, many borrowers are hit with overdraft fees from their bank when the lender tries to make withdrawals to repay the loan. One-third of online payday borrowers said unauthorized withdrawals had been made from their bank accounts, according to a 2014 Pew report on fraud and abuse in the online lending industry.
"With online payday lenders," Bourke said, "70 percent of providers are not fully licensed" to offer loans in states in which they do business. Some lenders offer borrowers' personal, sensitive data -- not only names, addresses and phone numbers but also Social Security numbers and bank account information -- up for a fee, selling it to "lead generators" who in turn sell the data to other lending companies looking for new customers in states where payday lending may be illegal.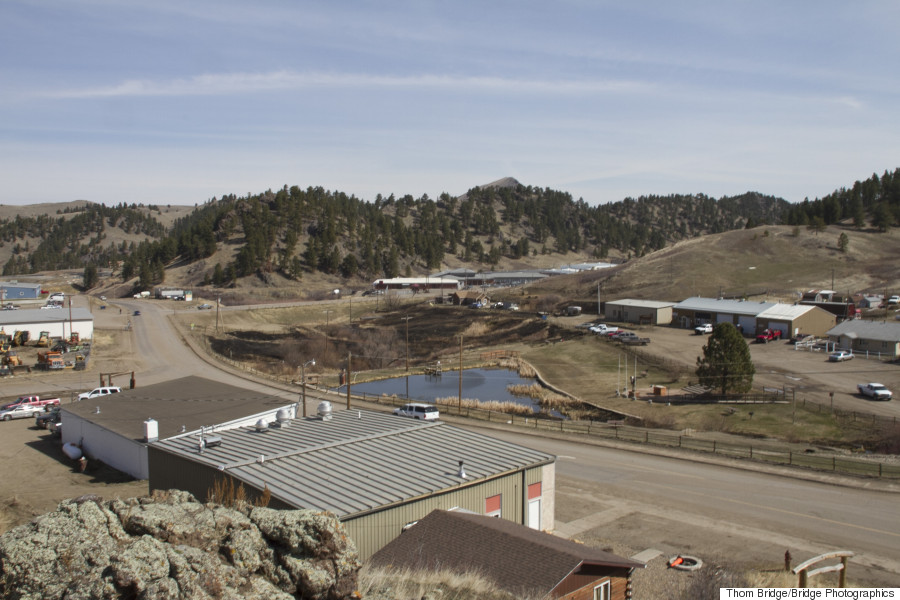 After years of profits, regulators finally may have caught up with Think Finance.
In November, Pennsylvania's attorney general filed a lawsuit against Think Finance and Ken Rees, alleging they violated the state's racketeering, consumer protection and lending laws. And on May 13, two Vermont women sued Plain Green in federal court, alleging that the company is violating federal trade and consumer protection laws. "Plain Green and the Tribe intend to evaluate the complaint and determine the appropriate response," said Rosette, Plain Green's CEO.
Tribal sovereignty "is being used as a shield to protect bad conduct," Matthew Byrne, a lawyer for the Vermont women, told HuffPost. "The real problem is that it takes advantage of people who are in a financially challenged position."
Pennsylvania argues that Think Finance's arrangements with the Cree, the Otoe-Missouria and Tunica-Biloxi amount to a conspiracy to evade state law. The state's complaint alleges that Think Finance, "as an alternative to making the loans in their own name, structured, participated in, and operated this scheme in which they act as providers of contracted 'services' to the bank and the tribes," deliberately misrepresenting who was providing the loans. That, the state argues, means Think Finance has violated Pennsylvania's racketeering laws.
Think Finance says in its motion responding to Pennsylvania's allegations that it provides "services to the tribes, and the tribal lenders make short-term online loans from their reservations. Think Finance is not alleged to itself underwrite, fund, or originate any loans to Pennsylvania borrowers. The agreements that borrowers signed with each of the tribes reflect this reality. The loan agreements are subject to tribal law, and tribal law only." In a separate motion, Rees says "loan documents signed by Pennsylvania consumers provide that the transactions are subject to tribal law."
This is not the first time regulators have taken on online payday lenders. New York has enforced its ban on payday lending by all but demanding that 117 banks stop processing payments between residents and 35 online payday lenders. Schneiderman, the state's attorney general, also reached a $20 million settlement with Western Sky, an online payday lending company owned by a member of South Dakota's Cheyenne River Sioux but backed by California-based Cash Call and another company, over allegations of collecting illegal interest.
Colorado engaged in a long-running legal battle against AMG Services and its alleged effective owner, Scott Tucker, who has made billions in online payday lending and spends large portions of his time racing Ferraris in Europe. The Miami tribe of Oklahoma claimed that it owned AMG, and Tucker was simply an employee. A Colorado judge ruled in 2012 that Tucker had at one point owned the business, but his transfer of ownership to the tribe in 2008 meant state authorities were unable to investigate the lenders for allegedly violating state laws. This year, the Federal Trade Commission reached a record settlement with AMG and MNE Services, another tribal lending company, over allegations of deceptive loan practices. Without admitting wrongdoing, the companies paid $21 million and forgave $285 million in loans and fees owed by borrowers.
Pennsylvania's case differs from these previous challenges in that it attempts to sidestep the issue of tribal sovereignty, which is legally a federal matter (not to mention a cultural minefield). Instead, by naming Think Finance and its related entities as defendants, Pennsylvania aims simply to prove that a conspiracy to evade the state's lending laws has taken place. Similarly, the Vermont case does not directly involve tribal sovereignty, but instead claims Plain Green has violated federal lending and consumer protection laws.
Even with state licensing and new federal regulation, there may still be room for online lenders to exploit borrowers, the Center For Responsible Lending's Harnick warns. But the outcome of these legal cases could put a significant dent in Think Finance's ability to use Native American tribes as a regulatory shield -- not just in Pennsylvania and Vermont, but elsewhere as well.
"The tribal lending model seems to be failing," Bourke said, "because on the one hand it's not providing enough protection for consumers, and on the other hand courts are increasingly saying that it is not sufficient for lenders to only get a license in association with a Native American tribe." That means online lenders will be more likely to want to get licenses from every state where they operate, he noted, which would allow for tighter regulation of the industry.
"There will still be a lot of bad loans made," Bourke said, but at least it will be "much harder for fraud to happen."
Hunter Stuart contributed additional reporting.
This story has been updated with additional comments from Joel Rosette, the Plain Green CEO.
Clarification: Language has been changed to clarify the difference in repayment times between payday loans and installment loans, and to elaborate that Plain Green limits customers to no more than one loan at a time, which must be paid in full before any application for a new loan is made.