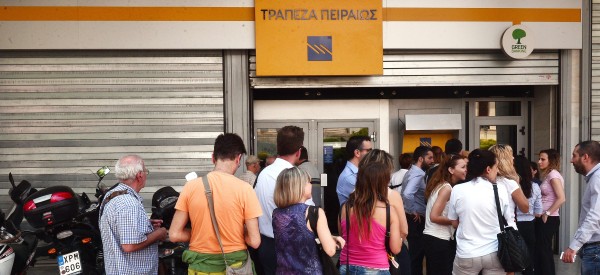 TOP STORIES
To get The Morning Email, HuffPost's daily roundup of the news, in your inbox, sign up here.
GLOBAL MARKETS ON EDGE AS GREECE NEARS DEFAULT "Greek Prime Minister Alexis Tsipras announced on Sunday that the nation's banks and stock market would be closed on Monday amid fears of financial collapse. Greece is also set to impose capital controls that will limit the amount of funds that citizens can transfer or withdraw from its financial institutions." Markets worldwide have taken a tumble. And here's what it's like to wait in line for the country's ATMs all day long. [Nick Robins-Early, HuffPost]

A QUICK REFRESHER ON THE GREEK DEBT CRISIS And why it matters for the rest of Europe and the world. [NYT]
GOVERNOR OF PUERTO RICO: WE CANNOT PAY OUR DEBTS "The governor of Puerto Rico has decided that the island cannot pay back more than $70 billion in debt, setting up an unprecedented financial crisis that could rock the municipal bond market and lead to higher borrowing costs for governments across the United States." Here's why this will devastate the municipal bond market. [WaPo]
MANHUNT ENDS, PRISONER IN CRITICAL CONDITION Escaped inmate David Sweat was captured alive after a three-week manhunt for him and his partner Richard Matt. Sweat was shot twice in the torso as he ran from a lone patrol officer just two miles from the Canadian border. Matt was killed by law enforcement three days ago. [AP]
SPACEX ROCKET EXPLODES AFTER TAKEOFF The rocket was carrying over 4,000 pounds of supplies and research experiments to the International Space Station. Take a look at what such a failure means for the privatization of the space industry. [Jacqueline Howard, HuffPost]
RISK OF ASSAD USING CHEMICAL WEAPONS IN SYRIA INCREASES "U.S. intelligence agencies believe there is a strong possibility the Assad regime will use chemical weapons on a large scale as part of a last-ditch effort to protect key Syrian government strongholds if Islamist fighters and other rebels try to overrun them, U.S. officials said." [WSJ]
FIVE PREDOMINANTLY BLACK CHURCHES BURNED DOWN LAST WEEK Arson is suspected in at least three of the five cases. [Nick Visser, HuffPost]
WHAT'S BREWING

CHRIS BROWN CLEANS UP AT BET AWARDS Nicki Minaj also walked away with quite a bit of hardware last night. [AP]
GOOGLE'S PLAN TO CUT DOWN MOBILE ADS So you don't end up on that rando clothing sale ad and then blow half your paycheck. [The Next Web]
CELEB FINDS YOU CAN AFFORD As in the under $50 kind. [HuffPost]
WINTER COULD BE COMING A giant asteroid hitting Earth would cause "acid rain, firestorms, and an impact winter induced by dust being thrown miles into the stratosphere." [Motherboard]
TALKING TO THAT 'TRUE DETECTIVE' JAZZ SINGER Turns out she doesn't in fact hate her life. [Vulture]
FORGET WAFFLE CONES Meet the chocolate chip cookie cone. How did we never think of this before? [HuffPost]
EMMA WATSON AND TAYLOR SWIFT HUNG OUT The world is now a better place. [HuffPost]
WHAT'S WORKING
THE TOWN HELPING VETERANS READJUST "By exploring various programs that help veterans readjust to civilian life, seek treatment for PTSD, join support groups and find jobs, [Melissa] Whitworth aims to reframe a conversation around veterans that is so often limited to their struggles, from homelessness and poverty to mental illness and unemployment." [HuffPost]
ON THE BLOG
SHERYL SANDBERG'S ADVICE TO THE CLASS OF 2015 "I hope if you find yourself on one path but longing for something else, you find a way to get there. And if that isn't right, try again. Try until you find something that stirs your passion." [HuffPost]
BEFORE YOU GO
~ You've got to love the "World's Ugliest Dog."
~ Are all those Facebook rainbow pictures another social experiment?
~ Charting the Atlantic slave trade.
~ When you're Ed Sheeran, you get to casually hang with the Rolling Stones.
~ Meet the woman who invented the blue purple squiggle design on all your 90s cups.
~ Following a migrant family from Syria to Greece.
~ When The New York Times tries to explain "ghosting", a.k.a. freezing out your significant other by disappearing.
~ You don't want to see how they make those $40k Hermes bags.
~ And because you wish it was the weekend already, here's Kanye West covering "Bohemian Rhapsody."
Send tips/quips/quotes/stories/photos/events/scoops to Lauren Weber at lauren.weber@huffingtonpost.com. Follow us on Twitter @LaurenWeberHP. And like what you're reading? Sign up here to get The Morning Email delivered to you.