After being diagnosed with breast cancer for a second time, Janet Sheppard-Kelleher decided to face the disease the only way she knows how -- with humor and a little courage. The 62-year-old's daughter posted before-and-after photos of her mom's drastic new hairstyle, a pink faux-hawk she opted to get before losing her hair to chemotherapy. And one of the best parts? It was her daughter -- who had no experience -- who did the cut-and-dye job.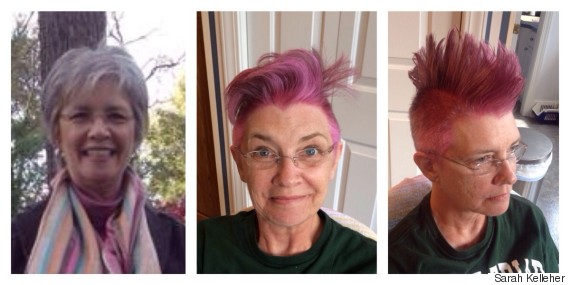 "Mom has always had a bit of a funky side. The first time she had chemo, in 2001, she had her head covered in tiny braids and beads," daughter Sarah Kelleher told The Huffington Post in an email. "The mohawk was mom's idea. No convincing needed. She called me one morning and asked me to come over and she had the hair dye and clippers ready to go."
Kelleher says her mother doesn't mind losing her hair, calling it one of the "fun parts" of having cancer. The last time she battled the disease, she even used her wig to prank strangers.
Humor is clearly Sheppard-Kelleher's forte. The South Carolina-based writer has even written a book about her first bout with breast cancer, called "Big C, Little Ta-Ta: Kicking Breast Cancer's Butt in 7 Humorous Stories."
No doubt the photos have inspired hundreds of people with the post receiving over 1,000 comments and words of encouragement on Reddit, just within the last day.
Kelleher says the hairstyle is just another example of her mother's fighting spirit, noting that "Mom's advice is look for ways to have fun in a bad situation."
Attagirl.
Get well soon, Janet!
BEFORE YOU GO
PHOTO GALLERY
It Ain't Over: Rebound Furniture