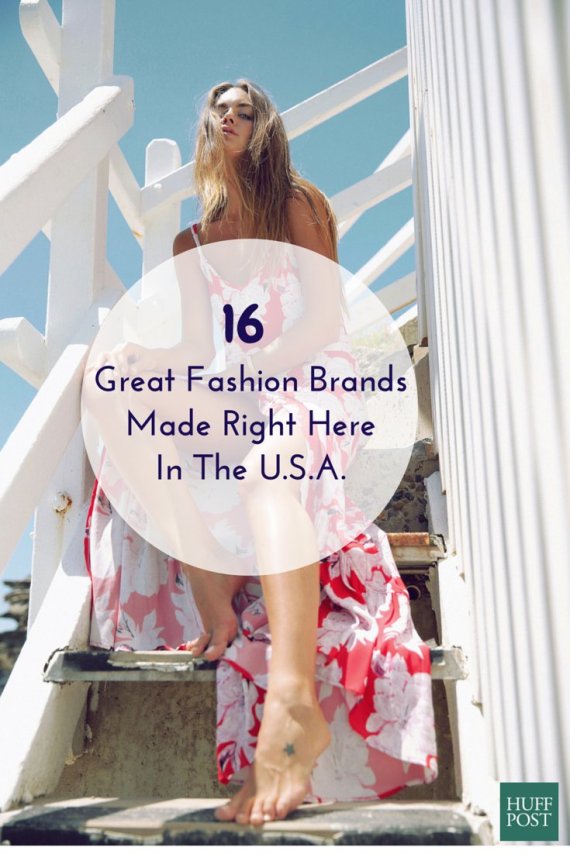 Photo credit: Flynn Skye
In a world of fast (and faster) fashion, it's rare to come across a clothing label with the words "made in the U.S.A." However, that doesn't mean it doesn't exist. Home-grown businesses are popping up every day, and there are still several stateside brands that have been creating collections for decades.
Case in point: the beautifully crafted and badass leather goods from Schott NYC. In business for over 102 years, its now being run by the third and fourth generations of the Schott family.
"Every day, I work on the factory floor with my mother and uncle and feel a tremendous amount of pride and responsibility when everything leaves our New Jersey factory with our name on it," said Jason Schott, the brand's chief operating officer. "Building goods in America is what we know best and we try to support fellow brands who are continuing the tradition by carrying a range of American made products like boots, jeans and accessories in our NYC and LA stores."
With that said, in celebration of the Fourth of July this coming weekend, we decided to round up a list of companies that are proudly made in America. Patroning these companies is not only patriotic, but it's a sound investment in your personal style.

Check them out and let us know which brands you're loving in the comments section below.
This Brooklyn-based milliner is currently moving to Portland, but what remains the same are the gorgeous, made-to-measure toppers. You'll want one of the meticulously crafted women's and men's versions at arm's reach all summer long.
Since 1905 this St. Paul, Minnesota-based company has been handcrafting leather goods that look and feel like instant heirlooms.
Designer Amber Farr named this California-based collection after her free spirited daughter -- and it's just that. The flowy silhouettes and eye-catching prints are for the bold and beautiful.
You'll want to pile on this delicate architectural jewelry. The line is completely handcrafted in Brooklyn, full of items you will love and cherish forever.
Attention khaki lovers, this New York City clothing company is for you. Premium cotton and custom hardware are just a few of the features that will steal your heart.
Go to this New York City-based brand for its original prints and stay for all the amazing items it makes with them.
In case you didn't get the memo, fanny packs are back and thankfully they are more stylish then ever. That's why we love New York City designer Sara Rossi's fashion-forward belt bags that convert to clutches.
This cool sock company took off in 2014 after reaching its goal on Kickstarter. Now they're churning out statement-making socks in High Point, North Carolina, for dapper dudes who like to pay close attention to detail.
The mission of this Minneapolis-based brand is for any of its minimalist designs to become the favorite item in your wardrobe. In order to focus on that goal, founder Lisa Hackwith only creates 25 of each piece in the collection.
Just in case you were wondering where the motocycle jacket came from, it was Schott. Founder Irving Schott created the first black leather moto back in 1928, which he named the Perfecto, and it's been iconic ever since. Bravo!
Brooklyn-based brothers Sandy and Emil Corsillo, who are behind the hipster e-commerce site Hickoree's, are also the duo creating the clothing and kicks for The Hill-Side. Two words: super cool.
Fall River, Massachusetts is home to this 45-year-old leather brand that prides itself on its uncompromising design and quality. We particularly love the luxe bucket bags.
It's all about creating high quality basics for this San Fransisco-based brand. It's not hard to see that the simple designs and durability are inspired by the landscape of Northern California.
The swoon-worthy jewels from this Philadelphia-based company are all handcrafted using reclaimed precious metals and ethically-sourced stones. We can't stop staring at these pieces.
This isn't just a collection of stunning swimsuits -- founder A. Lekay, who is from Florida, set out to design silhouettes that are fashionable and functional. The high-waisted bottoms are meant to help women conceal abdominal imperfections after pregnancy while also making them look and feel fabulous.
These lovely accessories are all designed, made and shipped from a small studio in Minneapolis, Minnesota. Founder Angie Davis, who started the company in 2008, makes each piece herself.
Follow Us On Pinterest
|
Like Us On Facebook |

Follow Us On Twitter
BEFORE YOU GO
PHOTO GALLERY
Spring 2015 Fashion Trends