Summertime parties call for easy, crowd-pleasing recipes. If your crowd is full of meat lovers, you can't go wrong with BBQ pork belly sliders -- and chef Jon Shook has the perfect recipe. Watch how he makes this mouthwatering recipe in the above video from the OWN show "Home Made Simple."
Before you start, be prepared: The meat has to bake for 4 to 6 hours. So while you can't throw it together at the last minute, you can throw it in the oven and relax for a few hours.
BBQ Pork Belly Sliders and Slaw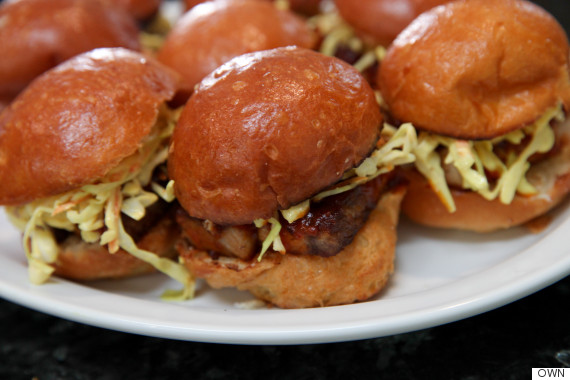 Serves 4
Ingredients for the pork belly:
2 pounds of pork belly, skinned
1 small onion
2 cloves garlic
4 tablespoons salt
Steps to prepare the pork belly:
Preheat your oven to 250 degrees F. Take skinned pork belly and season aggressively on both sides with salt. Slice onion and crush garlic. Place onion and garlic in an oven-safe baking dish. Put pork belly, flesh side down, in the baking dish. Cover with plastic wrap and aluminum foil. Bake at 250 degrees for 4-6 hours, until tender. Let rest at room temperature. Once safe to handle, place entire baking dish in refrigerator to cool. Once cooled, slice pork belly into 1 inch X 2 inch slices.
Ingredients for the barbecue sauce:
1 quart ketchup
1 can cola
1 cup brown sugar
3/4 cup Dijon
1 1/2 teaspoons Tabasco sauce
2 tablespoons Worcestershire sauce
3/4 cup distilled vinegar
5 slices bacon
1/2 cup honey
1/2 tablespoon onion powder
1/2 tablespoon garlic powder
Steps to prepare the barbecue sauce:
Add all the ingredients into a saucepan, bring to a boil and let simmer for about 1 1/2 hours, stirring occasionally. Remove from heat once the sauce thickens and reduces by about a third.
Ingredients for the slaw:
1 head of cabbage
3 large horse carrots
1 cup mayonnaise
1/2 cup yellow mustard
1 tablespoon prepared horseradish
1 teaspoon celery seed
2 teaspoons kosher salt
1 teaspoon Tabasco sauce
2 teaspoon distilled vinegar
1 teaspoon Worcestershire sauce
Steps to prepare the slaw:
To make the dressing, combine all the ingredients except for the cabbage and carrots in a bowl and whisk until fully incorporated. Take one head of cabbage, remove core, and slice thinly. Take carrots, peel, and grate on a box grater. Combine cabbage, carrots and dressing in a mixing bowl. Mix until fully incorporated.
Ingredients for the sliders:
Brioche slider buns
Sliced pork belly
Barbecue sauce
Slaw
Steps to make the sliders:
Divide the slider buns in half and toast the inside until golden. Layer two slices of pork belly, 2 tablespoons of barbecue sauce and 2 tablespoons of slaw in each bun.
BEFORE YOU GO
PHOTO GALLERY
14 No-Fail Potluck Dishes