She can do so much better.
In a ceremony that confirmed the worst fears of anti-gay marriage advocates the world over, two robots were wed in Japan over the weekend, according to the Telegraph.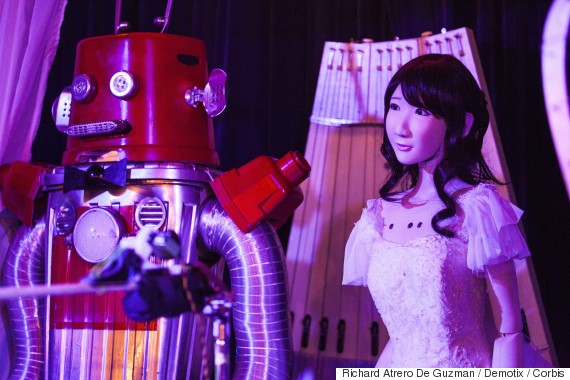 Frois, the groom robot, married Yukirin, an android made in the likeness of AKB48 idol Yuki Kashiwagi.
Frois, the bulky groom made partially from a trash can, married Yukirin, an android made to look like the Japanese pop star Yuki Kashiwagi, Kotaku reports.
The wedding was officiated by another robot named Pepper. She usually spends her days helping customers at Softbank's cell phone stores.
The ceremony was even sealed with a kiss.
Guests, who paid about $80 to attend, were treated to a robot-sliced cake and a robot wedding band, RT reports.
The robots' big day was put on by the Japanese company Maywa Denki, which also designed the out-of-his-league Frois. Yukirin is the creation of Japanese artist Takayuki Todo, according to the International Business Times.
It was only a matter of time before 'bots started tying the knot. Tech-savvy brides and grooms already employ them as ring bearers and officiants, The New York Times reported last year.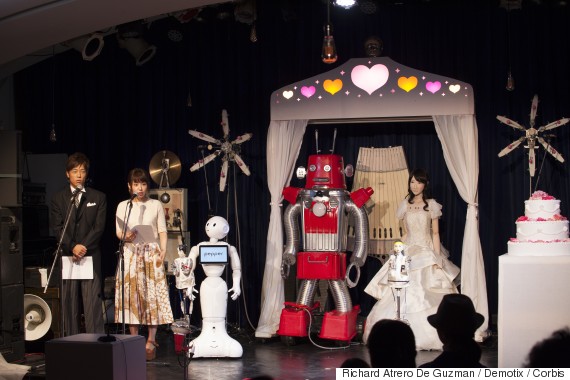 Like Us On Facebook |

Follow Us On Twitter |

Contact The Author