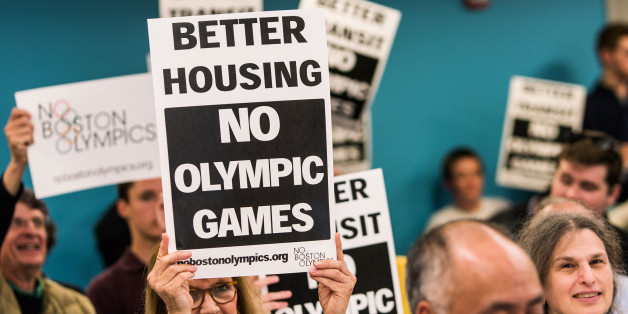 Raymond Howell can't avoid the stories about his city's efforts to host the Olympics. A prominent Boston corporate communications consultant, Howell keeps tabs on important business developments in the city below him from his seventh-floor office in a downtown Boston skyscraper. The games would transform Boston for three weeks, bringing hordes of international fans to watch their country's athletes compete around the city at landmarks like Boston Common and the Charles River.
The thought makes him queasy.
A former Republican communications aide who left politics to form his own corporate public relations firm two decades ago, Howell worries the Olympics will stick taxpayers with a giant bill. Earlier this year, as he read stories about Boston's potential bid, he kept noticing the name of an organization that shared those fears, if not necessarily his stature or politics.
Across town, on the other side of Boston Common -- where volleyball games might be held should the Olympics come to the city -- the group No Boston Olympics was trying to stop the bid in its tracks. Unlike Howell Communications, it operates on a shoestring budget. Far from a corporate office in a Financial District skyscraper, its headquarters are a living room in a Back Bay apartment.
The trio of political operatives who founded No Boston Olympics, in their early 30s and with backgrounds in Democratic politics, didn't seem like natural partners for a top-flight corporate consultant with Republican pedigree and a client list filled with corporate royalty. But for the past two months, Howell has worked with them to torpedo the city's Olympic dreams.
And he's doing it for free.
"I knew they had no budget," Howell said. "But I just liked what I was seeing."
Six months ago, the idea of a Boston Olympics enjoyed the support of a majority of Massachusetts residents. Thanks in part to the work of Howell and No Boston Olympics, nearly half of Bostonians now want nothing to do with the spectacle, according to recent polling. Activists in other cities have tried to stop the Olympics from coming to town. But few have done it as well as those in the Bay State.
"The amount of early success in Boston is unprecedented," said Jules Boykoff, a Pacific University professor who last year authored Activism at the Olympics, a book about protests at the 2010 Winter Olympics in Vancouver and 2012 Summer Games in London.
Eager to deflect credit for the group's accomplishments, Howell insists that No Boston Olympics was "doing just fine" before he signed on board. And, in reality, his addition didn't do much to level the resource disparity between proponents and opponents of the Boston bid.
Boston 2024, the private group backing the Olympic effort, runs on a multimillion dollar budget, according to its most recent financial documents. It spent $1.1 million on consulting in the first three months of 2015 alone and has enlisted four different communications strategy firms, paying each of them between $5,000 and $15,000 per month.
No Boston Olympics, meanwhile, barely needs a bank account. In 18 months, it has spent less than $7,500, co-founder Chris Dempsey said. Its average contribution is $88, its own financial documents say. It hasn't spent a dime on staff salaries or consultants.
But, Howell says, it does have a priceless commodity: "Facts." And he hopes that will be the great equalizer.
"Plenty of successful campaigns and startups have started from a dining room table," Howell said.
* * * * *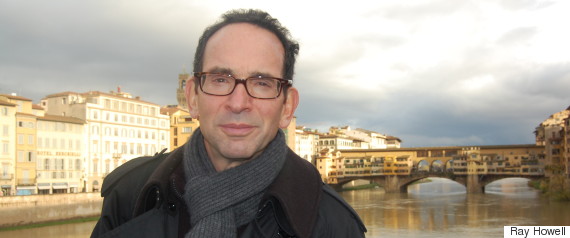 The effort that would become No Boston Olympics began in November 2013, when Chris Dempsey and Liam Kerr, friends since they met while campaigning for Gov. Deval Patrick, were sitting on Kerr's living room couch in Boston's Beacon Hill neighborhood. For months they had listened to organizers from Boston 2024 tout benefits the Olympics could bring the city, such as new transportation investments and a shot of economic stimulus.
Dempsey and Kerr, though, saw nothing but risk. Their primary problem was Boston 2024's request for a taxpayer guarantee, the government backing the International Olympic Committee requires should private financing fall short. Looking at previous Olympics, they saw that such a guarantee often turned out poorly for host cities and their residents.
"Our goal," Dempsey said, "has been to tell the other side of the story."
Dempsey, 32, has an MBA from Harvard and worked in Gov. Deval Patrick's transportation administration and at Bain & Co., the Mitt Romney-founded private equity firm, before leaving in March to focus fully on No Boston Olympics. Kerr, 32, is the Massachusetts state director of Democrats for Education Reform. Kelly Gossett, 34 and the group's third co-founder, worked as a lobbyist in the state government -- urging the state to spend more fighting homelessness and on housing issues -- before she quit to volunteer for No Boston Olympics full time.
Their backgrounds are atypical for anti-Olympic campaigns, which are normally driven by street activists. Those exist in Boston too, but the addition of a politically savvy and connected group of organizers has bolstered the movement.
"They have built a very diverse group," Boykoff said of the wider coalition of Olympic opponents in Boston. "You have street activists, but you also have people with backgrounds at Bain Capital or in politics. That matters."
The U.S. Olympic Committee can select just one American city to enter into the international bidding process, in which the International Olympic Committee selects a host from various cities across the globe. In January, the USOC tabbed Boston as its representative over bids from D.C., San Francisco and Los Angeles -- twice a previous host.
At that point, No Boston Olympics kicked its campaign into high gear.
In January, the group held a public meeting at a Back Bay church to present the outline of its argument and gauge public reaction to it.
Volunteers started signing up, and over the next two months, poll numbers showed they were gaining steam. When local public radio station WBUR conducted a poll on the Olympics in January, 50 percent of Bostonians said they supported the games. A month later, as anti-Olympic efforts grew, more Boston residents (46 percent) opposed the bid than supported it (44 percent).
Then, on March 22, an email from Howell popped up in the group's general account.
"I'd like to help," he wrote. He included links to his past work and told No Boston Olympics to reach out if they wanted to talk more.
Dempsey read about Howell online and noticed his past work as former Gov. William Weld's campaign manager and press secretary. He and Kerr checked with an acquaintance who, by happenstance, had run the Democratic campaign against Weld's re-election in 1994. He fully endorsed Howell's work.
After a few days of back and forth over email, they met for lunch to talk about the bid and how Howell could help them stop it.
* * * * *
Howell found the young group of consultants smart and refreshing, but what impressed him most was their approach.
Beyond their lack of major funding, there are aspects of No Boston Olympics that resemble an old-fashioned grassroots campaign. Their public meetings and demonstrations are replete with traditional rallying signs -- "Better Transit, No Olympics," for example -- and they are building up a growing volunteer network.
But they don't just lean on slogans and grassroots enthusiasm.
No Boston Olympics has peppered its presentations with research and data, much of it produced at nearby Massachusetts universities (Smith College economist Andrew Zimbalist, a prominent critic of Olympic economics, spoke at one of their public meetings), showing that the Olympics do not drive the economic boosts proponents say they will. They have employed an aggressive, political campaign-style fact-checking operation that they channel through the group's Twitter and Facebook accounts. For every claim Boston 2024 makes about Olympic-related benefits, No Boston Olympics seems to have a counterpunch.
When Boston 2024 says the games will not exceed their proposed $4.7 billion budget, No Boston Olympics points to research from the University of Oxford showing that since 1960, the Olympics have overrun initial cost projections "with 100 percent consistency." It notes that costs of the 2012 London Olympics, which exceed initial projections by billions, are still rising.
#5 Thing to Know About #Boston2024: Every Olympic Games Since 1960 Has Had a Cost Overrun. http://t.co/eLM0EAcZFG pic.twitter.com/YBRaYFZLO3

— No Boston Olympics (@NoBosOlympics) June 4, 2015
When Boston 2024 says it will rely entirely on private financing, No Boston Olympics asks why it has insisted on giving the games the backstop of the taxpayer guarantee, pointing to cities like Vancouver, where organizers made similar promises before turning to the public for help.
When Boston 2024 argues the games will provide substantial benefits to the local economy, No Boston Olympics asks why investing in transit and housing requires an Olympics -- especially when there is no guarantee those projects will get done.
The hyper-aggressive pushback, as well as its early production of its own Olympic cost assessment, caught the attention of the Boston press corps. Dempsey began appearing regularly in local television, radio and print news stories about the bid.
No Boston Olympics has also taken its message where few anti-Olympic efforts before it have reached: directly to state lawmakers. Largely due to Gossett's political connections, the group has made its pitch to more than 50 state legislators, Dempsey estimates. In mid-May, Gov. Charlie Baker, who has yet to take a public stance on hosting the games, invited No Boston Olympics to make its case to members of his cabinet, including the secretaries of labor, education and transportation.
Rather than a pure political campaign, No Boston Olympics has "almost become a think tank," Howell said. "They have credibility among political leaders and the media. They've just been revealing facts that are difficult to argue with."
He has helped. Two decades their senior and with a career steeped in Massachusetts Republican politics, he has opened doors they might not have been able to otherwise.
"He's been in this town a long time," Dempsey said. "He helps send a message to another generation that doesn't know us. There are people who wouldn't reach us, or who we might not reach, because of that."
If it remains hard to tell where lawmakers stand, the group's message is still sinking in with the public.
Despite theories that support would bounce back once a nasty winter ended, WBUR's most recent poll, conducted in early June, found the least amount of support yet: 49 percent of Massachusetts residents oppose hosting the games. Just 39 percent support it.
"That's sort of how it goes," Gossett said. "You might have been neutral on it before, but now you're looking at it differently. A lot of Massachusetts residents are having a tough enough time getting to work, getting the kids to school, trying to pay the bills. This isn't even on their radar. But when you educate them, you can see that 'a-ha' moment. They realize, 'This is relevant to me. This is going to affect me.'"
* * * * *
The USOC doesn't have to finalize its decision until September, and it remains publicly committed to Boston's bid.
Amid low polling numbers, though, Boston 2024 has made small concessions to its opponents -- it now supports a public referendum on the Olympics, though a vote wouldn't occur until November 2016 -- and overhauled its proposal. On Monday, it released Bid 2.0, an updated bid that spreads the games' footprint across Massachusetts, moving some events from inside Boston to areas outside the city, a move that polling shows could increase the bid's popularity. It includes a $700 million public contribution for major upgrades to transit, affordable housing and other development projects.
But the update still leaves major questions unanswered, especially about land acquisition plans for the main stadium and Olympic village, and an insurance policy to protect Boston and its residents from cost overruns. No Boston Olympics still opposes the project. It has called on Boston 2024 to heed public opposition and voluntarily pull the bid.
Dempsey, Kerr and Gossett have worked with some of the officials with Boston 2024 in the past, and the two sides maintain a cordial relationship. They have met multiple times to discuss their differences -- meetings Boston 2024 says it welcomes.
"Boston 2024 has hosted more than a dozen public meetings around the state and participated in many more in Boston. We welcome all opinions and feel that the robust public discussion has been extremely helpful and has significantly improved the bid," Boston 2024 Chief Operating Officer Erin Murphy said in an email statement. "We look forward to more public discussions as we move forward with plans for a sustainable and financially responsible Games that will be a world-class event for athletes, spectators and the community as a whole."
For all the rockiness of the bid's initial months, Boston 2024 still maintains major institutional advantages. No Boston Olympics is outmanned and outgunned. Howell only provided them with a better slingshot before they went off to face Goliath.
But he's been in that situation before.
A few days after Howell first reached out to Dempsey, they met for lunch at The Oceanaire, a lobbyist haven halfway between Boston's Financial District and the Massachusetts statehouse. Howell joked about his affinity for upstart campaigns, recounting a risky career switch he made in 1989. A local political reporter at the time, he left his job to work for William Weld, a young U.S. Attorney who was ready to launch an improbable bid for governor.
Weld was a Republican in a deep blue state that hadn't elected a governor from his party since 1971. In the primary, the state GOP chose another candidate as its official nominee. Howell nevertheless signed on as the campaign's press secretary, and in 1990, Weld won the primary and then a narrow general election fight. Four years later, as Weld's campaign manager, Howell helped guide him to re-election in the biggest victory in Massachusetts gubernatorial history.
Howell had his back to the door when Dempsey interrupted and nodded toward the front of the restaurant. Weld had just walked in.
Before they left, Howell walked Dempsey across The Oceanaire's dining room to meet the longshot that had launched his career. The governor cracked a joke about how No Boston Olympics had kept the city's consultants busy.
"Bill," Howell replied, "you know how I like to place early bets on longshots."