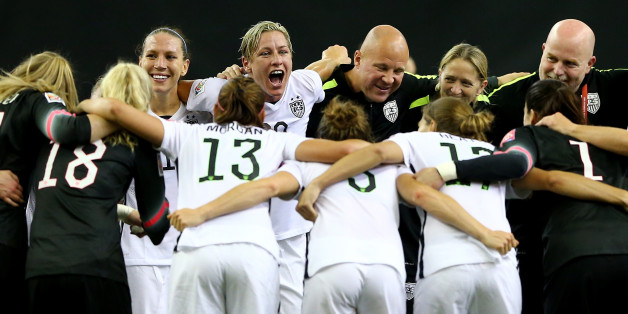 The 2015 Women's World Cup has featured amazing athletes dazzling us for weeks. Fans have been pouring out nationalist kumbaya feelings on Twitter, television and in the streets of host country Canada in record numbers.
But those snapshot moments of adulation are only possible because the players themselves have put up with unholy amounts of bullshit, courtesy of FIFA, some media members and even their own coaches. Let's count the things we know.
1. FIFA is run by trash individuals. FIFA, an organization powered by an annual revenue that amounted to $2 billion last year, is lead by the top-down leadership of president Sepp Blatter, who's been in office since 1998.
The self-proclaimed "godfather of women's football" is the same creepy 79-year-old godfather who suggested in 2004 that players should wear tighter shorts to "create a more female aesthetic." But he didn't feel compelled to have a woman join FIFA's board until 2013. Even the one woman given any sort of difference-making power within FIFA, anti-bribery expert Alexandra Wrage, quit her post in April 2013 after her proposals were ignored. Yup, it's that bad for women in FIFA.
2. The world-class athletes playing in the Women's World Cup must do so in conditions way worse than those of their male peers. To start, consider this number: $343 million, the gap in prize money between the 2014 World Cup and the 2015 Women's World Cup, according to Business Insider. Germany received $35 million for winning last year's final. The winner of USA-Japan on Sunday will take home $2 million.
FIFA also housed opposing teams in the same hotels for their stay during the Women's World Cup, being incredibly inconsiderate and creating unnecessary off-pitch tension, not to mention awkwardness for players. Who the hell wants to share a continental breakfast alongside the ladies you're trying to crush?
I can answer Jill Ellis's question on whether men's World Cup teams also have to stay in the same hotel as their opponent. They don't.

— Grant Wahl (@GrantWahl) June 29, 2015
3. The literal playing field isn't equal either because of the turf surfaces being used. Forty international women's soccer players, including Abby Wambach and Alex Morgan, actually sued FIFA in 2014 over their insistence on having the World Cup (men or women's) played on turf for the first time ever, citing Canadian gender discrimination law. The suit was dropped this past January, but it's etched itself into the consciousness of the players. American midfielder Megan Rapinoe expanded on this in May.
"I think the more technical, possession-oriented teams will have a harder time adjusting to turf," she wrote on The Player's Tribune. "Teams that play a run-and-gun, disruptive style will have an easier time on turf. The ball bounces differently — it tends to skip off the surface instead of settling down. It also feels different when you run. And that's the crucial point: I think the turf will be a lot harder on our bodies."
Low and behold, Rapinoe was right. According to The Guardian, the average goals per game, when adjusted for outliers, drops below the 2011 World Cup's goal rate. Earlier in the tournament, Wambach noted the difficulties the turf was causing her. This is a scary, painful surface to play soccer on.
"I'm way more carefree [on grass]," Wambach said after the opening match against Australia. "I throw my body. I'm not worried about anything. There's no second-guessing."
This is why soccer should be played on grass! pic.twitter.com/fsNGi27oRY

— Sydney Leroux Dwyer (@sydneyleroux) April 15, 2013
4. The refs aren't top of the line either. To compound the problems with turf, there have been officiating problems on the pitch too. The all-women referee crews of the World Cup -- a novel mandate pushed by FIFA to improve opportunities for women within the game -- are questionable choices to call games played by the world's fastest players, because they lack the high-level experience. The lack of quality refs has exposed itself in poor ways, like in this missed handball penalty against Team USA in their match against Australia. Why not just hire the 22 best referees for the most important soccer tournament of the year?
Carli Lloyd put the moves on Germany to setup Kelley O'Hara's dagger on June 30. (Source: Vice)
5. FIFA's placed an onus on money and ratings over fairness and competition. These are issues that strike at the integrity of the game -- admittedly, not FIFA's forte. The most unforgivable, however, is the purposeful rigging of the competition to boost match attendance and television ratings. Instead of seeding the top-ranked teams and conducting a random draw -- like they do with the men to ensure the best sides don't all knock each other out early in the tournament -- FIFA decided to select the groups themselves and schedule certain teams in specific time zones to make it easier for television viewers back at home.
A lopsided bracket proved to be problematic in the quarterfinals, when No. 1 Germany had to play No. 3 France with the winner expected to play second-ranked Team USA. On the flip-side of the bracket, fourth-ranked Japan has predictably cruised to the Final. This seriously pissed off France, who lost to Germany on penalties last Friday. Star French midfielder Camille Abily lashed out at FIFA after the match:
"At some point they have to stop taking us for idiots," she told L'Équipe. "I'm sorry but if they did a real draw, maybe we would not have played Germany or the United States after."
FIFA: Where morality and good sportsmanship are squeezed out and shunned at the behest of the television industry and matchday ticketing operations. Grand.
Norway's women's team tackled sexist haters in this hilarious satirical segment released in June.
6. Damaging amounts of apathy from men who work in women's soccer. To seriously correct these blatantly sexist tropes of inequality, it'll take more than an every-four-years wave of outrage. Former U.S. captain Julie Foudy told The Huffington Post last Friday that deeper, more cultural problems of apathy need to be addressed first.
"Look at Spain. Same coach for 27 years. One World Cup appearance and two appearances in the European Championships. They're never demanding more. It shows the apathy," Foudy said.
Ah yes, let's look at Spain. On the men's side, they're known as the world's top footballing country of the 21st century. In June, the Spanish women didn't win any of their Group Stage matches and, upon returning home, the players called for the firing of manager Ignacio Quereda in a shocking open letter.
In it, they revealed a laundry list of sexism and misogyny leveled against them by Quereda, along with complaints concerning the lack of preparation done pretournament and the limited prematch analysis and studying they did of their opponents. According to his own players, Quereda would call them "chavalitas" and "niñas," or just straight-up fat when their fitness levels weren't to his liking. This is a man who's had the same job for 27 years, all while only 8 of the World Cup's 24 teams are led by women coaches.
Seeing the merits of improving the women's game are obvious: The Women's World Cup makes us happy, as all World Cups generally do. It shouldn't have to be like eating your vegetables, but considering where we currently stand, it's treated as if it is.
Lucy Bronze fired this missile of a goal against Norway to give England their first ever knockout stage win on June 22. (Source: Vice)
7. Male soccer players aren't doing their part. Since corrupt men hold all the power at FIFA, and therefore hold the future of the women's game between their dry, cracking fingers, it's important for rational, responsible men of soccer to speak up. MLS veteran Robbie Rogers, the first openly gay player in league history, published an espnW column on this exact topic on Tuesday.
"Breaking down the barriers of discrimination is only possible when we stand together," wrote Rogers. "Women -- across diverse races, orientations, identities and experiences -- have stepped outside of themselves throughout history to stand up for human rights. Men -- we, too, need to step up and be visible allies."
Japan scored one the best team goals you'll ever see against the Netherlands on June 23. (Source: Vice)
It's a needed call to action that Tim Howard, the U.S. men's national team's star goalkeeper, should take to heart.
On June 4, he spoke to The Huffington Post on the turf controversy, saying, "It's disappointing. I feel for the women. I've spoken to a few who I've come to know over the years and have supported, and it's unfair for them to have to play a tournament on astroturf."
The purity of the game extends beyond a turf pitch though. It delves into what we, as fans, athletes and critics know is right, and what is wrong. What we know is this: FIFA disrespected the hell out of the women of the World Cup.
And they responded in the best possible way: By playing through contact and scoring out of love for their country and their sport. That's where the purity of the game ultimately rests.