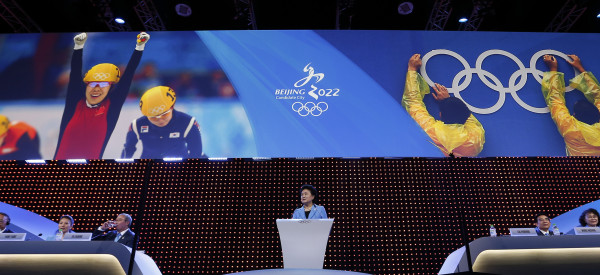 TOP STORIES
To get The Morning Email, HuffPost's daily roundup of the news, in your inbox, sign up here.
BEIJING TO HOST 2022 WINTER OLYMPICS The city, which will be the first to host both a Summer and Winter Games, beat out Almaty, Kazakhstan. [Jade Walker, HuffPost]
MALAYSIA 'ALMOST CERTAIN' DEBRIS IS FROM FLIGHT MH370 While it will most likely take at least a week to confirm, experts are growing more confident that the debris found on Reunion Island in the Indian Ocean is part of the remains of the missing Malaysian Flight MH370. The state of the piece of wing recovered suggests that the plane did not do a nosedive, supporting the prevailing "zombie plane" theory. [Reuters]
MEET THE TALIBAN'S NEW HEAD HONCHO "Mullah Akhtar Mansoor -- believed to be the Taliban's new leader -- has an unexpected reputation as a relative moderate and vigorous proponent of peace talks, raising hopes that his leadership could pave the way for an end to years of fighting." [The Guardian]
A LOOK AT WHAT CHINA IS BUILDING IN THE SOUTH CHINA SEA The transformation "from reef to island" has taken less than a year. [NYT]
AFRICA: THE 'FINAL FRONTIER' IN LIQUOR SALES "International spirits companies are expanding across Africa, targeting even the poorest consumers with liquor made locally and sold at dirt-cheap prices. In major cities and, increasingly, in rural areas as well, the world's biggest liquor makers are launching low-price versions of big-name brands, forming partnerships with independent distillers and creating their own versions of local spirits." [WSJ]
WIKILEAKS: U.S. SPIED ON JAPAN The disclosure follows similar reports by Wikileaks that the U.S. is spying on Germany, France and Brazil. [AP]
ARMY SHORT OF RECRUITMENT GOALS The military has two months to make up the 14 percent difference. [USA Today]
WHAT'S BREWING
MSNBC AXES AFTERNOON LINEUP "The Cycle," "Now with Alex Wagner" and "The Ed Show" were all canceled. [HuffPost]
ALL THE CELEBS WE LOVE MET UP THIS WEEK Amy Schumer and J-Law went on vacation together, while Bradley Cooper and Brad Pitt went for a romantic dinner. What's next? Beyonce and Taylor Swift having a joint concert? [HuffPost]
AN EARLIER WINTER IS COMING Looks like we might be getting a "Game of Thrones" prequel series... [Vanity Fair]
LAUREN DUCA DECLARES MERYL QUEEN OF ALL "Meryl Streep is arguably either the greatest actress of her generation or the greatest living film actress -- a debate which boils down to the approximate difference between best and best-est. She shape-shifts on screen, changing her look, her accent, the very essence of her being for each role. Her skill is beyond reproach and uncomplicated by a tabloid presence, outspoken politics or activism. She is quite possibly our only megastar famous solely for her talent." [HuffPost]
WHAT JANE GOODALL THINKS OF CECIL THE LION'S DEATH "Only one good thing comes out of this -- thousands of people have read the story and have also been shocked. Their eyes opened to the dark side of human nature. Surely they will now be more prepared to fight for the protection of wild animals and the wild places where they live." [The Dodo]
BEHIND THE PROLIFERATION OF RENT-A-COPS "In the United States, private police officers currently outnumber their publicly funded counterparts by a ratio of roughly three to one. Whereas in past decades the distinction was often clear -- the rent-a-cop vs. the real cop -- today the boundary between the two has become 'messy and complex,' according to a study last year by Harvard's Kennedy School of Government." [NYT]
WHY THE GIF HAS CONQUERED THE MEDIA WORLD Words cannot compare. [HuffPost]
For more from The Huffington Post, download our app for iOS or Android.
WHAT'S WORKING
IBM'S WATSON IS TEAMING UP WITH CVS "CVS Health is getting a booster shot from IBM's supercomputer, Watson. The retailer -- which rebranded last year with a focus on health, even sacrificing $2 billion in sales by banning tobacco from its shelves -- has partnered with the tech company to roll out a series of apps that aim to improve preventive care for patients with chronic illnesses." [HuffPost]
ON THE BLOG
SCHEDULING WORKING WOMEN "Despite giving their employers advance notice of when they were available for work and when they had a conflict, such as a class or family responsibility, these women continued to get shifts that disrupted their other commitments. The only options they had were to skip class, be absent from family obligations, or lose their job." [HuffPost]
BEFORE YOU GO
~ Behind the death of a young black journalist.
~ On this week's "So That Happened" podcast, we break down why the upcoming primary debate will be insane and explain the drama behind the highway funding bill.
~ One of the country's worst jails is closing.
~ Prepare to swoon over these realistic illustrations of Disney princes and princesses.
~ Behind archery's newfound cool factor.
~ Woody Allen describing his "paternal" role in his marriage is very, very creepy.
~ A visualization of the app takeover.
~ ICYMI: Uber's "phantom cabs."
~ Behind the new company from the creators of Cards Against Humanity.
~ Get on those Frontier $38 flight deals.
~ Yeah, these handwritten love letters prove texting should be banned.
~ Where to watch the rare blue moon tonight.
~ "Exploding Kittens," the most-funded game for Kickstarter, has finally begun to ship.
~ #FindTheGirlsOnTheNegatives.
~ Dudley Dursley hasn't quite Neville Longbottom'ed, but he's getting there.
~ The CW is making Little Women into a "gritty, dystopian series." What?
Send tips/quips/quotes/stories/photos/events/scoops to Lauren Weber at lauren.weber@huffingtonpost.com. Follow us on Twitter @LaurenWeberHP. And like what you're reading? Sign up here to get The Morning Email delivered to you.