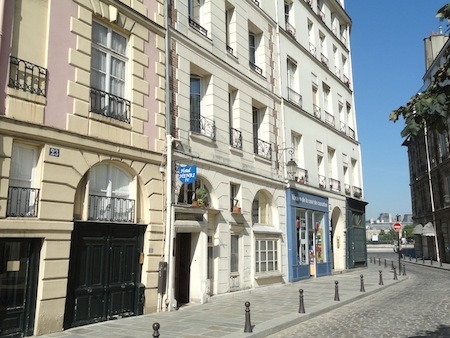 The Hotel Henri IV in Paris will keep you offline. Photo by Tom Meyers
How would you react if, while traveling in Europe, you arrived in your hotel room, plopped down your bags, and tried to join the hotel's Wi-Fi network, only to find... (spinning, spinning).... nothing?
We're not talking about having to hang out with your laptop in the lounge downstairs because the Wi-Fi doesn't reach your room. And it can't be blamed on a frozen modem or a confused router.
The hotel, it turns out, doesn't have an internet connection, Wi-Fi or otherwise.
You experience (pick one): Panic? Anger? Relief?
It's incredible how something that was presented just a few years ago as a new amenity is now considered almost a right. (In fact, an Estonian tourism official recently told me that in her country free Wi-Fi is, in fact, considered a "human right.")
Rewind a decade or so, and the hotels I was inspecting and reviewing in Europe were eagerly embracing the new Wi-Fi technology, especially as it represented a new revenue stream. Some charged by the hour, others by the day. But almost everyone, it seemed, charged. In the years since, as the cost of offering Wi-Fi has dropped and online hotel bookings have become more competitive, I've noticed that many hotels offer the service for free to attract guests.
Not every hotel, of course, offers it for free. I've written before about the tendency for upscale chain hotels to charge for Wi-Fi, even as smaller budget hotels give it away for free.
Many of the most popular listings in our Paris hotel guide, for example, offer free Wi-Fi, including the Tiquetonne, the Esmeralda (really only works in the lobby), Grand Hotel Jeanne d'Arc and even the super-duper zero-star cheapo, the Hotel Rivoli.
But there are still a very few hotels that don't offer it at all.
I was recently updating our review of the Hotel Henri IV, a super cheap sleep located on the Place Dauphine at the tip of the Ile de la Cité in Paris. (Given its extraordinary location, doubles going for €60 are indeed considered "super cheap.")
When I visited the hotel last month, the friendly receptionist reminded me that the rooms are rather basic, and don't have TVs. Fine. (This isn't actually that unusual for small hotels and pensions, as one room's blaring TV can echo down the hallway, disrupting the mood.)
But then he came to the clincher: "And we don't have Wi-Fi."
Ah, right. I scribbled down the note and didn't think much more about it until I updated the review and made a point of calling this out. I took to Twitter, mentioning that, after all these years I'm still impressed by the hotel's low rates:
Adding new pix to Paris' Hotel Henri IV review (doubles from €60). Still shocked by the Place Dauphine location - http://t.co/5yTjdvVHYa

-- Tom and Pete Meyers (@eurocheapo) October 4, 2013
Minutes later, a follower responded:
@eurocheapo no wifi at a hotel, no thanks

-- Isa (@JySbr) October 4, 2013
Right.
I certainly understand why we think it indispensable, especially when traveling abroad. We rely upon Wi-Fi to check email, find restaurants, search maps and fire up Skype to call loved ones. Not to mention keep up with work.
So what about the incredibly shrinking list of hotels that not only don't offer it for free, but actually don't offer it all?
It sounds almost like, well, a vacation.
What do you think?
Do you think that Wi-Fi should be offered by all hotels? Would you stay at a hotel without a connection? Do you think this entire conversation is foolish and that everyone needs to unwire themselves and get a life? Leave a comment below!
A version of this column was originally published on EuroCheapo. You can read that here, as well as read reviews of budget hotels in Paris.