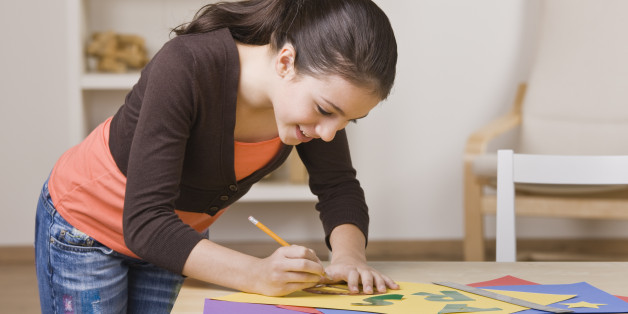 Laura Gaskill, Houzz Contributor
The long, hot days of summer beg for a different sort of craft project -- something quick, colorful, or using natural materials, or all of the above. Here are 10 crafty decor ideas seen around Houzz, from beach art and upcycled paint cans to tie dye.
1. DIY beach art. Use found pebbles, sea glass, or shells to create one-of-a-kind wall art, practically for free. To make, simply arrange objects on card stock and attach them with glue, then place your masterpiece in a shadow box or frame it with a regular picture frame with the glass removed.
2. Driftwood shape. Start by tracing and cutting out a base shape (like the sea horse here) from foam core, poster board or something sturdier like Homasote.
Lay your driftwood pieces on top of your design and play around until you get them lined up in a way that fits -- you may want to experiment with lining them up straight, making a crosshatch pattern or making them radiate from the center of your design.
Small pieces of driftwood can be trimmed to fit with pruners or kitchen shears. When you're ready, grab a hot-glue gun and start gluing!
3. Sunny runner. Instead of having a special stair runner made, craft your own from a regular runner and a few packages of inexpensive carpet tacks and staples. Sunshine yellow on whitewashed stairs looks especially fitting for summer.

4. Aqua door. Brighten up a dark entry by giving the door a lick of vibrant aqua paint. It doesn't even need to be your front door -- try this on an interior door or even a closet door for unexpected color in a dimly lit hall.
5. Weathered wood hook rail. Look closely at the previous photo and you will spy this clever project hanging on the wall. On a piece of scrap wood (the piece used here was an old floorboard), make evenly spaced marks, then attach a row of hooks. A groove along the top of the wood provides a place for displaying photos and postcards.
6. Easy scrap-fabric bunting. Even if you don't have a sewing machine, you can still easily whip up a bunting. Start with fabric in a pretty pattern -- it could be scraps from your stash or pieces cut from an old shirt or vintage pillowcase. Make a triangle-shaped template from a piece of card stock and use that to trace triangles onto the wrong side of your fabric; cut with fabric scissors or pinking shears. Once you have a pile of triangles, fold the top of each one over a piece of twine and hot glue in place.
7. Sand dollar print. Use a sand dollar to craft your own beach-inspired wall art by brushing the bottom carefully in white paint, then pressing it onto a piece of contrasting fabric, such as burlap. If the bottom isn't working well for you, try laying the fabric across the top of the sand dollar to get a print. Test on colored paper before applying to your fabric; it may take a few tries before you get a clean print.

8. Recycled window frame display. Put a roadside freebie to good use by decking it out with your favorite beach finds and vacation photos. Whenever you pick up old painted items, be aware that they run the risk of containing lead -- if you have young kids around the house, be on the safe side and hang it well out of reach.
9. Dipped tie-dyed curtains. Fully tie-dyed curtains may look a little too throwback for some -- but when you tie and dip just the ends of your curtains in dye, the effect is quite current. Start with plain white, inexpensive curtains (in case there's a mishap), tie parts of the lower section tightly with thick rubber bands, dip the section into a bucket of fabric dye and allow it to dry completely before removing the rubber bands. Using a single color is chicer (and easier) than doing several.
10. Painted paint cans. If you have old paint cans lying around, why not use the last few drops to paint the outside of the can? Use your painted creation as a planter, as a hanging vase for outdoor arrangements (suspend it from a tree or fence) or to organize art and craft supplies. If you have more than a drop of paint left, collect a bunch of cans from the recycling bin and paint them, too.
Get more ideas in the Houzz DIY section
More:
DIY: How to Paint Stripes on Your Floor
100+ Amazing Home Transformations