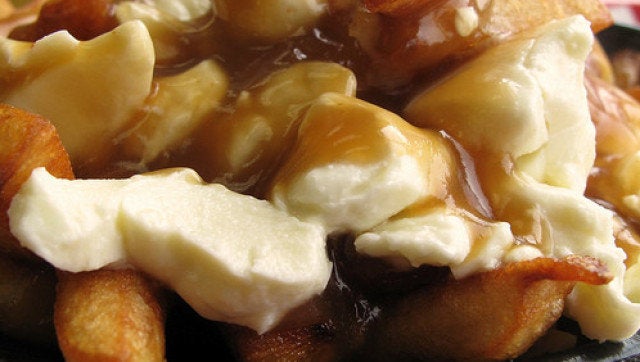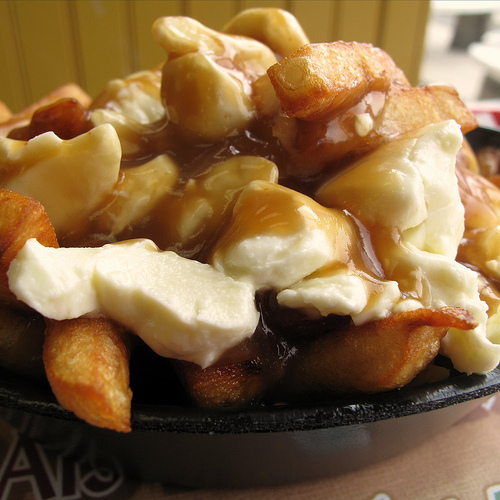 If there is one food item synonymous with the province of Quebec and the city of Montreal, it's poutine. Poutine is a dish that marries a great deal of fries, squeaky cheese curds, and ladles of gravy sauce. Some people think the combination is disgusting, but a majority of Quebecers think it's the holy grail of all dishes.
Poutine Week, which relies heavily on the use of social media, has loyal poutine lovers divided. While many welcome the week-long event, some question the need to diverge so far from the traditional poutine. Purists get flustered with even the slightest modification on the poutine, whether in the form of an additional ingredient, replacement of fries to another vegetable, or even a totally different type of sauce altogether. Anything that strays from the regular French fry, cheese curd, and sweet gravy sauce is simply blasphemy.
While the group of poutine traditionalists represents a minority in the city, most people are abuzz over La Sᅢᄅmaine de la Poutine Montrᅢᄅal, covering a wide variety of exotic poutine selections.
With Poutine Week Montreal now underway, here are five of the poutines included in the event that would make anyone salivate:
1. La Betise - General Tao Poutine
Even though you'll never find General Tao's chicken in mainland China, a Montreal restaurant known as La Betise has added an Asian tapas twist on the iconic Quebec dish. Enjoy your fries and cheese curds with General Tao sauce.
2. Fabergᅢᄅ - Breakfast Poutine
Fabergᅢᄅ, a restaurant that touts itself a chili and brunch specialist, is putting forth a breakfast poutine that will make you seriously wonder what you've been doing with breakfast all this time. On top of the traditional poutine ingredients, this poutine includes caramelized peppers, Hollandaise sauce, and an egg.
3. Cafᅢᄅ Pavᅢᄅ - Rootine
Even vegetarians have a place in Poutine Week Montreal. Cafᅢᄅ Pavᅢᄅ, having opened a year ago in Montreal's Old Port district, is a restaurant that specializes mostly in sandwiches. From time to time, the chef likes to take on challenges, and his vegetarian poutine passes the test. This interpretation includes roasted root vegetables, wild mushrooms, a red wine sauce, and creamy Macedonian feta cheese.
4. Poutineville - Le Montrealais
If you have to name a quintessential Montreal dish outside of the poutine, your next thought should be smoked meat. Poutineville, having just recently opened its third location, allows customers to custom create their own poutine. In its signature Poutine Week creation, a generous amount of smoked meat is added along with Swiss cheese, mushrooms, and a breaded pickle.
5. Decarie Hot Dog - The Decarie Classic
While most of the restaurants are trying to reinvent the wheel so to speak, one place is doing things the good old fashioned way. Decarie Hot Dog is an iconic Montreal institution. The service is fast and easy on the budget, and the special creation here is very clear. They're using real fries, real cheese curds, and real gravy. And as decades have proven, you can't go wrong with that.
Mr. Lew is a high school teacher from Montreal, Quebec. In 2009, after trying Montreal's supposed best burger, he decided to see what else was out there. So, every week, a new burger was added to the Great Burger Search. Since then, Mr. Lew has tried more than 100 burgers in cities across Canada, and hopes to one day expand to the rest of North America. Since Mr. Lew is part Chinese, the search isn't limited only to great burgers, but to other types of cuisine that makes Montreal one of the greatest culinary cities in the world.