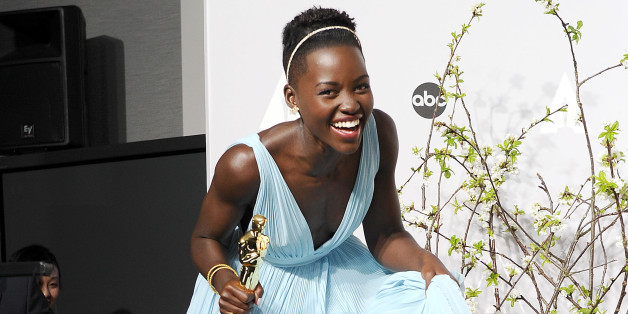 Dear Lupita Nyong'o,
Thank you for showing the world what true talent and beauty looks like. Last night, I watched the 86th Academy Awards in awe of seeing a woman that looked like me and shared my story. When you accepted this coveted honor, tears rolled down my cheeks. I was reminded of what your win symbolizes for little girls fighting to posses self-love in a world that tells them that they are unworthy of it.
As a young girl of African descent, I grew up detesting who I was. My dark skin, foreign facial features, coarse hair and unique name meant that I wasn't apart of the American tapestry of beauty. I desired to have fairer skin and curly hair like my lighter-skinned counterparts. Nothing about being of African descent illustrated beauty to me, it only read ugly. In my adulthood, I see the same disease of self-hatred growing amongst the younger generation. I walk into local beauty stores and see skin-bleaching creams (chemical substances that many African, African-American and Hispanic women use to lighten their skin). Despite the dangerous medical effects of skin bleaching, many continue to put their lives at risk in order to attain the social privilege that a fairer hue affords them.
Though we are generations removed from slavery, we are still combating the aesthetic ideals that emerged from this time period. The film 12 Years a Slave ironically brought the world a breakout star that reminded us that talent and beauty exists in all shapes and forms. You are a woman who looks like so many young Black and African girls struggling to love ourselves for who they are.
Hofstra law school student Laisa Pertet exclaims, "As a young women of Kenyan descent but more importantly, as a young, dark-skinned African-American woman, [Lupita] gives me hope. Because I know that I can be embraced by popular culture when I emphasize the best part of me and bask in my own essence. Her presence alone is inevitably changing society's definition of beauty, which speaks directly to the potency of our true beauty."
As a public figure, you share our obstacles, hardships and triumphs. You often speak of your own qualms with self-acceptance, "My one prayer to God, the miracle worker, was that I would wake up lighter-skinned. [To young girls] feel the validation of your external beauty but also get to the deeper business of being beautiful inside."
This beautiful commentary on developing internal self-love speaks volumes to young girls by proclaiming that what the world thinks of you should matter less than what you think of yourself. For the first time in my youth, I've seen the world celebrate a woman who doesn't share the same features as Beyoncé, Paula Patton, Zoe Saldana or Halle Berry.
Lupita, you are adored for your acting chops, intelligence, brilliance and captivating looks. Most of all, you are celebrated for shifting the standard of beauty away from traditionally oppressive norms. There are hundreds of little Lupitas across the globe that now believe they can achieve their dreams because of your presence as an astounding role model. This Oscar win is more than just another accolade; it symbolizes a change that women of color have been waiting for.
Thank you, Lupita, for showing the world that, "No matter where you come from, your dreams are valid."
Ola Ojewumi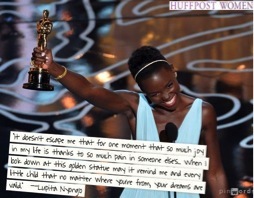 Image credit: HuffPost Women