"I believe the children are our future. Teach them well and let them lead the way. Show them all the beauty they possess inside." These are more than just lyrics for a famous American R&B song. These words are not merely empty phrases; they are an indicator of how adults should serve as teachers to the young. Traditionally, educators and parents assume the responsibility to lead the next generation. Contrarily, it takes a community to guide its children.
As grown-ups, we forget the power that we have to influence the adolescents that look up to us. We sit behind our televisions or computers and complain about the state of young America. However, we rarely lift a finger to change the existing condition or make a real difference.
Every day, we hear how teens and young adults are falling victim to gun violence, unplanned pregnancy, homelessness, poverty, bullying and incarceration. Though the media depicts this one-sided image of young people, our society fails to acknowledge the new wave of leaders who wish to take back their communities.
Many are redefining social justice through community building-a practice in which residents identify neighborhood problems and create service-based solutions. College Bound, a nonprofit organization based in Washington, D.C., is blazing the trail for youth community building through innovative college preparatory programming. Their mission is "to prepare public and public charter school students in the metropolitan D.C. area to enter college, earn a degree, and achieve their personal and professional goals."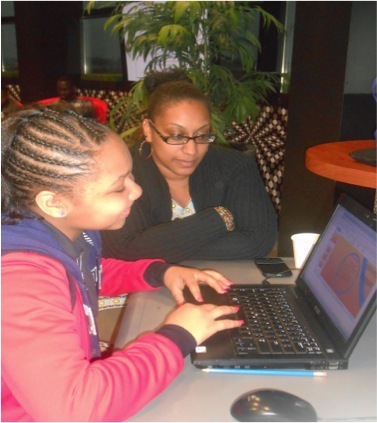 BET Network's Tracy Honaker mentoring middle school student Brooke. /Photo Credit: Ola Ojewumi
They have partnered with BET Networks to provide academic mentoring to assist students in the Washington, D.C. metropolitan area in meeting their post-secondary educational goals. This organization has changed the lives of countless public school students. One of their greatest success stories is that of high school senior Monte. Though he lost his mother at age 12, he has persevered and will be attending college this fall. He has received scholarship offers from many universities and has decided to attend Morehouse where he plans on studying psychology or international business.
Monte says, "College Bound has really been the thing that made college a reality for me. I've taken four AP classes, maintained honor roll and did two internships-one at the DCPS (District of Columbia Public Schools) and another at the World Bank. College Bound has expanded my horizons. I had no father in my life; I lost my mother. My mentor is close to the father or brother I never had."
College Bound has an astounding effect on students and mentors alike. Presently, many BET Networks' staff members serve as College Bound mentors. BET Network's Tracy Honaker attests, "This is actually my third year being with [College Bound]. I love being a mentor. It's a way for me give back to the community and empower the youth. My mentee, Brooke, is awesome. She's in the 8th grade and already thinking about college."
These stories not only touch your heart but they are teachable junctures. The lessons to be learned from these mentors and mentees is that we all posses a unique power to impart wisdom on one another. The world is ours to shape, and in that respect, it is ours to change. If you want to see social change, be the force behind it through volunteerism and community action.
To learn more about College Bound visit www.collegebound.org