For Black History Month, we honor the lives of African Americans that worked diligently to create a better America in the name of equality. Though the civil rights movement ended decades ago, African Americans are still fighting to create a more perfect society in spite of racial injustice.
Though the movement is no longer centered on defeating Jim Crow laws, African Americans are waging wars against modern injustices. Though the civil rights movement made tremendous strides, true racial harmony has yet to be achieved. The killings of Trayvon Martin and Jordan Davis prove that racial inequity is very much present. These young black men represent the dream of Martin Luther King that has yet to be achieved, in which men are still judged by the "color of their skin and not the content of their character."
Though many remain idle by simply watching discrimination, others choose to act against it. Three young leaders responded to this call of action through the Project ASCEND Mentorship Speaker Series. This mentorship collaborative featured four hundred at risk men of color, Youth With Purpose Mentoring Inc., current and former White House/Obama Administration staffers (Jesse Moore, Derrick Robinson, and Chris Upperman). These young leaders overcame tremendous odds to achieve great success in Washington, D.C. and public policy. The universal experience each speaker held was the inspiration they received from the success of President Barack Obama. As an African American man he achieved the impossible by overcoming insurmountable prejudice to hold the highest office in the land.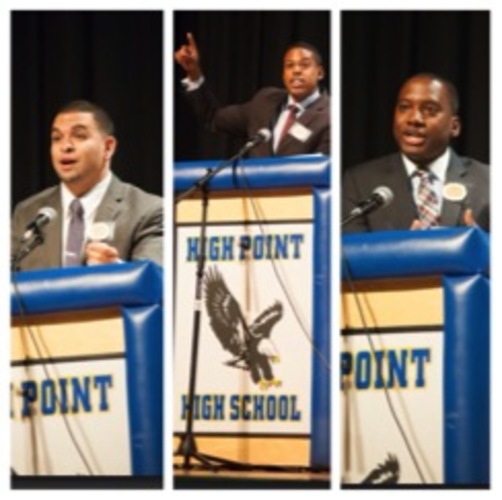 Photo Courtesy of Eugene Huskey/Eugene Huskey Photography.
Speakers: Jesse Moore of the White House (left), Derrick Robinson of the U.S. Department of Energy (center), Chris Upperman of the Small Business Administration (right).
Location: High Point High School Beltsville, MD
White House speechwriter for the Office of Public Engagement, Jesse Moore, credits President Obama with inspiring him to initiate a career in service, "I never imagined I would be working here [in the White House] -- but I knew pretty early on that I needed to spend my life doing work that would impact the lives of people and families struggling to break cycles of poverty."
In addition to speaking about their careers in government, they informed High Point High School students of their own struggles on the path to success. As young men of color, they faced many societal obstacles that would cause many others in their position to fail.

Christopher Upperman conveyed this message to young men: "I will say that without some of my personal hardships in college and re-evaluating my priorities that I would not have been in a position to be working for the president and his historic administration."
These leaders directed the students to persevere as opposed to falling victim to adversity by encouraging them to strive for success and apply for college. Derrick Robinson exclaims:
Unfortunately, throughout my life I've dealt with many of the same hardships stereotypical of the black male experience: I've been stopped and frisked, harassed by officers while driving, discouraged by educators etc. The underlying topic of my statements to the students at High Point [High School] was "grit," and how it separates those who succeed and those who don't. For those who have grit and are resilient, hardship provides an opportunity to build character and strength.
Their message of personal determination inspired students to remain committed to using higher education as a means of escaping the cycle of poverty. High Point eleventh grader Sean Stutson exclaimed:
[The speakers] inspired me because they were just like me. We may have not all had the same background but we are all going to strive to make better for ourselves. They inspired me just by telling their stories and making me know that as long as I am determined and hardworking I can make the best out of my life.
These leaders and students are products of Martin Luther's King's dream and visions of President's Barack Obama's hope for an improved society. The domino effect of mentorship creates substantial change in communities of color by showing youth that they too can follow in the footsteps of leaders that look like them. This Black History Month, we celebrate the legacy of leadership left my freedom fighters of the past. But, we can work to create black history in our communities by starting leadership initiatives and mentoring at-risk youth. Though we may embrace our past history, we hold an obligation to etch new history through leadership. Be a leader, be a mentor, and be a change-maker.