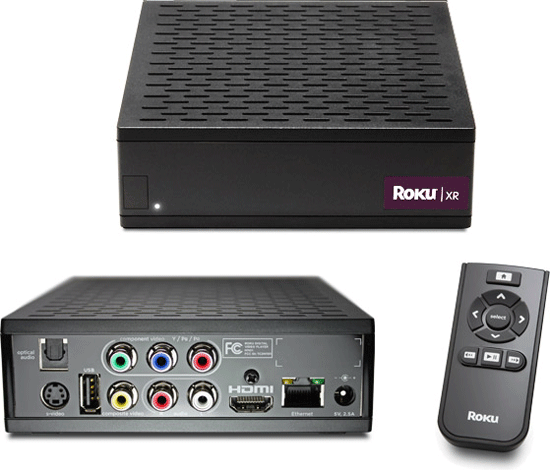 Roku made a big splash into the connected devices market with its standalone box and Netflix partnership. While the box has evolved over time to add different partners and features, the device still delivers a core promise -- online media on your TV in a simple way. In this review, I'll take a look at the Roku HD-XR and see if it is a good fit for those trying to view their online media on a TV set.
About:
Roku currently has 3 different products. They are the Roku SD, Roku HD and the Roku HD-XR. At the core, they offer the same functionality. They deliver online media to a TV set. You cannot stream content from your computer, you cannot record on the device. It is purely a streaming box.
Setup:
Setting up the Roku HD-XR is fairly straightforward. The device, compared to gaming consoles, cable boxes, DVD players, etc. is very small. In fact, you can fit the device on your palm, making it extremely portable. To setup the device, connect it to your TV (cables included), power it on and follow the on-screen instructions. The HD-XR version allows you to connect via WiFi or via a wired connection. Once the inital setup is complete, you need to create an account at Roku.com to begin using the device.
You can add different services to the device (such as Pandora) quite easily. Currently, the device is compatible with thousands of different content providers, including Amazon On Demand, Blip.TV and even independent content creators such as Revision 3. To integrate most account based services (such as Pandora), you need to provide the device with a username and password through a computer. Overall, the device took less than 5 minutes to setup, including opening the box and watching a sample from Netflix.
Pros:
Size: Given the increasing number of hardware boxes that are entering the living room, it's welcoming to see that Roku has kept their box small.
WiFi: In my case, the router is on a different floor than the TV. Fortunately, the HD-XR model connects to WiFi and streams content very well.
UI: The device uses a very simple user-interface that is descriptive and easy to use. No complicated menus or sub-menus to go through.
Partners: Roku has less of a name than companies like TiVo or Microsoft. However, their partner list is impressive. For a full list of partners, visit www.roku.com.
Integration: Setting up most services was extremely easy and often times completed within 30 seconds.
Cons:
WiFi instability: Often times, the Roku box would have issues with the WiFi signal, even though all other devices would work fine.
Computer dependency: Any service that requires authentication (such as Amazon.com, Pandora, etc.) requires having a computer at hand. While this is not a problem for most, it would be better to have an alternative solution in a pinch.
Price:
$79.99 (Roku SD)
$99.99 (Roku HD)
$129.99 (Roku HD-XR)
Conclusion:
Roku is one of those boxes that I sincerely believe everyone should have. It is an easy solution to view tons of content on a small, portable device. Other companies have tried to build something similar. However, their prices are either too high or they don't have enough content partners. Roku solves both problems.
Highly recommended.
***
Aanarav Sareen is a content creator and digital media consultant. He blogs daily at Digital Media Business and publishes the monthly Digital Media Newsletter. He's also the host of the weekly Digital Media Podcast.