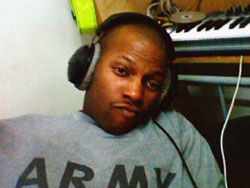 Lawyers for a U.S. Army specialist imprisoned after mailing an incendiary rap song to the Pentagon have filed a habeas corpus petition in federal court demanding the soldier's trial take place in the United States rather than in Iraq, as the military desires.
The petition, filed in the U.S. District Court for the Southern District of Georgia, argues that sending Spc. Marc Hall, 27, to Iraq "for his court martial would violate his right to do process of law and will significantly compromise his ability to defend himself."
At the Pentagon, Lt. Col Eric Bloom said he knew "nothing about the filing," but said that sending Hall to Iraq for trial does not represent an unusual course of action.
"His unit moved so he has to follow his unit," Bloom told NAM. "His command is there, and the majority of the witnesses are there."
Ironically, the charges against Hall relate to his desire to avoid being sent to Iraq - a country where he had already served one 14-month tour.
Hall's supporters say he was looking forward to being discharged from the military this month. Instead, Hall's superiors "stop-lossed" him and ordered the specialist redeployed to Iraq for a second tour.
Hall was outraged about the deployment, wrote an angry rap about it, and posted it on his personal Web site. He also mailed copies of it to the Pentagon general delivery.
His command responded by locking him up outside Fort Stewart in Georgia, where he's been held since early December. Hall is charged with distributing "original songs wrongfully threatening acts of violence against members of his unit," as well as "conduct prejudicial to the good order and discipline of the armed forces," and threatening to "go on a rampage" against his commanders.
Hall's attorneys don't disagree that his rap is provocative. But in court filings Tuesday, his military lawyer Cpt. Anthony Schiavetti wrote his case "involves significant First Amendment issues."
"Because it arose from a song he recorded when he was off duty and out of uniform, the question of whether anything he said was to be taken seriously or reflected artistic license and the hyperbole often associated with art will be central to this case," Schiavetti wrote.
Schiavetti argued that such a line of defense would be precluded if the court martial were held in Iraq because "finding experts (on the First Amendment) willing to travel around the world to a war zone would be far more difficult than finding experts to testify at Fort Stewart."
In a declaration to the court, retired U.S Army colonel and diplomat Ann Wright, who has testified as an expert witness for the defense at the court martials of other soldiers protesting their stop loss, said she would like to also testify for Hall's defense. If his trial were moved to Iraq, she said, "it would be impossible for me to testify."
The petition filed in the U.S. District Court also says moving Hall's court martial to Iraq would violate the defendant's 6th Amendment right to a public trial as well as the press' First Amendment right to cover it.
"While it may be technically possible for Hall's family and friends to attend his trial in Iraq," Hall's civilian attorney David Gespass said, "in practical terms neither they - nor the journalists who have been covering his case - will be able to get to Iraq."
At the Pentagon, Lt Col Bloom scoffed at defense claims.
"Wherever the U.S. military is, we have a justice system that functions," he said. "Being in any state or country makes no difference with the Uniform Code of Military Justice."
The Army had said it could move Hall to Iraq as early as Tuesday, February 16, but at press time he was still confined in Liberty County Jail outside Fort Stewart.
The case has been assigned to Judge William T. Moore, who was appointed to the bench in 1994 by then-President Bill Clinton.
**This article originally appeared in New America Media