The U.S. Army has been quietly planning its inevitable downsize for years. Proper military planning teaches one to develop courses of action for a wide range of scenarios, however unlikely they may seem, because the rigor of the process itself is invaluable.
For the Army even two years ago, the thought of cutting some of its best officers seemed absurd. But today, the Army is pushing back from its place setting as a battle-hardened yet weary force, its personnel having been fed deployment after deployment for the past 12 years. As the Army projects manning requirements according to its changing mission set (and thus its budget), there's a significant excess of personnel far beyond future needs. Now, officer cuts are the opposite of absurd: They're academic.
Majors and Captains may well be the Army officer corps' most valuable -- and difficult to replace -- human capital assets. They've led on the ground (emphasizing the last three words) as Platoon Leaders, Company Commanders, and senior Battalion-level leaders. For all the future "real world simulations" the Army will conduct at its training centers, there's no replacing what these officers' eyes have seen, the orders they've given and the consequences they've dealt with in Iraq and Afghanistan.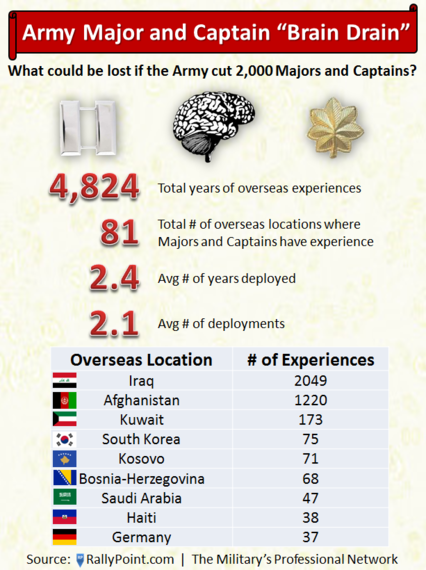 Starting soon, however, the Army's going to be challenged with that exact dilemma -- as beginning in early 2014, a few thousand mid-career officers could be cut as a result of Officer Separation Boards (OSBs) and Enhanced Selective Early Retirement Boards (E-SERBs).
Since the Army has yet to release (or perhaps even finalize) granular details regarding which skill sets will be cut within each sub-cohort, RallyPoint.com examined a representative cross-section from within its own Army member base. Nearly one in 10 active duty Army personnel are members on RallyPoint, so the professional military network queried its own databases to produce this analysis. The sample covers 86 specializations, each near its appropriate scale within the cohort. Key takeaways (at least those appropriate for public consumption) are highlighted in the above graphic.
More Details on the Boards
Here is additional info on the upcoming boards (sent in by RallyPoint members):
The boards will convene some time in early 2014.
The boards may consider Captains.
The boards may consider Majors.
Approximately a few thousand officers from these cohorts will be asked to depart.
Specific reduction targets for each year group and specialties within that year group will be determined based on the year group inventory and Army requirements.
For the record, leadership will probably encourage service in the Army's Reserve component for those who get cut. Though for many it may feel like a consolation prize, great officers in the Reserve are critical not just for the Army, but for Army families and soldiers in those units.
What we're seeing unfold here with Army Majors and Captains is certainly not contained to that cohort. We trust that the Army's scenario-based planning process has benefited from a rigorous examination of this highly complicated human capital challenge. For as Eisenhower put it, "Plans mean nothing, and planning means everything."
About the author:
Aaron Kletzing is a former Army officer, Iraq veteran and co-founder of RallyPoint.com. He and co-founder Yinon Weiss, who has served in both the Marine Corps and Army, first met near Baghdad and later reunited at Harvard Business School.