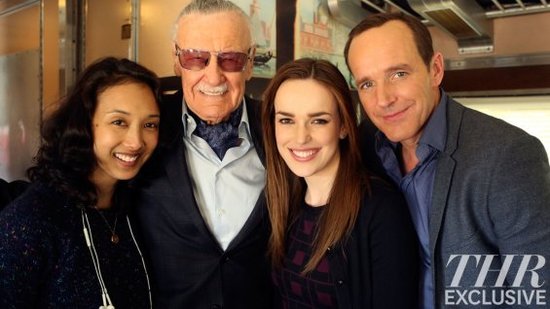 The Agents of S.H.I.E.L.D. will soon be making way for the agent of "Excelsior!" The Hollywood Reporter revealed that the speculation is true and that comic book legend, and catchphrase machine, Stan Lee will be appearing in an upcoming episode of the ABC show Marvel's Agents of S.H.I.E.L.D.
Lee has appeared as featured extras in most movies based on Marvel Comics characters, but he told THR his appearance is "a big role." The series, which exists alongside "The Avengers" in the Marvel cinematic universe, premiered last September and quickly gained a full-season pick-up by ABC. Aside from cameos by Samuel L. Jackson and Cobie Smulders -- who are established in the Marvel movies as Nick Fury and Maria Hill, respectively -- the show has been relatively light with big guest stars so Lee's role is notable.
And lest we forget, Lee is actually the co-creator of the superspy organization S.H.I.E.L.D., so there's that. Still, the playfully boastful Lee has a habit of joking that all his appearances are big, going so far as to joke that Marvel movies do better than DC Comics movies because he doesn't show up in them. So this may be a bit of self-aggrandizement.
Whichever the case, THR expects Lee to appear on the series in the Feb. 4 episode. Meanwhile, Stan Lee will star in the animated film Stan Lee's Mighty 7 where he takes the lead as himself. Premiering on the Hub network Feb. 1 at 8 p.m., the cartoon Stan Lee shepherds a group of super heroes while also creating a comic book about them.
Lee can be seen above in The Hollywood Reporter's first-look photo of his S.H.I.E.L.D. appearance, alongside executive producer Maurissa Tancharoen, and stars Elizabeth Henstridge and Clark Gregg. Marvel's Agents of S.H.I.E.L.D. airs Tuesdays at 8 p.m.