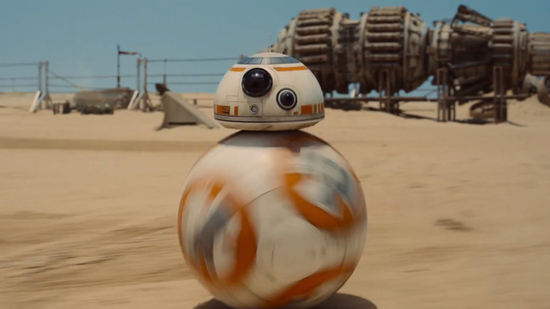 The force is strong with Abu Dhabi. Not only is the middle east capital of the United Arab Emirates a filming location to Star Wars: Episode VII - The Force Awakens, the city has been making a big push to attract other productions.
In the early stages at least, it appears to be working. Along with hosting the BBC series Top Gear, and last year's horror film Deliver Us From Evil, the Persian Gulf city played a pivotal role in this year's Furious 7 -- which grossed an astronomical $1.5 billion internationally -- in that car jumping stunt between the famous Etihad Towers.
And now they are a major set piece for the much anticipated return to a galaxy far, far away.
In addition to making a mark with a blockbuster like Furious 7, or the return of the biggest franchise ever (which The Hollywood Reporter speculated could gross $2 billion worldwide), Abu Dhabi is attempting to lure TV and film productions with a 30% cash rebate. All told, the message coming out of Abu Dhabi is pretty clear: The oil-rich nation wants to be a major player in Hollywood, and they have the money to make it happen.
They also have the right people spreading the message, such as Noura Al Kaabi. She is the CEO of TwoFour54 Abu Dhabi, a government-backed media company that works with the Abu Dhabi Film Commission to attract production to the area. It also serves as a tax-free zone striving to nurture entertainment content creation in the region. Meanwhile Al Kaabi, a former member of the Emirati Parliament, has been routinely ranked as an influential person in the Middle East and a powerful Arab woman with a goal of contributing positively to how Westerners see that part of the world.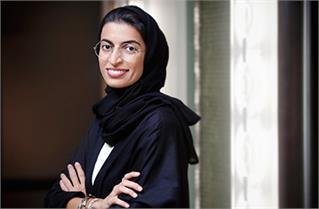 During our conversation at the Sheikh Zayed Grand Mosque -- where she was treated as a local celebrity, and stopped for photos and autographs -- Al Kaabi called this content creation and production one of the "main elements of the economic sector of the government." And Episode VII most certainly ups their game.
A fan of Star Wars herself, Al Kaabi says she brings up the movie at every meeting she has, as both a point of pride of being where the first day of shooting on Episode VII took place - and as proof of what her company and Abu Dhabi can accomplish for productions. After all, she said it wasn't an easy task landing the project.
"I didn't imagine we were going to have Star Wars," she said. "When we started talking about Star Wars, they were already scouting somewhere else and we were busy with FF7."
But Al Kaabi met with director J.J. Abrams and Lucasfilm president Kathleen Kennedy. And after the production settled on Abu Dhabi, things moved faster than she anticipated.
"For us to invite a producer to come to Abu Dhabi for lunch and talk about the desert that we have, and how the desert would be interesting, was something I planned for but didn't think we'd get the swift response of, 'OK, this will be the new Tattooine in Star Wars.'"
So Al Kaabi and her teams had to move fast, and collaborated with the government to "build sets and roads in the middle of the desert in no time," even though Lucasfilm/Disney location managers doubted it could be done.
"The location managers were like, 'we don't see a road; I don't think they're serious'," she recollected. "I remember saying, just tell them when they will come and shoot, they will find the road there! I don't want them to come and check behind our back; they will find the road there at the moment they're to begin shooting."
But when it was completed, and being filmed, she said the experience was "crazy" to have 700 people in the middle of nowhere in May.
"And seeing the creatures was so surreal," she added. "What was really cool was ... having it in Abu Dhabi; a year before that, I didn't imagine we were going to have Star Wars."
Once on set, Al Kaabi said she met with Abrams a second time, and that he "was so excited and happy to be in Abu Dhabi."
Abrams said as much at the recent Star Wars Celebration in Anaheim, Calif., last April.
"Shooting in Abu Dhabi was an incredible thing," said the director. "Shooting Star Wars is a Western and a fairy tale... shooting in Abu Dhabi was just that."
It can also not be ignored that the very first shots of both trailers for the film begin with a desert scene from the Emirate (aka the planet Jakku).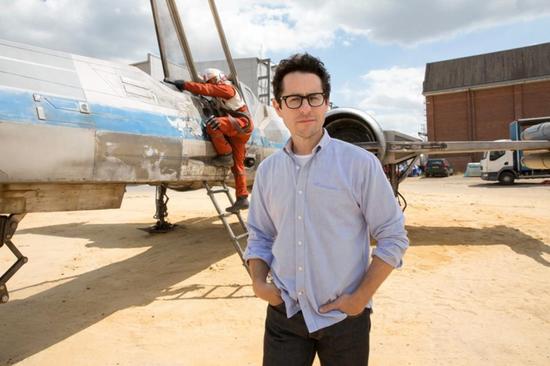 On a personal level, Al Kaabi additionally provided some insight as to how the director worked in Abu Dhabi.
"What I really liked was how he was with the cast, and how he was talking to him. I always picture the personality of the director to be grumpy and sitting on a chair, or whatever. J.J. wasn't sitting in the chair. He was going to them and talking to them; it was like he was mentoring them. I think that was a nice experience."
(Aside: Al Kaabi called it "amazing" to meet Abrams. She said she is a "huge fan" of Lost. "But I don't know how it ended; I'm still puzzled.")
Even now, though the production has wrapped, Al Kaabi said she's been told that more Star Wars entries will be filmed in Abu Dhabi.
The sets are currently in storage, and she said she hopes that means somewhere down the road Abu Dhabi can take advantage of the sets as part of exhibitions or tours -- not unlike The Hobbit sets in New Zealand.
The way Al Kaabi sees it, The Force Awakens might play another important role in the region, and one that will benefit both Emiratis and Disney.
"There is low hanging fruit for Disney and Lucas, and that's the Star Wars fanbase in the region," she said. While pointing out that she watches sci-fi and has been a film buff since she was young, "there are others in the region that don't know Star Wars."
"Who is Darth?" she said some younger people ask, and pointed out that the Fast and Furious franchise is more popular there.
"[Star Wars] may do two things: Number one, it is good to have Star Wars. When you have a product, you want to have more people knowing about you. Number two, will it inspire young people to have a version of Darth in the Arab region? Why not? Will it inspire those young people to work on the next Star Wars for the region?"
Al Kaabi related a conversation she had with Kathleen Kennedy about being a "huge fan" of E.T., but that there is no version of E.T. in the Arab world. For her, the mission of generating more content in Abu Dhabi goes beyond wearing an "economic or commercial hat," and means enriching their culture, and thinking about the further effect that it will bring back to the people of her country.
She said she has already witnessed this impact through local interns who worked on Furious 7 or Episode VII for six months. Some ended up at Pinewood Studios in the United Kingdom, then returned not wanting to work in the government -- "which are the best jobs here" -- but choosing instead to go to a production company.
Moreover, she is looking forward to bringing more of the nerdy element to the area.
"We're building a Warner Bros. amusement park in Yas Island, which will be complete in hopefully 2018," said Al Kaabi. "We have a comic con in Dubai, but we want to have more comic conventions in Abu Dhabi; we're working on it."
And when the topic of super hero films comes up, Al Kaabi acknowledges it would be a great get for Abu Dhabi. She is also well versed in the fact that Marvel Studios, in particular, are on the look out for great incentives and rebates.
But Al Kaabi acknowledged Star Wars, Furious 7, or super hero movies don't automatically mean she's accomplished her mission of making people think of Abu Dhabi.
"Star Trek is filming in Dubai in October, so it is great, safe, quick; you can build an alien city, and you have an alien site that can promote what we're doing," she added. "But again, how can we make it a destination for people to think they'll come to Abu Dhabi to film."

"It's wonderful to have big names, but how will this be the right destination?" she asked.
Still, Noura Al Kaabi had a Jedi-like calm when looking at the country's cultural landscape in the coming years. With the force awakening this December worldwide, Al Kaabi makes it seems like a very good time indeed to place a new hope with Abu Dhabi as an emerging player on the production scene.
Correction: An earlier version of this article had Al Kaabi mistakenly state the Star Wars sets are still up in the Abu Dhabi desert. They are instead in storage.