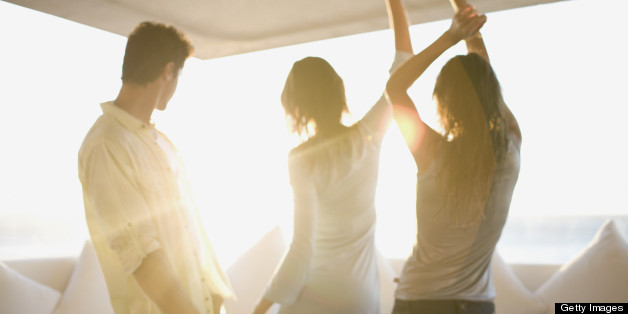 My Dearest Twenties,
There is a moment in everyone's life when they have to say goodbye to you. I cannot believe that moment is finally here. It is difficult because we have been through so much together, but also exciting because there were times when I feared I would not have the privilege of seeing you to the end. My darling Twenties, you were lovely and ultimately had a rather dramatic conclusion. I found myself because of the relationship I had with you. And now, after 10 magnificent years, I have to bid you adieu.
You were always there for me and our relationship was unfairly interrupted by breast cancer. Cancer put such a strain on our relationship. I could not be with you the way I wanted. I could not be with you the way that you wanted. Instead of just being fabulous twenty-somethings together, I was busy getting MRI's, CAT scans, PET scans, bone scans, blood tests, genetic tests, a mastectomy, and chemotherapy. I was preoccupied with watching my long, beautiful, brown hair fall out into my hands and witnessing the muscle mass in my legs disappear during the chemo regimen. My life was consumed with surgeries, bone pain, nausea, side effects, medications, shots, having a port placed in my chest, surgeries, radiation, and more surgeries. Cancer stole something from us that we will never get back.
You were there when I was so sick I feared I was going to die -- not from the cancer, but from the treatment. You were there that night when I was in so much pain during a particularly grueling week of treatment that I whispered to my mom, as I lay on the floor unable to move, that I was scared to fall asleep because I was so terrified I would not wake up the following morning. You were there, Twenties, when I neglected you to fight so I could live in order to get rid of you -- to ultimately outlive you. You were there when I fought to get to my thirties and leave you behind. And, now, after all that hard work, I made it. I am walking away. But I will never forget you. You and I are like old war buddies. The bond we created during the battle we faced together is simply unbreakable.
We are both so focused on moving on and letting each other go, but please take a moment and really see me so you can remember what we had together. If you ever do take an instant to look back, you will see that I am still the same girl you met ten years ago in college when I was literally bouncing off the walls with energy -- with the same heart, the same forgiving spirit, the same eyes that were always fixated on you, the same curiosity and desire to witness new things, to experience the world together as a team. You meant so much to me, you still do. You showed me so much about myself and I will never forget that. You will always be a part of me, even though we will never see each other again after this day.
I admit you are a rather messy chapter in my book of life. The pages are dripping with red ink just aching to be corrected. There are parts of you that are completely torn out and missing, that I most likely will never see again. The years walked out of my life and took the pages with them. There are other parts that seem to have recycled themselves over and over again as I made the same repeated mistakes, failing to learn from them. But isn't that exactly what our relationship was for? Isn't that the theme of the infamous twenties? I believe that it is and, therefore, I can walk away knowing that this relationship was a success, knowing there was some marvelous order amidst the confusion that was our time together.
And now, my thirties lay in front of me shining with these beautiful, crisp, blank pages. The pages are all pumped up. They've heard about me; therefore they are prepared to get dirty, ready to be filled with new memories, new relationships, and new lessons.
We had a promise made, Twenties, to get through them together, and we did. So, here we are, our very last night together. All I want is one more night of confusion, amazement, and possibility. That is my twenties. That is you. We got through something miraculous together, and I want to celebrate that with you.
Now, as we part, and move on in our lives, know that I would not trade the beautiful, complicated, and often just plain ridiculous moments we shared together for anything. You were my twenties, most likely the most defining decade of my life. I give you all the credit for helping me reach my new friend, my Thirties. And all I can ask, dear Thirties, is that you can be a bit kinder, deal softer blows, and allow me to simply be the girl I discovered during those precious years that will forever belong to my twenties.
With love,
Abby, the 30-something